Motocross bike delivers on raw power, claims Jacqui Madelin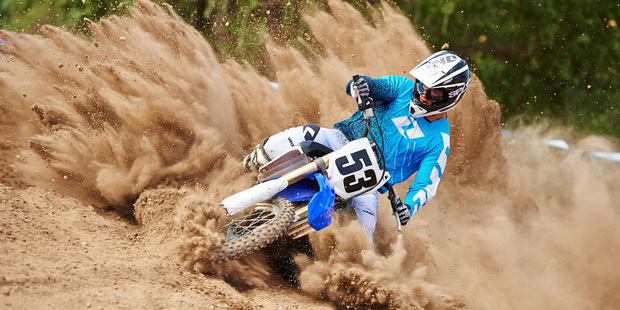 Yamaha may have aimed for a faster, better motocross bike when it designed its latest YZ250F, but it also made a rangy one that shares more than just the rearward-inclined engine format with its bigger 450 sibling.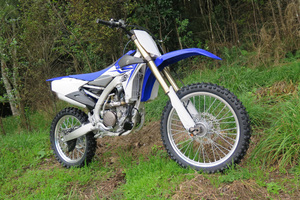 It's an all-new bike -- Yamaha says only a handful of parts carry over from its predecessor -- and its new chassis delivers a 250 that though 6kg lighter, when wet, than the larger-capacity bike, is the same width and height. That seat hovers an identical, sky-high 965mm above the ground -- yes, that's almost a metre, and there's no sidestand -- and the wheelbase is just 10mm shorter.
Which is lucky for our expert tester, a multi International Six Day Enduro rep for New Zealand. Topping 1.8m he can easily swing a leg over, while I'd need a ladder.
And even he says, "It's a big bike -- physically big with more or less the same frame, plastics and ergonomics as the 450."
It certainly borrowed from the 450 for the layout, with the hidden fuel cap, an asymmetrical sub frame and a larger, slimmer 7.5-litre fuel tank sitting below the seat -- the slightly untidy-looking panel replacing a conventional tank now hiding the air cleaner. Other than that quibble, build and finish quality looks good.
The backward-tilted engine isn't the only powerplant lesson learned from the 450. The YZ250F also uses a rear-positioned exhaust with a forward-facing intake, with the throttle body as well as that airbox now in front of the engine -- the intake ports placed for a straight hit into the combustion chamber. Oh yes, and the big news -- this generation gets fuel injection, with fully adjustable mapping.
All that delivers a boost to mid- and high-end power for this 250cc liquid-cooled four-stroke single, but, just as important, a better-centralised mass.
Fresh from a day in the dirt our tester says this is a fast, gutsy motor, with a fat power band.
"You'd have to screw up royally to fall out of the power, it has a big, wide mid range, and its only weakness is the extreme top end, which 1 per cent of buyers might find lacking. Truly elite riders like Hamish Dobbin will want more top end but I wouldn't, and very few would.
"The brakes are average -- the rear brake is quite strong but the front's on the weak side, and top riders will put an oversize front disc on it [the standard's 250mm to the rear's 245mm] but for normal riders they're perfectly good."
As he says, this is a top-level race bike, and what pros think is important may not matter for weekend racers who might also use their machine for enduro or trail.
As for the handling: "It's balanced and stable and good-handling in faster turns. Fast, flowing lines and when you're hammering it it's fine, but it doesn't give a heap of confidence in tight, slippery or rumbly going."
That said, he admits enduros call for a slightly different focus to motocross, which may make him a tad oversensitive to slow-turn feedback.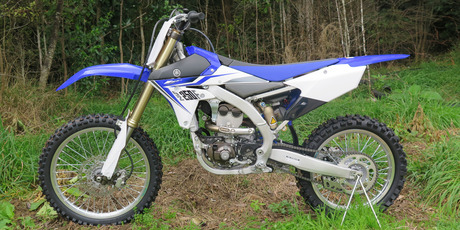 "We need to be more precise than motocrossers. It's generally slippier, and ruts and roots mean we must be more accurate. Motocrossers -- who circle a track -- know what's there, so they're not so reliant on feel. And our trajectories are different too, MXers lay into the turn and enduro riders corner more upright -- we don't know what's round the bend, it could be carpeted with roots."
Meantime he likes the firm suspension response from the KYB adjustable inverted front with the speed-sensitive valving seen on last year's 450 -- the rear shock's a newbie using a vertical reservoir, with suspension travel "so it'll suit big, fast guys".
"Overall it's a really, really good bike. It's strong, it's gutsy, it has great suspension that's plush for the bigger guy -- but might be oversprung for the lighter rider."
The $13,299 Yamaha YZ250F in short? "It's a bloody good bike."