Mercedes gets a thorough workout in the North Island Targa event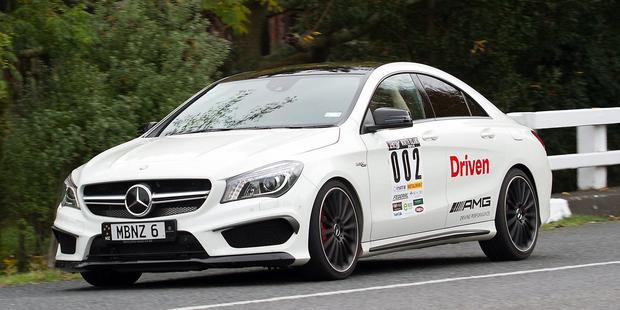 There aren't many opportunities to test new cars at the top of their performance potential and though occasionally we can blast on tracks it's rare to be able to let these machines off the leash properly.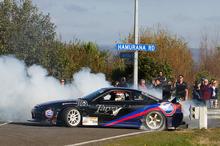 Over the weekend, we again headed out on Targa - a three-day motorsport snack around the North Island that's a forerunner to a epic six-day event in the South Island in early November. This is going to be a huge test of man and machine, so the North Island warm-up is the perfect shakedown, warm-up or weekend away from lawn-mowing duties, depending on how you look at it.
For us, it was the welcome opportunity to give the little Mercedes-Benz CLA 45 AMG a big workout and see just how fit for this tough event it would be.
Its A-Class brethren, with which it shares everything but body, was Driven's sub-$100K Performance Car of the Year in 2013.
The hardcore hatch scooped the award in a hard-fought category purely due to the extraordinary levels of performance out of a 2-litre engine and what is essentially a shopping basket base car. Of course, the psychotic engineers at AMG don't do things by halves, and its abilities go so far beyond the standard A-Class abilities it's almost absurd. Ditto with the CLA.
For those not familiar with the Targa, it's something special for car enthusiasts and attracts enough vehicles to be in its 20th year, which is impressive in these fickle consumer times. It's essentially a tarmac rally, with several days of special stages on closed roads where the only real limits are ability of bloke (or blokette) and beast. Touring stages take the competitors and their flying circus of service crews and supporters between each stage.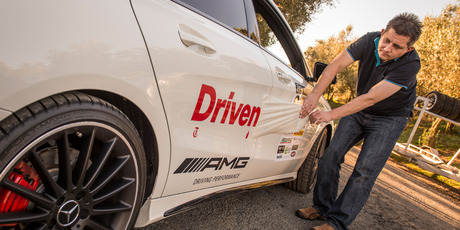 Vehicles are divided into classes based on vehicle age and whether they're two- or four-wheel drive, which levels the playing field and keeps classic machinery and fire-breathing modern rockets racing similar vehicles. Of course, there are hyper-competitive big hitters and those happy to test their skills and race the clock.
Drivers are tasked with keeping the car on the black stuff, while co-drivers use pace notes to keep the driver informed as to what nasties are coming up.
With Kiwi backroads being the sizzling mix of quick, flowing roads and tight, twisty stuff punctuated with decreasing-radius corners, blind brows, big drop-offs and slippery surfaces, there are plenty of opportunities to get it wrong. And while cars do fairly regularly find themselves being hit with hammers and tarted up with rolls of race-tape, or simply declared a lost cause and written off, the safety record of the event is enviable, especially with the considerable risk involved.
There's also the Targa Tour, which is significantly slower than the main event but allows those who want to give their cars a run through the same challenging roads, following a pace-setter, and limited to 160km/h.
Our role among this motorsport fun fest was as 002 - the first car to run through stages, essentially acting as a sweeper, with Racing Ray Williams behind us in an HSV GTS wearing HRT livery and a 001 door sticker - then the 00 runs through at absolute race pace, then the 0 car, and the racers behind that. It's a good way to spend a day, and a better way to test a car's mettle.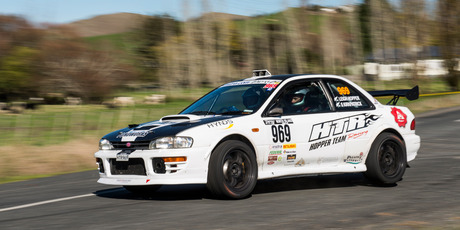 Mercedes-Benz New Zealand was confident the CLA 45 AMG had the credentials to tackle Targa at the cracking pace that's needed to run as 002 - and with a staggering 267kW lurking beneath its very curvy body, it turns out they were right. But none of us were quite prepared for just how quick it was.
Sure, the engine is a monster - this sort of power out of a four-cylinder 2-litre had been unheard of up until the A45's angry arrival.
Direct injection, serious cooling and the ability to run a big turbocharger blowing an explosive 1.86 bar of boost without blowing engines make all this possible. It wasn't that long ago that this wouldn't have been a reality in a warranteed production car - but it's heralded a new era of far faster little cars that can foot it with sixes and eights without looking like a gutless wonder.
Having driven the car before I knew what lurked under the bonnet, but as the event kicked off on Friday from Bombay near Auckland it got a few sideways glances. Even my first very able co-driver Scott Fountain was stunned as I jumped on the gas and blasted into the first stage, backfiring on every gear change and what felt like a close approximation of its optimum 0-100km/h time of 4.1 seconds.
It didn't take long before we were truly in the swing of the stages, chewing through them at a pace that indicated it would, given a cage and a few more full-race mods, be a strong contender against far bigger and angrier machines.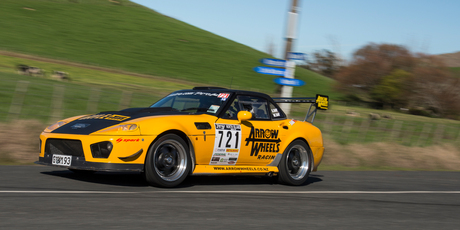 By lunch we had drivers and spectators keen to know all about these powerful little fours and generally fairly surprised at the spec and price of just under $108,000, well below what you'd traditionally pay to achieve some very serious numbers. Even mile-a-minute event director Peter Martin adopted a stunned-mullet expression after hearing the times it achieved on a couple of stages.
The CLA uses a tough version of the Mercedes 4MATIC all-wheel-drive system, but is front-wheel drive until it senses it needs all four to receive power - this is most of the time.
But with its double-clutch paddle-shifted robotic manual gearbox and driver aids backed almost completely off to allow more attack, it gets the ability to belt through the tighter bends.
A very effective technique, especially through the sets of esses that defined a few Coromandel stages on Saturday and lots of Rotorua's finest on Sunday, was to lift off the throttle and allow the back end to shuffle left and right before jumping on the gas, engaging the rear drive and using the boost to catapult it into the next turn.
AMG have excelled themselves with this car - aside from a rollcage and some more purposeful tyres, the only other vital modification for full racing duties would be some motorsport stoppers. The brakes never disappeared, and showed very little signs of fade while being under extreme duress, but were often smoking at the end of stages and were on fire after a couple of the bigger challenges.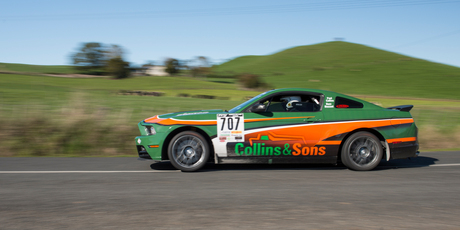 Considering it is a production car, has leather-wrapped heated race seats with 10-way electric adjustments, a full infotainment centre with sat nav and Bluetooth and all of the other bells and whistles that a Benz buyer wants and/or needs, it's a total bloody marvel.
Targa's other marvels, the incredibly committed volunteers who give their time to stand in often freezing conditions to marshall the field, time it and keep all of us safe, again proved their selflessness as we exited the final stage.
"Thanks heaps," came the cry from that last checkpoint.
"What for?" I asked, "We've sat on our asses in a Merc all weekend - you guys are the ones that do all the work."
Motorsport people are almost universally top people to hang out with - and when the racing is over it's social, friendly and incredibly fun. If you've got a car that needs to be let out to play without fear of losing your licence, and a spare six days to fill in this November, head to targa.co.nz for details on the Targa main event. Being the 20th year, and using those sweet, sweet southern roads, it'll be a cracker.