BMW's new Ms have a lot of history to surpass - but they're up to it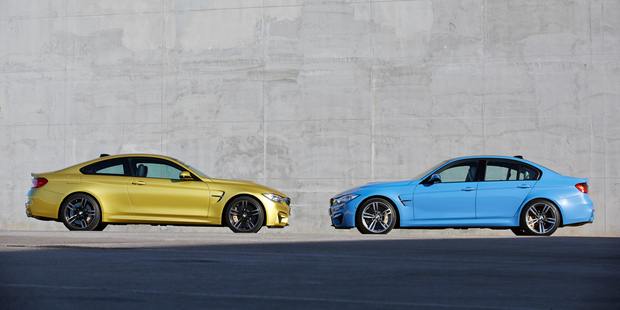 "I'm too wide ... f***!" yells Martin Tomczyk, obviously furious with his mistake, as he tips the BMW M4 coupe into a radical drop off right-hander at the famous Portimao Autodromo in Portugal.
These DTM drivers are perfectionists - if he was more than a few millimetres wide, it would be surprising. For myself and the other motoring writers who have been sampling the incredibly challenging circuit, putting the M4 and its sedan stablemate through their paces, anything less than a couple of feet off line is completely forgivable.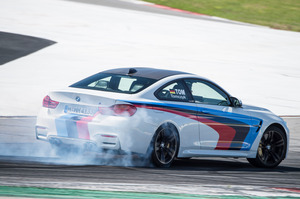 But for Tomczyk, his touring car teammate, Bruno Spengler, and the legion of BMW M Division engineers and bigwigs on site to give us the goods on these monsters, perfection is paramount.
And a world of motoring enthusiasts, auto journos and others is waiting with bated breath.
The M Division is known for creating insane machines that make the exceptionally capable BMW road cars blow people's minds.
We're here for the launch of the M3 sedan and M4 coupe - and we're here to see if the M folk have managed to match the scintillating performance of the V8-powered predecessor with two fewer cylinders.
They know it has to be bang-on - and "bang", it turns out, is the operative word.
With the V8-powered M3 confined to the history books, it was always going to be a tough proposition.
But it's a whole new machine, with a rev-happy inline six fed by two turbos that makes a solid 317kW and 550Nm.
With a new lightweight platform that has shed 80kg, it adds up to a serious package - a shade over four seconds to the 100km/h mark at 4.1 seconds using launch control.
Driven's test took on two radically different worlds, with plenty of wheel time on road and track.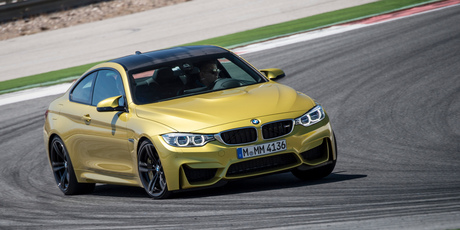 First, the hyper-challenging Portimao circuit, with its incredible elevation changes, tightening series of corners and huge drops into hairpins which not only gave us a change to let the M3 sedan and M4 Coupe off their respective leashes, but really put the huge carbon ceramic stoppers to the test.
Next was an eclectic drive route that linked tiny Portuguese villages in a twisting line-up with 343 corners.
Both these environments easily proved how more advanced the new platform is - bumpy rural roads didn't faze either car, and tricky mid-bend surface changes were handled easily.
The excellent new seats and electromechanical variable ratio power steering meant a less labour-intensive drive while maintaining a solid grip on the cars even on a fast series of corners.
The track was a different story. Tomczyk and Spengler both offered doom and gloom at the track briefing, using phrases like "for your safety you must respect this track", "hardest track I've ever learned" and "blind apex".
They were right - Portimao is a hell of a circuit, huge elevation changes, fast stacks of corners leading into savage hairpins and nasty blind brows.
And it has that Laguna Seca-dwarfing right hander that prompted DTM star Tomczyk to drop the F-bomb as he dropped the coupe into a corner that loads up a car so much it's released like a spring on the exit.
The aluminium double joint spring strut at the front end and the five-link alloy rear with the whole rear axle subframe bolted to the body provide exceptional rigidity for tasks such as gripping and slipping around Portimao.
The huge carbon ceramic stoppers on the test cars aren't a standard option in New Zealand, but we get the typically solid fixed-caliper brakes with inner-venting rotors - four pot at the front, two at the rear - which will stop this lightweight heavy hitter with room to spare.
Despite the racetrack credentials, the beauty of M-cars over the last couple of generations has been that a few button pushes will switch them from being a frantic slathering psycho to a calm granny with a valium in one hand and a sherry in the other.
The driver aids are packed in - corner braking control, dynamic braking control, three DSC modes (comfort, sport and sport-plus) and our favourite MDM.
M Dynamic Mode backs the traction control off to allow a bit of swing from the back, which is easily corrected with a boot full of turbo-fed torque and the custom Michelin tyres, which meld compounds to create impressive grip stats in either wet or dry conditions.
Less an aid and more a showpiece, launch control is on offer in the seven-speed DCT Drivelogic robot manual, which gives stunningly quick shift times.
Most M3s and M4s sold in New Zealand will have the paddle-shifted semi-auto.
Although the slick and positive six-speed manual was impressive, it's still slower than the "pretender" and will be available only as special order.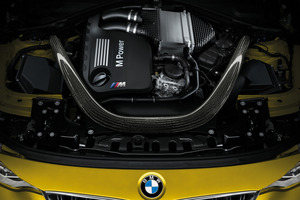 Comparing the new six-cylinder engines to those that went before isn't exactly fair.
The E92 M3 packed a reasonably small capacity 4-litre V8 which, with a free-breathing M-spec exhaust and a peaky 8000rpm redline, screamed like the proverbial banshee.
After last year's drive in the M3 Pure - the last V8 M3 to go on sale in New Zealand, with its 309kW, 400Nm, 4.6-second resume - there was a degree of trepidation at what the six-pot would bring.
An M3 needs the right noise, says BMW M president Dr Friedrich Nitschke.
"There were three things that the sales and marketing guys were adamant about," he told Driven. "Sound, sound and sound. We cannot produce an M3 that doesn't sound impressive - it's a very important part of the experience."
It growls now, rather than screams, a deep thrum that quickly builds in intensity but never really hits the high notes. There's more than enough volume to attract any attention spared by the Yas Marina Blue and Austin Yellow Metallic "hero" colours for the M3 and M4 respectively.
An electrically controlled flap in the exhaust on the engine side of the rear silencer opens as the revs build, losing back pressure and helping the three-litre engine make peak power at 7000rpm, just before redline.
When it's shut, there's enough restriction to build torque quickly, with the 550Nm on tap from 1800rpm to 5650rpm.
The straight six goes far beyond the spec of the 435i/335i, with direct injection, variable valve timing and BMW's Double-VANOS variable cam timing.
The closed-deck crankcase design is extremely rigid and forced-induction friendly, twin-wire coated bores meaning no liners and less weight. A forged crank also sheds some pork, paired with carillo-type connecting rods and race pistons coated to cut friction easily taking the punishment that the two fast-spooling mono scroll turbos provide.
More weight is lost with the tricky magnesium sump that has a cover to limit oil movement under Gs, with an extraction pump and return system to keep even oil distribution, even when going fully feral on the track.
This M-pair goes a step further with circuit capabilities - head of engine development Norbert Siegel says the cooling system is far more advanced than previously.
The high-volume radiator is joined by an indirect intercooler, water and oil coolers and another for the transmission oil in the double clutch robot auto version, and even a coolant pump for the turbo bearing mounts when the car is static.
All of this bitumen ambition put these two M cars on a crash diet, with wide use of aluminium for body and chassis components. Topping it off is a stunning full carbon-fibre roof that even the most hardened devotee of either of the other two German power mongers couldn't possibly say a bad thing about.
This adds up to a 1497kg kerb weight for the coupe and 1520kg for the sedan - and a power to weight ratio that adds up to easy digestion of large expanses of road in alarmingly short time.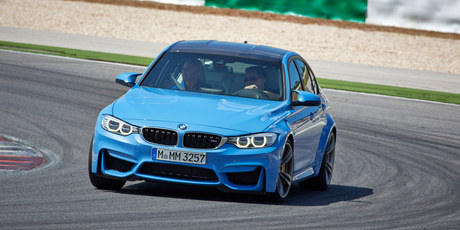 While those fun-loving German engineers have been slicing off every excess millimetre of fat, BMW NZ has been rather kind to M-car wannabes.
There's a near-$20,000 jump in spec over the old V8 but the price has increased only slightly - the M3 will cost just under $160,000 and the M4 Coupe $169,900.
Which to choose? The Europeans reckon the M3 sedan will take only about 15 per cent of the sales mix. The upcoming convertible is expected to take 35 per cent, and the rest will be the sleek and sexy coupe.
The two machines are equal in balance and stability. The coupe sells out some luggage space and a bit of rear seat head room but has a better look. It's a tough call - but there are far, far worse choices to make in life than "which M will look best in my driveway?"