Manufacturers reveal concept cars smaller in size but bigger in power
Jeep is cashing in on Chrysler's fusion with the all-powerful Fiat Group - and its Renegade, which debuted at this week's Geneva Motor Show is one of its shining stars moving forward.
The so-called Baby Jeep, based on the yet-to-be-released Fiat 500 X, is bringing the Willys' footprint and Wrangler feel into a segment that hasn't really existed in recent times.
Big manufacturers made it screamingly obvious that these little SUVs are a big part of the future - with Citroen's C4-based Cactus and VW's Golf-based T-Roc concept also vying for show floor attention.
Jeep CEO Mike Manley calls the Renegade "the most capable small SUV ever".
Renegade is instantly recognisable by its familiar Jeep family face - the vertical grille, round headlights and arches giving it a slice of Wrangler that makes its lineage far more firmly felt than the larger Alfa Romeo Giulietta-based Cherokee, which will be on sale in New Zealand this year.
The company sees it as vitally important - fitting into the ever-growing small car segment, but still allowing wriggle room for an even smaller model. It'll offer enough options to make a fairly personal choice. There are 16 engine and transmission combinations, including diesel power plants for frugal fuellers and the very capable Tigershark 2.4 litre petrol engine, alongside six-speed manuals and the very versatile ZF nine-speed automatic transmission that also appears on Cherokee. There are softer, city-focused machines, small and carpark-friendly, and the range-topping Trailhawk with Jeep's impressive SelecTerrain 4WD system allowing for assaults on fairly serious off-road environments.
Manley is under no illusions as to just how important the Renegade is to the company. The Wrangler, he says, continues to be a core machine in the range with a dedicated production line unable to keep pace with seemingly endless demand for what is a fairly agricultural machine.
"It is incredibly important," he told Driven on the sidelines of the Geneva show, "and while the reaction to Cherokee has been very good, the initial reaction to the Renegade and its styling has been excellent - we are very pleased with it." But both vehicles are tasked with growing the brand's profile beyond Jeep tragics with mud in their hair and 4x4 families that fill Grand Cherokees and pack out the countryside. The new duo need younger buyers, converting sales from other brands and keep feeding the Jeep legend.
The pricing structure will offer value but won't be a budget buy, says Manley: "It will be extremely well-priced considering the high level of technology that it offers."
And this is part of the key to attract those younger buyers with wants and needs different to those who are traditionally in the Chrysler marketers' sights. They want fun, they want huge levels of connectivity and, above all, they want the right image.
And the image Jeep is aiming for is certainly not one of a cutesy SUV, says Jeep design head Mark Allen.
"We were really scared of it coming off as cute," he said, "cute would kill it. But it is cute - well, maybe it's brute cute."
Cute or not, the slotted grille, fat arches, quirky touches and purposeful stance may just come off like a small dog with a big, staunch studded collar - but it's obviously splashing around in the same gene pool as the Wrangler, which Allen describes as "our 911".
Unlike Wrangler, which Mike Manley vows will only ever be built on US soil, this was penned and engineered in Detroit but is being built at Melfi in Italy.
The Renegade, he reckons, has "all of the goodness, all of the fun and all of the adventure of Wrangler, but in a city package".
It's going to be late next year before we're likely to see this junior Wrangler zipping around town or bouncing around the bush - but it will launch this year in Europe and either December or January in the US.
It may seem a bit unfair that we're going to have to wait so long, but it is a global machine - to put things in perspective, Manley points out that there are 27 markets to fill with left-hand-drive versions, plus the United States' 2700 dealers that want it on their lots as early as possible next year. But once the right-hand-drive machines start rolling off the production line at Melfi we'll see Renegades "as soon as possible".
We aren't going to get the full gamut of 16 drivetrain options - more likely five or six - but odds on that we'll see a couple of diesels, a couple of petrols and the hardcore hero Trailhawk.
ABARTH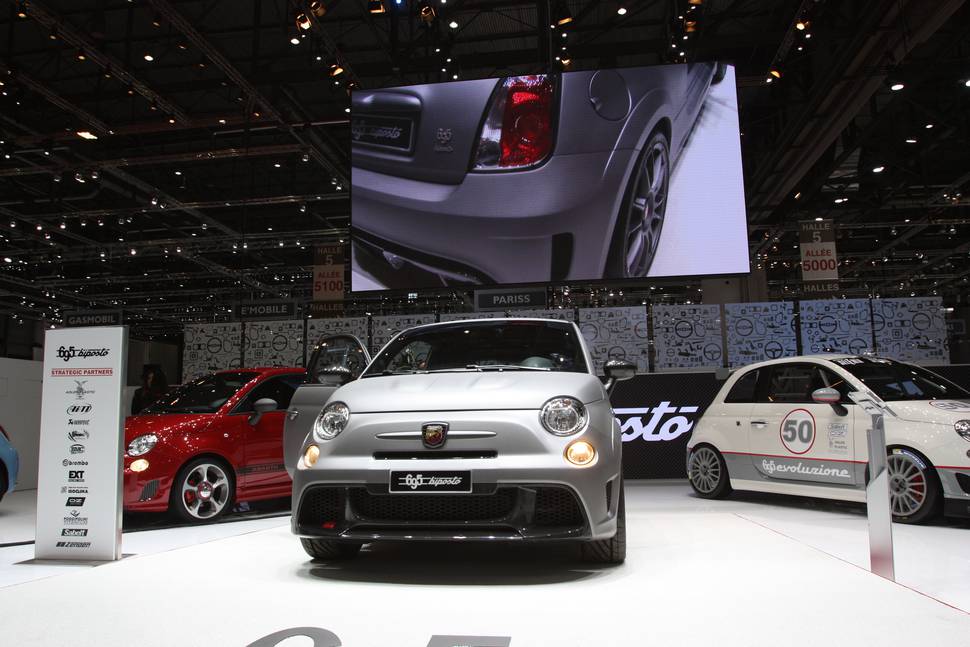 The Abarth tuning house has long been the King of Fiat Faffing, and its latest go-fast version of the tiny 500 is nothing short of spectacular. Abarth has exceeded its racy roots with the 696 biposto - a two-seat machine with a big exhaust, Stack-style dash, Brembo picks, a digital speedo with G-force and throttle position readouts and lightweight Oz Racing feet. No seatbelts for this one, it's caged and fitted with Sabelt harnesses. The first Abarth was released at Geneva in 1967 and boasted 30hp and 130km/h top speed. This visit it was 190hp and 230 clicks. It's an uncompromising race car for the road and although it's likely to set boy-racing hearts aflutter in Europe, only 10 are earmarked for Aussie and New Zealand is highly unlikely to see what Abarth bosses call "the world's smallest supercar" at all. Sniff.
ALFA
Alfa Romeo made the expected move in Geneva, tearing the top off its lightweight 4C sports car - which we will have driven by the time you read this. The 4C Spider, which we won't have even sat in, is a beautiful piece of kit that will not be seen down our way for more than a year, at least.
It also debuted cooking QV versions of the Mito and Giulietta hatches. The Mito gets power up to 170hp from the 1.4l mill; the Giulietta grabbing tech such as cylinder scavenging, a pulse converting manifold and an upgrade to the TCT transmissions shift control getting the 1750cc hatch to 100km/h in only 6.6 seconds.
TOYOTA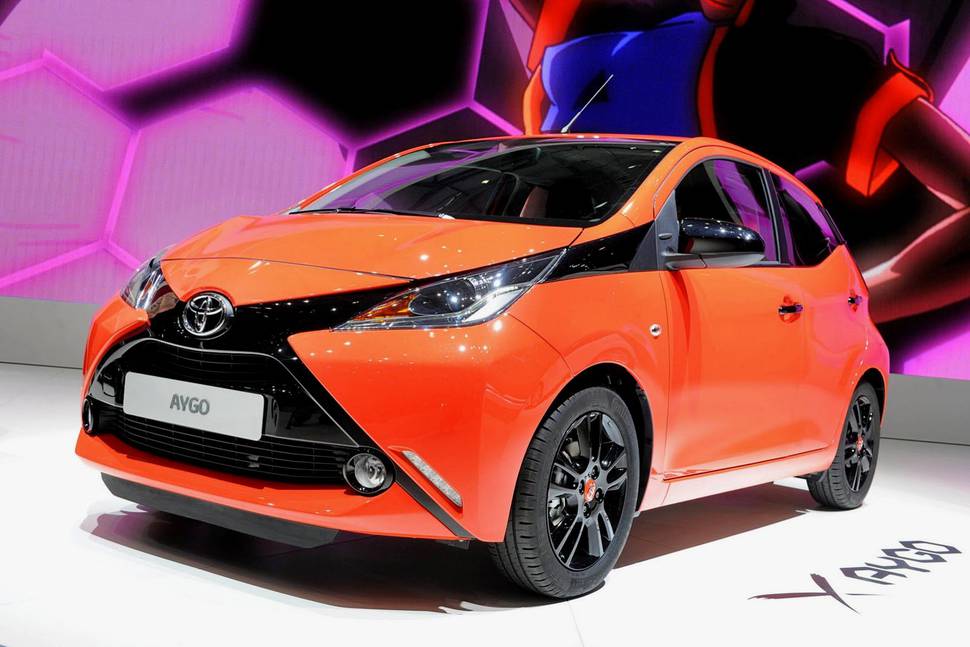 Japanese giant Toyota showed a new compact that is squarely aimed at the pimply youth. The little Aygo was the focus of the massive Toyota stand, with a dozen differently dressed versions on display. Helping its younger focus is the clean-running 1.0-litre VVTi three-cylinder engine and a dash-dominating seven-inch touchscreen. The tongue-in-cheek catchphrase "Go Fun Yourself" shows the company is willing to shed its beige underpinnings for another A-segment assault.
MAZZA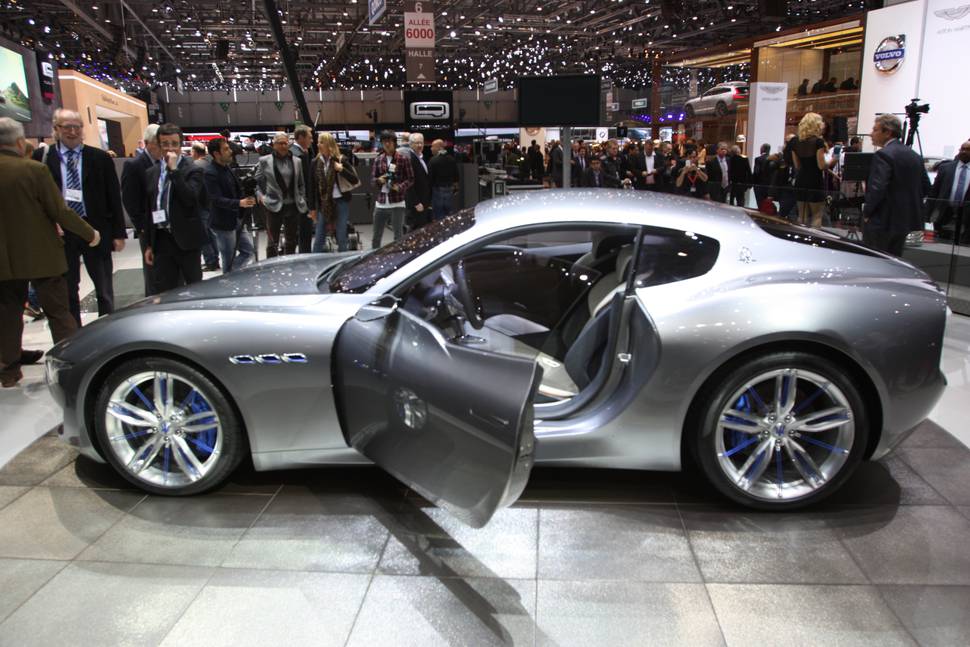 Maserati signalled its intent to take on the likes of Porsche's 911 and the beautiful Jaguar F-type with a show-stopping concept that is, according to rumour and sound sources, very much earmarked for production in the very near future.
Maserati CEO Harald Wester talked up the car's potential for completing the company's line-up, adding to its high-performance luxury and GT line-up with a smaller 2+2, saying "we are evaluating now whether this concept could go into production".
Glen Sealey, Maserati boss for New Zealand and Australia, was obviously excited about the Alfieri and was hopeful that it would be added to the range.
We're about to see the four-door Ghibli, a smaller sibling to the slick Quattroporte, arrive in New Zealand - and Sealey says the expanding range would help the brand's continuing growth heading into its centennial year.
"It's the star of the show, no doubt about that," he told Driven as we both ogled the Alfieri.
"I'd love to see this go into production. It would really complement the existing range - it's a very, very exciting time for Maserati."
The Alfieri is based on the GranTurismo, with a shorter wheelbase giving 4590mm length. The show concept was fitted with the ageing Ferrari-derived naturally aspirated V8 which, when fired up on the Maserati stand reverberated through the halls with a savage bark that left no doubt that a 343kW V8 can still do the business, no matter how long in the tooth it is.
A production version would be far more likely to receive the twin turbo V6 and V8s as per Quattroporte S.
Maserati also showed a limited-edition Zegna Quattroporte, restricted to 100 cars and to be offered initially to its most valued customers.