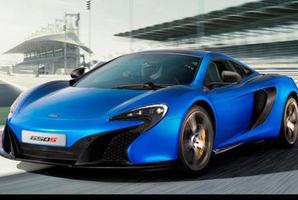 Petrolheads take note. McLaren have teased us with an image revealing a third addition to their road car line up. Called the 650S, it is expected to sit between the 12C Coupe and Spyder and the ballistic P1 hypercar in the companies road car range.
With an upcoming unveil to be at the Geneva Motor Show, McLaren have kept their cards close to their chest about any concrete details. Whether or not the 650 stands for horsepower remains to been seen, but that would mean 485kW of grunt.
We do know the the 650S has been, "designed and developed to offer the enthusiast driver the ultimate in luxury, engagement and excitement, as well as dramatic yet beautiful styling," said McLaren in a statement.
UPDATED: More images of the upcoming McLaren 650S have been released after a teaser image of the nameplate was leaked last week.
While more details have yet to be revealed, it is confirmed Jenson Button was part of the development process of what will be a more hardcore version of the 12C coupe.
The 650S will use 12C underpinnings and will be the middle child between the 12C and mental P1 in the McLaren road car range.
Power has been confirmed as 650 horsepower (471kW), hence the name, 650S.
The rear is relatively unchanged from the 12C while the front fascia adopts styling from
the ludicrous P1. Brakes, suspension and aerodynamics have improved too.
The interior is identical to the 12C, with the addition of yellow stitching and plenty of carbon-fibre. We will give you the full goss after the cars official debut at Geneva.