An amazing South Island museum covers the sublime to the ridiculous of motoring
There are some amazing car museums around the world. I've been lucky enough to visit quite a few over the years, but my favourite is a ramshackle assortment of metal near Wanaka, called the National Transport and Toy Museum. Let's call it NTT for short.
Like any good museum, NTT can wow you with numbers: there are 600 vehicles to see and more than 30,000 toys, spread over 100,000 square feet of indoor area (much more outdoors).
Like any good museum, there are a few headline acts: the world's last 1915 Sunbeam ambulance, one of only four 1924 McLaughlin Buick limousines built and (plane alert) a Russian Antonov AN-2, the world's largest single-engined biplane.
Even some movie stars, including a brace of 1950s Vauxhall EIP sedans used in The World's Fastest Indian. Bonnets signed by director Roger Donaldson and actor Anthony Hopkins, no less.
Impressive. But what makes NTT exceptional (and perhaps New Zealand's weirdest car museum) are the sheer numbers of mainstream machines from the 1970s, '80s and even the '90s.
Most are not classics in the conventional sense of the word, but they're cars that ordinary people have a real connection with. The fact that so many seem to be in "as is" condition makes them all the more intriguing. Like unwanted strays accepted into the family.
No surprise, then, that the founder of NTT, Gerald Rhodes, is an avid collector whose first business was auto wrecking. Rhodes started collecting in the 1950s, although he did not get serious about sharing his toys until 1995, when the museum opened.
Back then, it was simply the Wanaka Transport Museum, the location chosen by Christchurch-based Rhodes for its dry climate.
Now there are three main hangars, loosely based around commercial-vehicle and military themes. Best to just free range and allow plenty of time to explore dark corners, as the cars are sprinkled throughout the hangars, be it age, type or make. I hesitate to say they are displayed because the cars are simply lined up at close quarters. NTT is desperately short on space.
Construction of a five-storey building has been under way since 2009, although hold-ups (including tighter regulations following the Christchurch earthquakes) mean there's still a massive hole in the ground and not much more.
I'm not sure more space and more elegant displays will make it better. Because then you won't have the delight of discovering a Toyota Sera (the oddball gullwing model popular as a used import in the 1990s) hiding under a dusty aeroplane wing, a well-worn Alfa Romeo 33 4x4 touch-parked with a Morris Marina or even a Rolls-Royce Silver Shadow filled to the brim with toys (presumably because there was nowhere else to store them).
I was not entirely sure whether the brown Porsche 924 parked outside a hangar during my visit was on display or simply transport for one of the staff.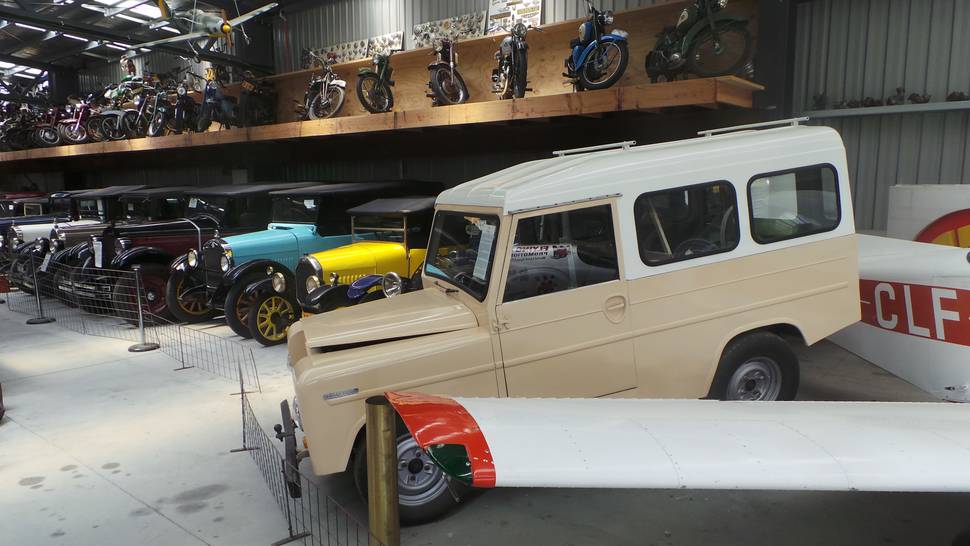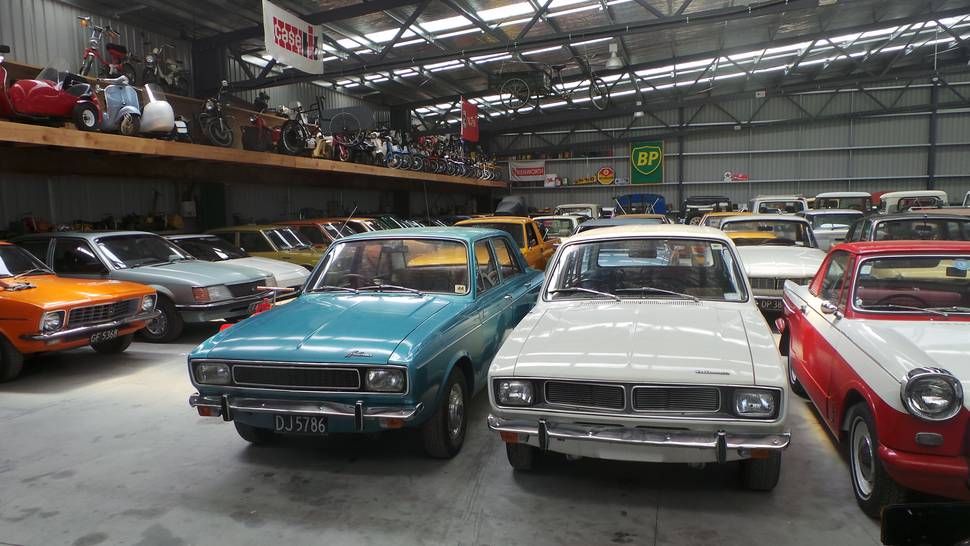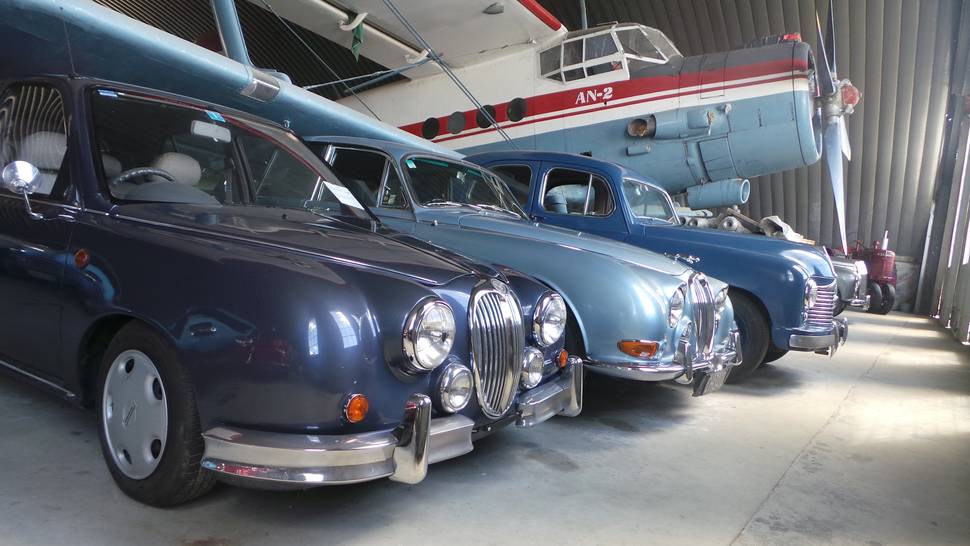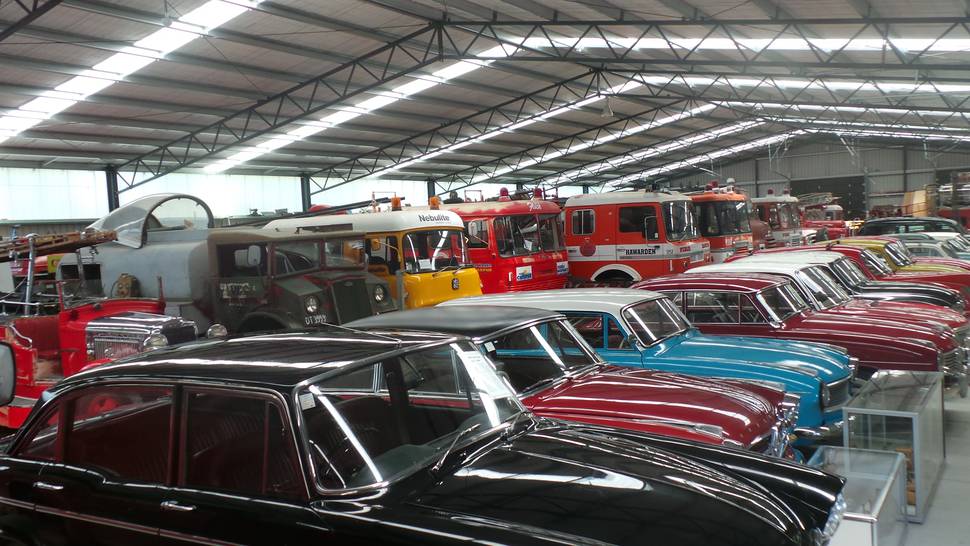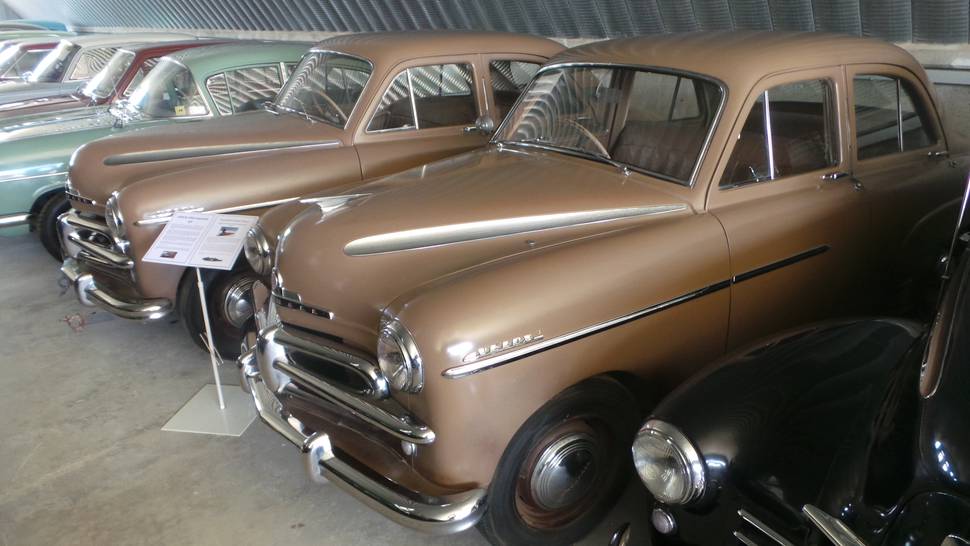 What grabs you will probably depend on your age. I was in awe of a row of Triumphs and a really cool collection of early Toyota Corollas. Loved the Trekka (New Zealand's one-and-only locally designed and produced car) sitting lonely in a corner, with only an oversized Buzzy Bee toy for company. See what they did there?
The museum has its fair share of oddities and in-jokes. You might have heard of the Mitsuoka Viewt, a Japanese Jaguar replica based on the Nissan Micra. There's one of those parked next to a 1966 S-type.
The Ford Laser and Mazda 323 of the 1980s were infamous for being badge-engineered versions of one another.
A Christchurch man called Chris van der Meys built a single car out of the combined front ends of a Laser Sport and 323 Limited, both 1982 models. It's a fully working vehicle with two powertrains and no need of reverse gear.
Some of the vehicles in the collection are very valuable. Some you'd be more likely to see on Trade Me with no reserve and a Buyer Must Collect instruction. The latter are often the more interesting ones for people who live and breathe cars; that's the beauty of this place.