The Ford Mustang will be riding in to fill the void soon to be left by the Falcon and other big beasts
Ford has finally revealed it will bring a right-hand-drive Mustang to New Zealand - a long-awaited hero car for a brand that's had a less than stellar big-car track record in recent years.
With the Falcon already on the ropes, two factories in Australia shutting up shop in 2016 and indications that Holden's going to be doing the same, the Mustang will take pride of place at the top of the Ford heap, with most other product sourced from Europe and Thailand as the company moves forward with its global model strategy.
The Mustang did have a brief semi-official appearance over a decade ago with an abysmal right-hand-drive conversion from Ford's then tuning partner Tickford, but this machine, due "some time" in 2015, is a pukka, US-built 'stang.
At a late-night event in Sydney last week, timed to coincide with similar events in Los Angeles, Detroit, New York, Shanghai and Barcelona, the new model was revealed worldwide.
With two powertrain options and two body styles, the car is expected to make some waves, but is unlikely to sell in huge numbers - those at Ford seem to regard it as an iconic range-topper that renews interest in the brand. We'll get the GT coupe, the convertible and the option of auto and manual for both.
"We're not talking massive volume here," Ford Australia boss Bob Graziano told Driven, "but it is really going to change the brand's dynamic - I'm really excited about it."
Ford is still investigating exactly what the model mix is here, and New Zealand managing director Corey Holter says that will take some time.
"We'll be talking to Mustang enthusiasts, some of whom have already imported left-hand-drive versions, and to FPV owners. But we'll also be doing research around other groups including younger people and those older people who are perhaps driving European cars now.
"It's a fairly niche vehicle, but everyone has a Mustang story. It's a car that people know and one that people love."
Despite this love, the Mustang is a big car with a big engine - and a four-cylinder version for the semi-frugal - and it will suffer the same fuel fear as other large cars that have come before it. The departure of Ford Performance Vehicles from showrooms could potentially help sell some to blue-oval enthusiasts, but the reality is Ford's bread and butter at this end of the world will remain the Ranger ute, the soon-to-be-updated Mondeo, Focus and Fiesta.
On the bright side, there was talk that New Zealand would only see an EcoBoost four-cylinder version of Mustang - the same sort of small-displacement, high-output engine seen in the Hail Mary Falcon, the EcoBoost XT with a two-litre turbo motor.
But we will be seeing a fresh iteration of the five-litre V8, with promises of better fuel economy and emissions thanks to a dramatically redesigned intake manifold and a smoother performance at idle. The cylinder head and the valve train have both been modernised, and in "US spec" puts out 313kW and 529Nm.
Though the V8 is the one to get, a new-generation direct injected turbocharged inline four is also on the way. The all-aluminium GTDI I4 is a 2.3-litre EcoBoost that runs a fairly high 9.5:1 compression ratio with an integrated inlet manifold and twin independent cam timing. It's good for 227kW and 407Nm, fairly respectable figures for a four-pot, and is teamed to either a Gertrag six-speed manual gearbox or to a SelectShift six-speed auto with steering-wheel shifters.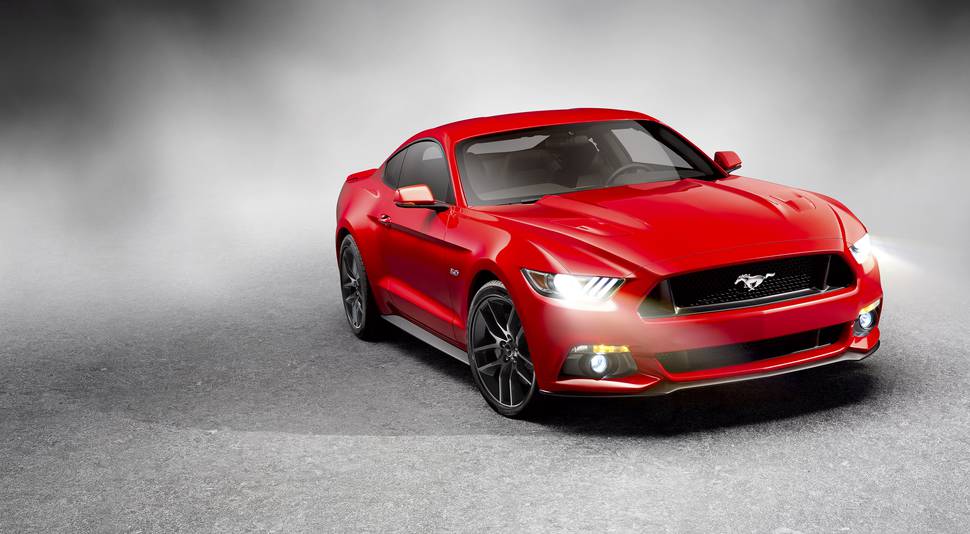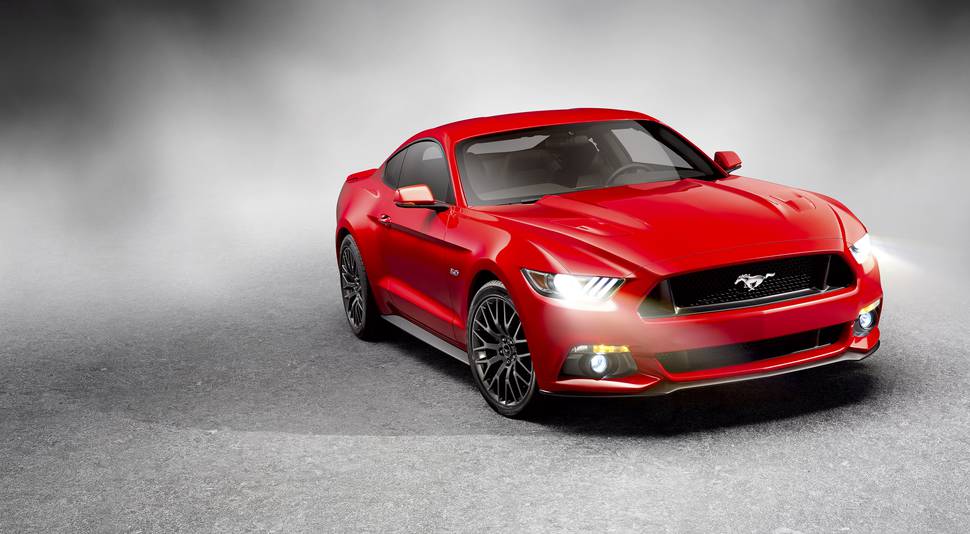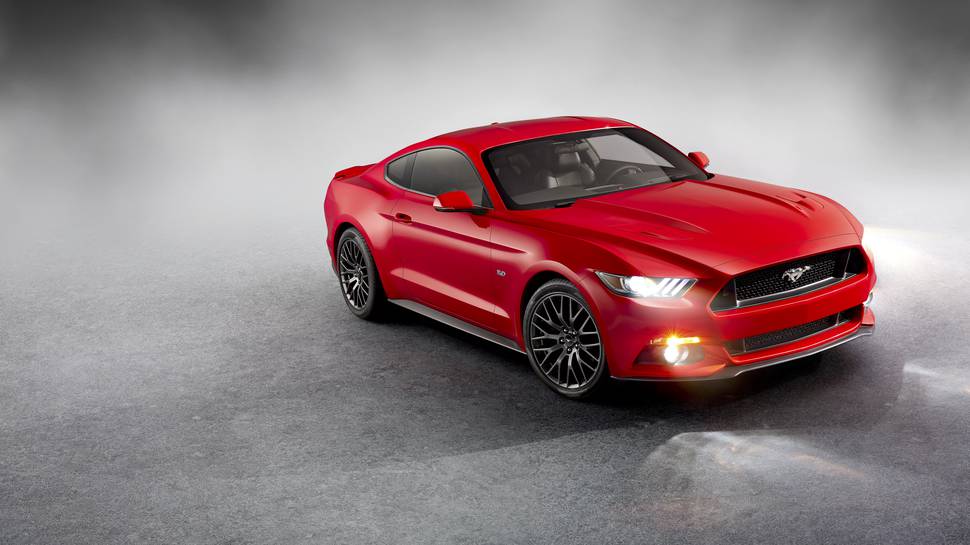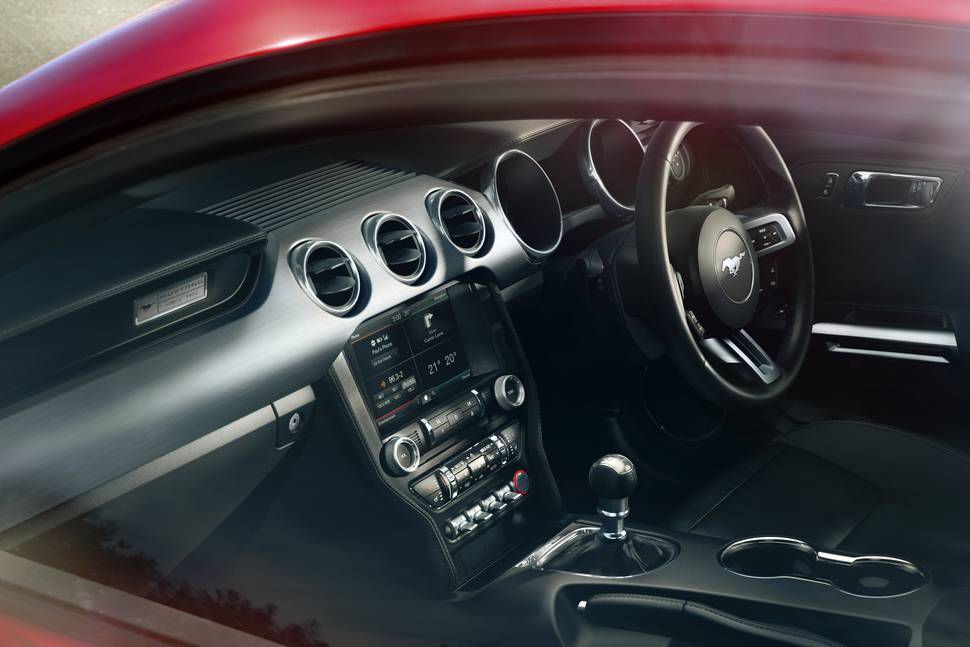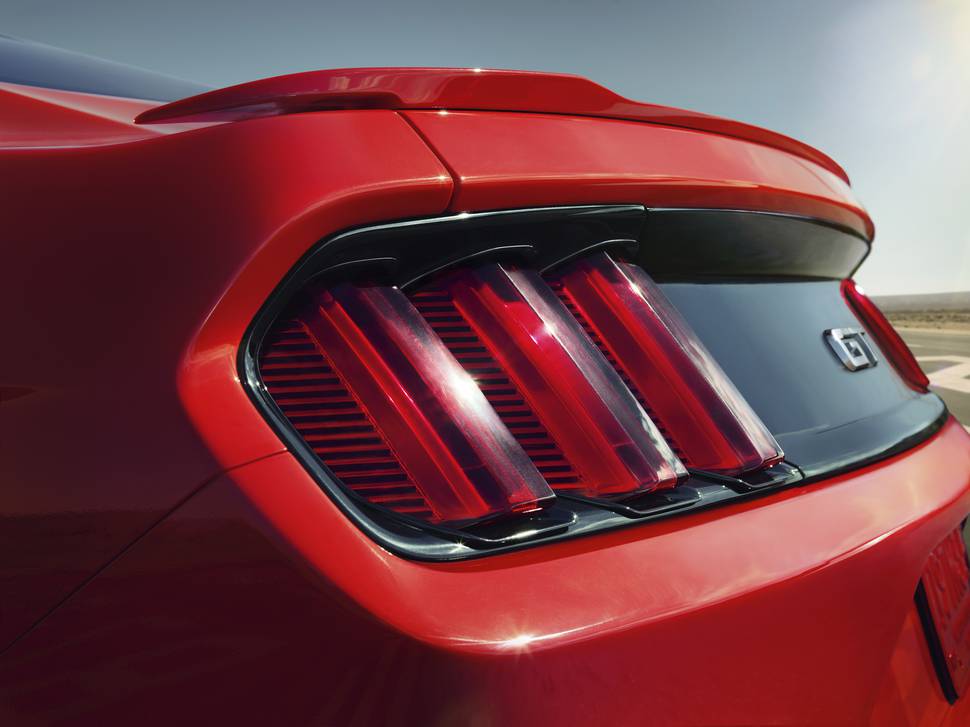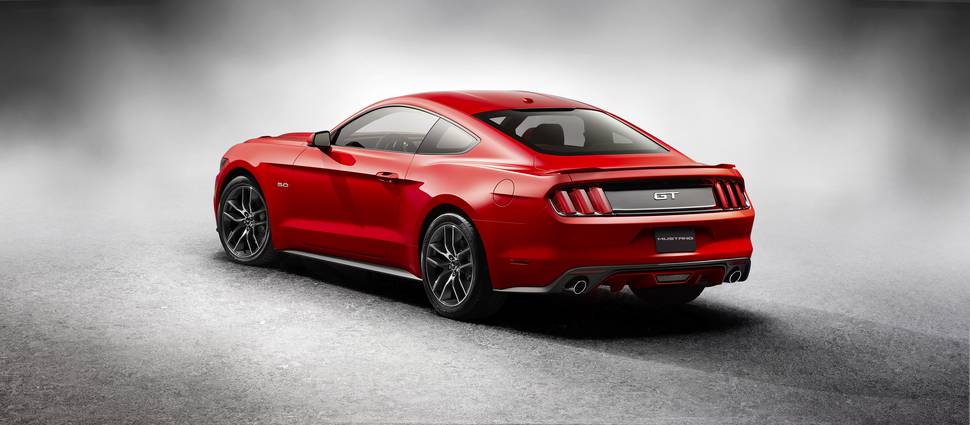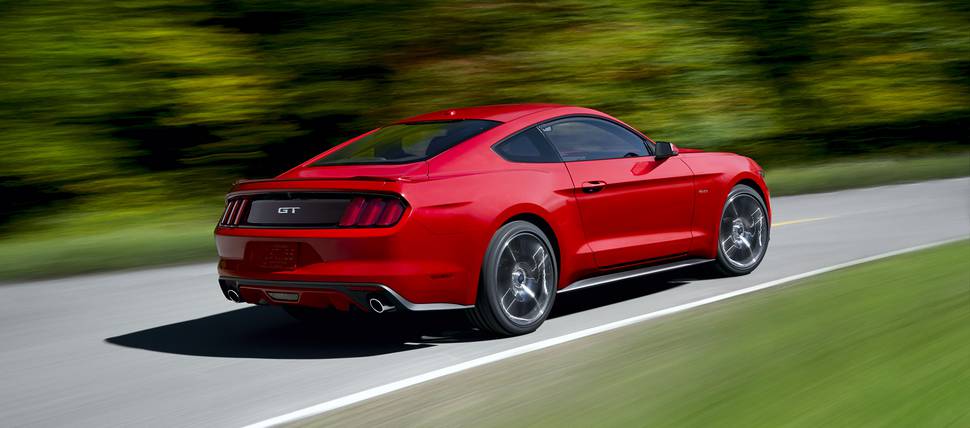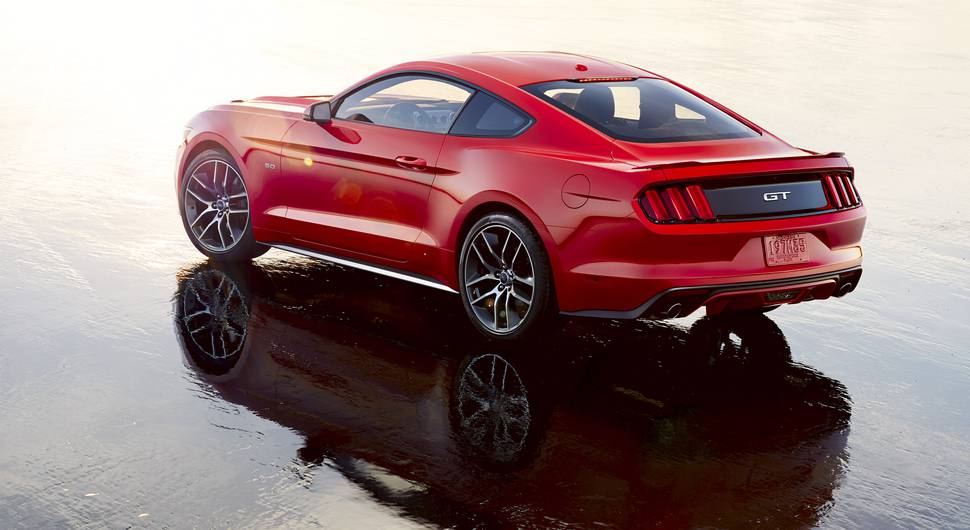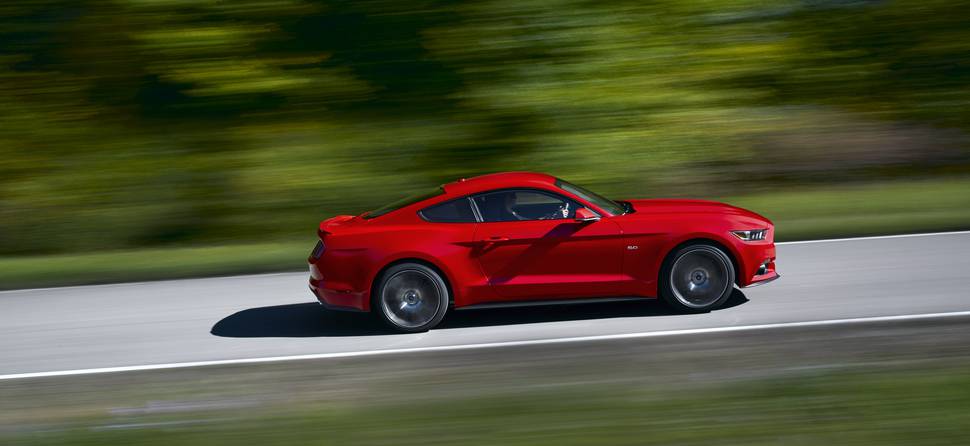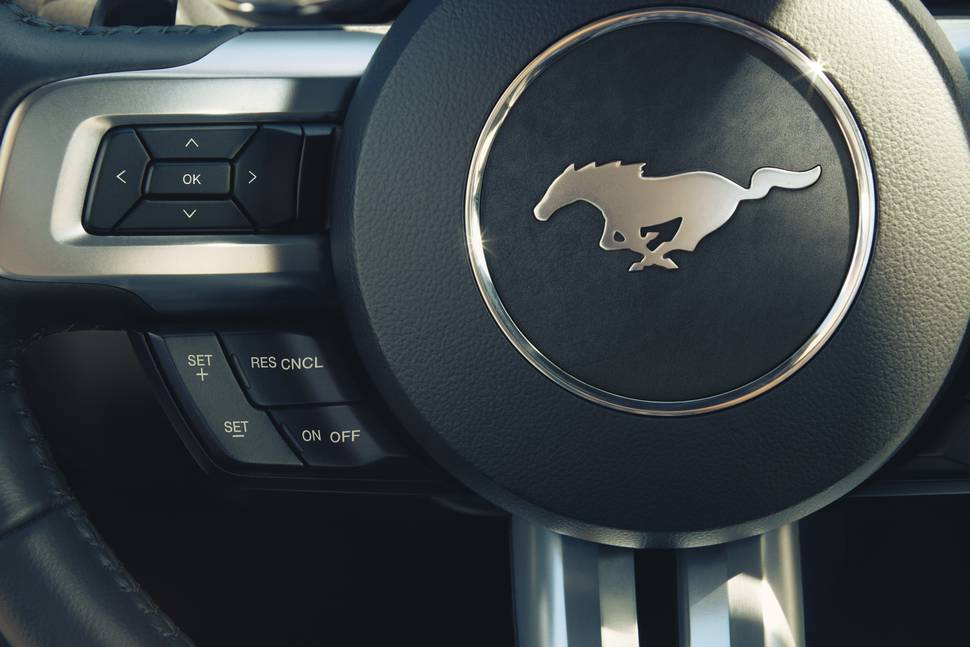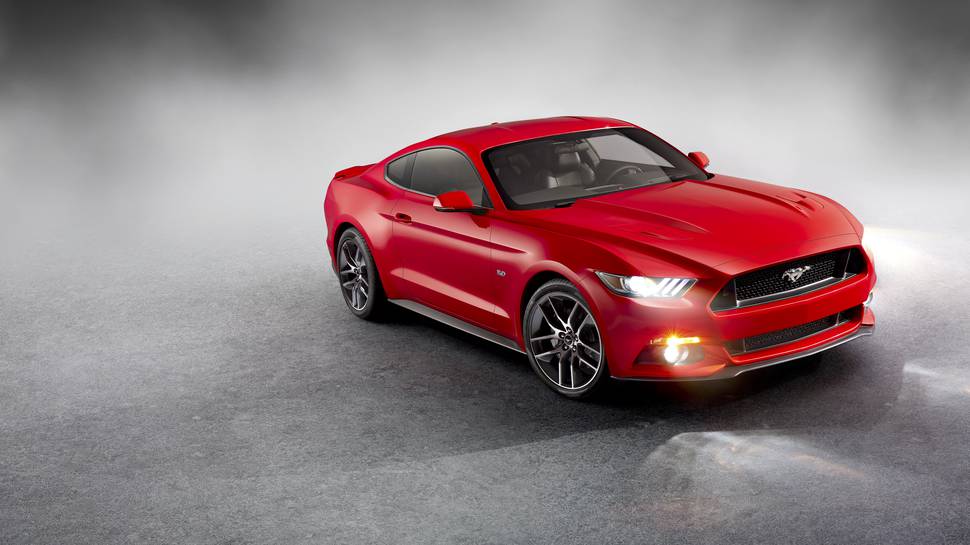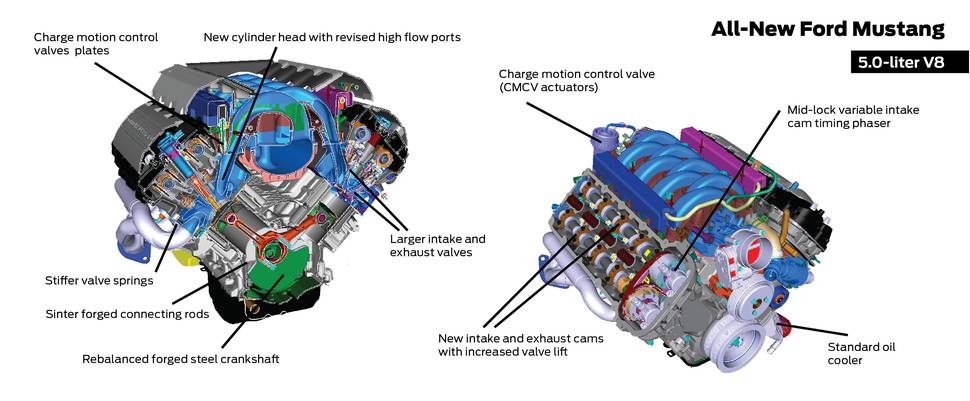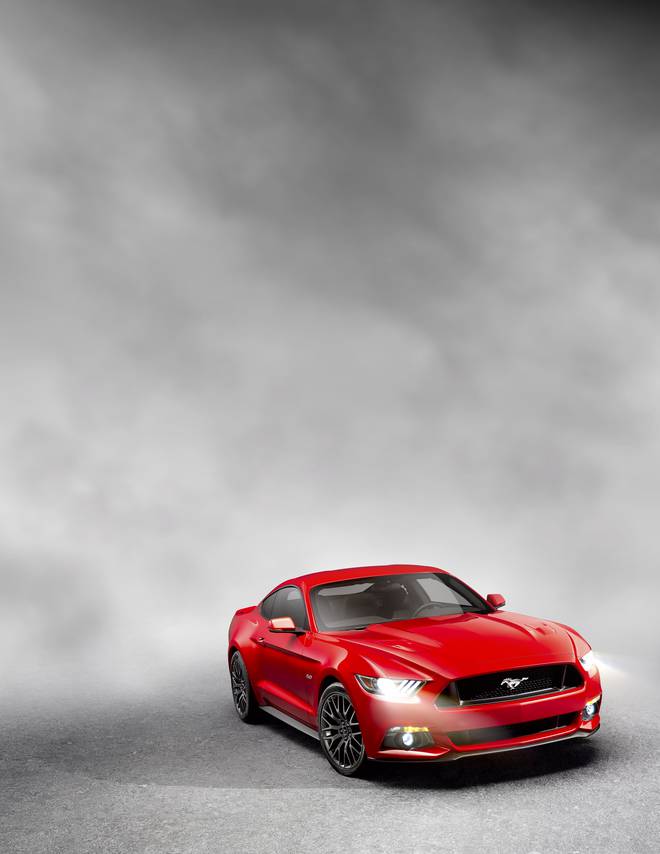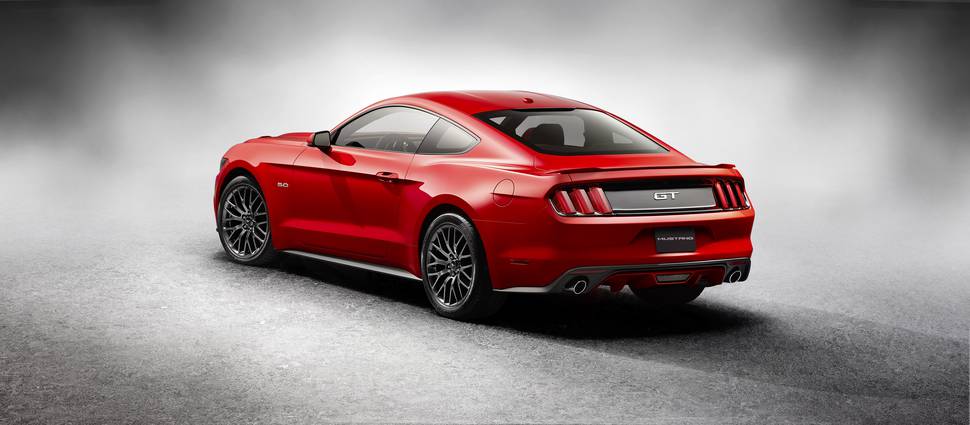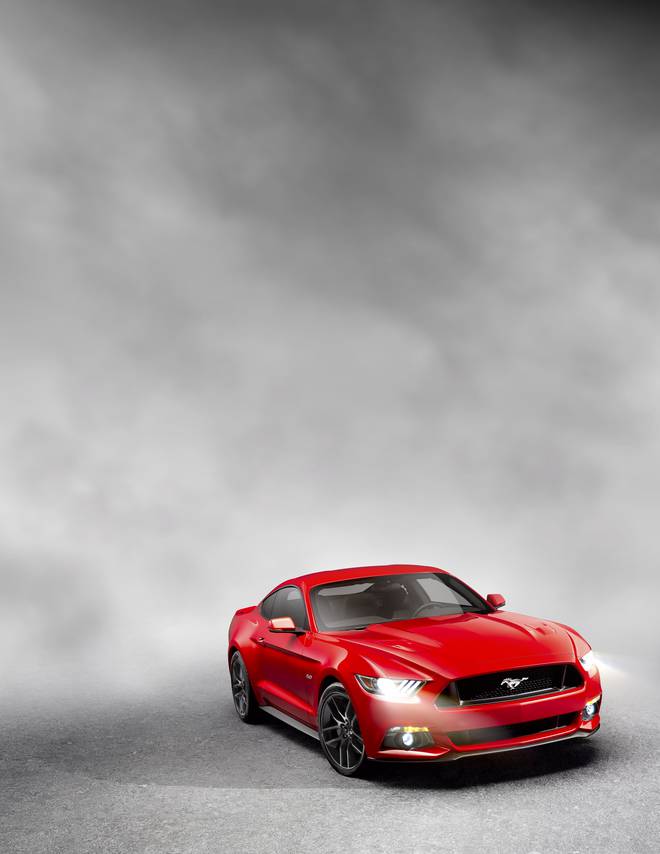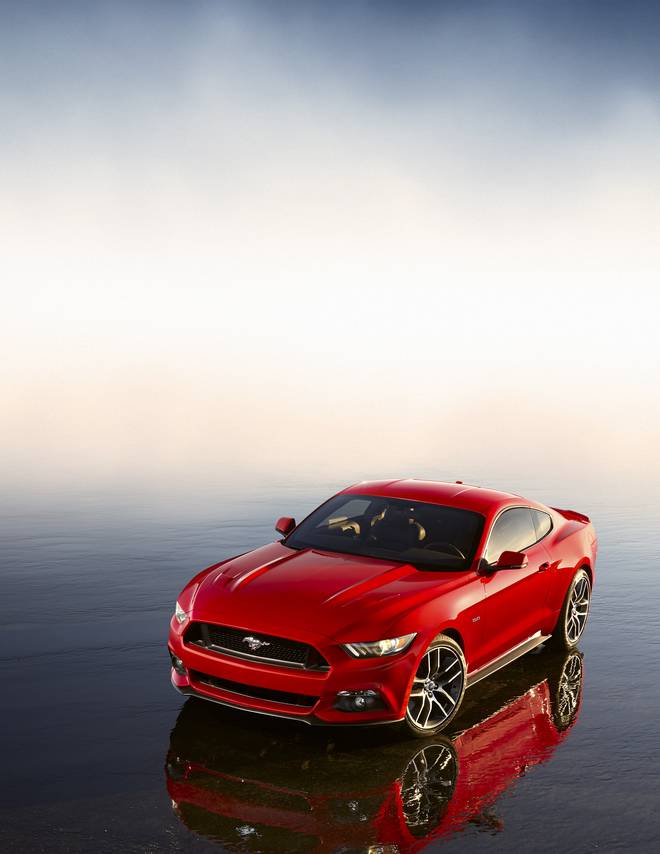 Huge news for Mustang fans is the binning of the live rear end - a couple of decades late, for sure, but the independent rear suspension is a huge leap in the right direction in terms of handling. As it stands, the current Mustang isn't the most dynamic of handlers and despite years of development the combination of double ball-joint MacPherson struts at the front and the so-called Ford Integral Link will definitely transform the car. Steering is still rack and pinion, but has electric power assistance with the steering resistance adjustable from inside the car or as part of selectable drive modes like sport and comfort.
An upgraded brake package uses four-sensor, four-channel ABS with AdvanceTrac stability control - the EcoBoost version gets 352mm vented discs at the front with four-pot calipers while the hero V8 will wear 380mm rotors with six-pot Brembo calipers.
The interior looked particularly stylish in comparison to recent Falcon product. Large colour screens, well laid-out dashboard and nice leather seats will do a lot to tempt buyers, and the obligatory Ford MySync infotainment suite is well-proven and simple to use.
In terms of design, as you can see from these photos, the horse hasn't strayed far from its roots. It has the same dipping "shark nose" bonnet with that instantly recognisable Pony-toting grille, the tail lights with three angled strikes, the muscular back end with big 19-inch rims under the guards. It looks like everything that we'd anticipated, but with more modern lines than the current version - and with the host of upgrade options that will be available, there'll be plenty of room for customisation.
Holter promises that we'll see the Mustang on our roads in 2015 - "sometime" is about as detailed as we can be at this stage.
"There's a lot to work through in terms of working through the models with our dealers and customers, and then of course pricing comes after that. But it will definitely be 2015," he says.
Judging by the falling large-car numbers worldwide, it makes sense that Ford would try to spread its investment as far and wide as possible. Jumping into right-hand markets such as New Zealand, South Africa, Australia, the UK and Japan could be just the shot in the arm it needs.
With the new model in 2006 it sold a whopping 165,000 vehicles in the US. By last year that had dropped to 83,500 and so far this year it's sitting at just 72,000.
Just how successful Mustang is in New Zealand depends on pricing, and whether it's accepted as "cool" by certain monied market segments. The big question is how long will it be until General Motors puts a right-hand-drive Camaro up against it.