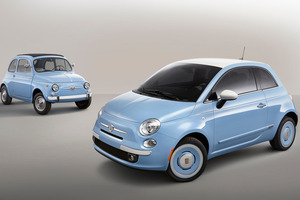 In a burst of startling awesomeness Fiat has released the most retro version of the already-pretty-retro Fiat 500 yet - the 1957 Edition.
Built to celebrate the fact that it is 57 years since the original 500 launched in 1957, the special edition car features some extremely retro 16-inch wheels, special vintage style badges, a brown leather interior with ivory trim and grey door panels. It is available in either white, light green or the shade of blue pictured here.
The 1957 Edition is powered by Fiat's 1.4-litre MultiAir engine and can be had with either a five-speed manual or a six-speed automatic. But why would you want the auto?
If you are gonna go retro, you gotta do it properly ...
We are the world ...
*You know what's not a good idea? Selling knock-off Vespas at an Italian motorcycle show. You know how we know that? Because several Chinese companies tried to do just
that at the International Motorcycle Exhibition in Italy.
The Piaggio Group called the cops because they own the exclusive rights to the iconic Vespa shape and were a bit miffed when not one, but SEVEN Chinese companies turned up with shameless knock-offs on their stands. Police confiscated all of the offending scooters.
*We've all got a bit confused about where we have parked at a large event before, but an Italian man took it to ridiculous extremes. Unsurprisingly he was attending the 16-day Oktoberfest in Germany when he became a bit disorientated as he left.
He couldn't find his car, so he took a couple of trains, looking for his car in the vast parking areas that surround the Oktoberfest grounds. When he still couldn't find his car,
he took the train home only to spend the next five weeks returning to look for his car.
He eventually tracked it down when a local newspaper ran a story and a tip led him to his VW Golf. The worst part? The man insists he went to Oktoberfest only for the rides ...
*Ford in Canada has found itself in the somewhat unusual position
of trying to stop people using the Blue Oval logo to show support for their mayor. The reason they want the use stopped? The mayor in question is the crack-smoking mayor of Toronto, Rob Ford.
Understandably, the company is rather keen to distance itself from that particular namesake.
BMW pays homage to the heyday of the Mini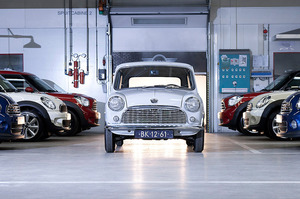 In celebration of the fact that BMW will soon start producing Minis in the Netherlands for the first time since 1966, the BMW Group Classic - the team responsible for all the cars in
the BMW museum - restored a classic 1959 Austin Seven.
But it wasn't just any old Austin Seven - it was one of the first Minis produced in the Netherlands.
The JJ Molenaar Car Company built 4000 Austin Sevens and Morris Mini Minors between 1959 and 1966 and car number 983 has now been restored to a spectacular as-new condition, including its fantastic original paint colour, Farina Gray.
It looks awesome. But it also looks worryingly tiny next to the fleet of current Minis parked behind it ...
Make workday go faster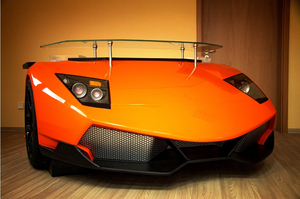 Do you have more money than you reasonably know what to do with? Already own a Lamborghini? Well how about going that bit further and scoring yourself a Lamborghini desk for your office.
Not any old desk with a Lamborghini logo stuck on it - we are talking about the latest product from a company called Design Epicentrum. A pretentious name, to be sure, and it is accompanied by an equally pretentious website, but then what would you really expect
from a company that will sell you a US$11,140 desk ($13,364) made from genuine Lamborghini parts?
Apparently though, the ''genuine'' part doesn't apply to the logo, which is noticeably absent from the nose of the desk ... Still, it would look pretty cool in the right spot and, if you ask nicely (and no doubt fork over even more money) you can buy one with functional headlights and horn ...
One of a kind to go under the hammer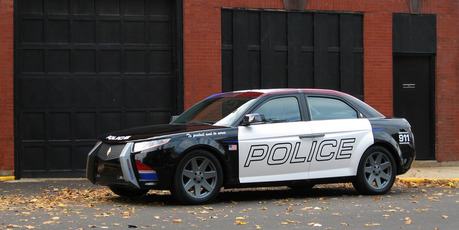 Following on from the Lamborghini desk article, if you really do have more money than you know how to spend, here is another possibility.
How about buying your own, one-of-a-kind prototype police car?
The Carbon Motors E7 looked to be well on track to become a production reality and, as such, would become the world's first purpose-built police car.
Unfortunately the US Department of Energy rejected Carbon Motors request for a US$310 million ($371 million) loan and the whole thing quickly went pear-shaped after that.
The E7 appeared at exactly the same time that Ford cancelled the long-serving default police car - the mighty Crown Victoria - and with its BMW twin-turbo six-cylinder diesel
engine seemed to be a powerful and economical alternative.
It was not to be, however, and Carbon Motors fell over a few months back, leaving a single working prototype E7 to be sold off in an effort to recoup some money for
people burnt in Carbon's collapse.
BMW is one of the ''interested'' parties and Carbon Motors is said to have listed US$21.7 million in liabilities in its Chapter 7 bankruptcy filing. Apparently the E7 is an impressive, fully-functioning piece of kit and it will go up for auction on January 23. TV host Jay Leno is said to be interested, so you had better be prepared to write a fairly decent-sized
cheque if you want it.
Toyota 86 sportscar is rally good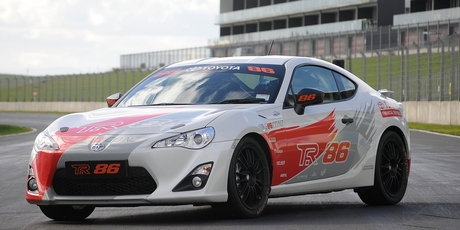 While the Toyota 86 racing series has just started here with the TNZ race-prepped TR86 (pictured), Toyota Motorsport in Germany has just dropped the brilliant 86 sports car into yet another type of motorsport - rallying!
TMG has announced it will develop a GT86 R3 rally car as part of its customer motorsport programme.
The car, which will be known as the TMG GT86 CS-R3, will be built according to R3 regulations, meaning it will have a six-speed sequential gearbox, limited slip differential, modified engine, adapted brakes and other upgrades.
Drawing on the experience of developing the TMG GT86 CS-V3 race car for the Nurburgring-based VLN series, TMG engineers will modify the base car to the maximum level permitted within the regulations.
The TMG GT86 CS-R3 is targeted at private customers and is eligible for all FIA-sanctioned rallies, up to and including the World Rally Championship. Full specifications and pricing will be announced in the coming months.
Number Crunching
27 YEARS The length of time Toyota Motorsport competed in rallying.
55 WINS The number of rally wins Toyota Motorsport scored during those 27 years, as well as 4 drivers' titles and 3 team titles.
7 YEARS The length of time Toyota Motorsport competed in Formula One.
0 WINS The reason Toyota dropped out of Formula One in 2009. Should've stuck to rally.