Dunedin duo stayed out of trouble all the way, writes Eric Thompson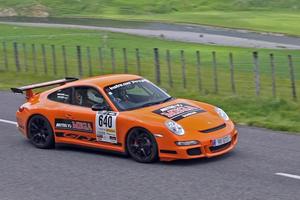 The new-look Targa New Zealand had a new pair on the podium at the event's finish at Taupo's Ricoh Motorsport Park. Dunedin pair Martin Dippie and Jona Grant in a Porsche GT3 RS took the top honours in the overall and Instra.com Modern 2WD classes and Auckland pair David Rogers and Aidan Kelly in a Mitsubishi Evo 10 won the Allcomers 4WD class.
Having been forced to sit out last year's event after breaking some ribs when he fell off his mountain bike, Dippie and first time Targa co-driver Grant couldn't have planned it better if they tried. They dominated the 2WD class from the first day, taking over the role of overall race-leader when Jason Gill and Mark Robinson retired.
This was also the first year in the past seven that the overall win has gone to a two-wheel-drive car, something even Dippie wasn't expecting. "The plan was to win the class, the overall was a bit of a surprise," he said.
"The plan was to go out with the leaders at the start and be there if they have any problems." This year's event was Dippie's fifth in his distinctive orange Porsche GT3 RS.
Heading into the fourth and final day of the annual tarmac motor rally event, the Allcomers 4WD class - usually the home of the overall event winner - was being led by Gill and co-driver Robinson in their Mitsubishi Evo 9 with Rogers and Kelly second and gravel exponent Brian Green and co-driver Fleur Pedersen third in their Mitsubishi Evo 10.
However, Gill's Mitsubishi ground to a halt with a blown engine in Sunday's first stage near Havelock North, leaving Rogers - an Auckland radiologist who contested his first Targa event in 2010 - to claim his first major win in the Allcomers 4WD class and finish second overall behind Dippie and Grant.
"We are not as fast as some," said Rogers. "But to finish first, first you have to finish and I just don't think the machinery can take people running full pace in an event as tough as this all the time. And you have to be up there for when that happens."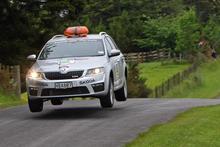 Having finished third behind Clark Proctor and new co-driver Sue O'Neil (Nissan GT-R35) and Glenn Inkster and Spencer Winn (Mitsubishi Evo 8) on the first day, Gill and Robinson were in the box seat when Proctor and O'Neil rolled out of the event on the first stage of the second day and Inkster and Winn were slowed by an engine misfire.
However, having competed in Targa events for the past 10 years, Auckland car dealer Gill accepted his fate with good grace.
"That's motor racing," he said. "It was just one of those things. It's a great event and we'll be back."
Also impressing in the Modern 2WD class was Steven Kirk-Burnnand and co-driving Australian cousin Elliott who worked their way up to second in Steven's newly built BMW Compact.
In Metalman Classic 2WD, Steven's father, Barry Kirk-Burnnand, and Dave O'Carroll (BMW M3) successfully defended their 2012 event win.
This despite on-going pressure from Foxton duo Bevan Claridge and Jason Easton who claimed their second class stage win of the event in their Holden Commodore V8, Wanganui event regulars Peter Cullen and Craig Strachan in their De Tomaso Pantera and one of the other Kirk-Burnnand crews in the event, Aucklander Carl and his co-driver, Sam Gordon (BMW 325i).
Wellington brothers Angus and Euan Howden were also quick in their BMW M325i but ran off the road in the first stage on Sunday, running out of time to get back into the event.
This year's field was without defending titleholder Tony Quinn and co-driver Naomi Tillett who were a last-minute withdrawal in their Nissan GT-R35.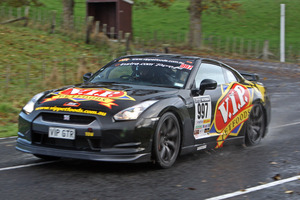 Event regular Proctor had decided to dial back the enormous power in his hi-tech GT-R35 in an effort to find reliability but came unstuck when he rolled on day two.
"Over the crest of one of the brows I turned across the crown of the road and the back just stepped out. It all seemed to happen in slow motion and there was absolutely nothing I could do," said Proctor.
"It was just one of those things; a combination of the corner and the conditions and turning from left to right across a high crown."
Early event and day two pacesetter Leigh Hopper and co-driver Simon Kirkpatrick had to replace their Subaru's gearbox overnight, taking them out of the equation as well.
Targa NZ results
Overall
1. Martin Dippie/Jona Grant
2. David Rogers/Aidan Kelly
3. Brian Green/Fleur Pedersen
4. Steven Kirk-Burnnand/Elliot Kirk-Burnnand
5. Gary Murphy/James Bell
Allcomers 4WD
1. Rogers/Kelly
2. Green/Pedersen
3. Glenn Inkster/Spencer Winn
Metalman Classic 2WD
1. Barry Kirk-Burnnand/Dave O'Carroll
2. Bevan Claridge/Jason Easton
3. Carl Kirk-Burnnand/Sam Gordon
Instra.com 2WD
1. Dippie/Grant
2. Steven Kirk-Burnnand/Elliot Kirk Burnnand
3. Murphy/Bell