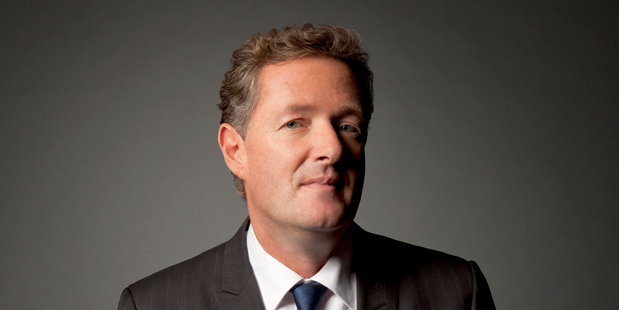 Ah, when giant egos collide ...
Long-time foes Piers Morgan and Jeremy Clarkson have renewed their decade-old feud, hurling insults at each other and trading caustic potshots on Twitter.
Backstory: CNN host Morgan, in a recent column for the Mail Online, branded Clarkson a "rude, pot-bellied oaf," and described the moment the Top Gear presenter interrupted a confab he was having with "A-list friends" Justin Timberlake, Samuel L Jackson and Pharrell Williams at the GQ Men of the Year awards in September.
Morgan wrote: "'Evening, Clarkson,' I chuckled.
"'Evening, Morgan,' he replied, slightly chastened, as Justin, Samuel and Pharrell wondered who this rude, pot-bellied oaf was.
I made an eye movement suggesting he move on before my A-list friends had their bodyguards remove him. He did."
Clarkson seemingly caught wind of Morgan's anecdote, and took to Twitter to respond.
"What a monumental t*** this man is. I cannot wait for the day he goes to prison," he shared with his followers, along with a picture of Morgan dressed in a suit and wearing sunglasses.
"You had your chance @JeremyClarkson - unfortunately you punch like a muscle-depleted chihuahua. So pipe down, you gnarled old fool," replied Morgan, referencing a previous clash between the two when Clarkson swung a right hook at the former Daily Mirror editor at the 2004 British Press Awards.
And things gradually went south from there.
"Americans. Don't trust Piers Morgan. He knows how to hack your phone and will f*** up your army for a buck," wrote Clarkson.
"And why are you issuing advice to Americans @JeremyClarkson? They've never heard of you," sniped Morgan, adding, "I wonder if poor old @JeremyClarkson 's little hissy fit today is connected to Top Gear's disintegrating ratings & rumours it may be axed?
"Being called a 'monumental t**t' by a racist pot-bellied pig @JeremyClarkson who wants nurses executed is the purest definition of irony," he wrote.
"Last time I saw Piers Morgan, he was at a party listening to Samuel L Jackson and Justin Timberlake. I was there with my friends," Clarkson wrote, to which Morgan replied, "Mate, @JeremyClarkson - it's not my fault @jtimberlake @Pharrell & @SamuelLJackson hadn't a clue who you were! Try being more successful."
He continued, "Nor @JeremyClarkson is it my fault I have 1.3m more followers than you. It's called 'popularity'. Now go home.
"Ahhh, of course, @JeremyClarkson's last tweet reveals the reason for his fury....read this, and all is explained," added Morgan, linking to his column.
Clarkson then took aim at Morgan's CNN show.
"Piers. Let's finish it with this. Your show attracts a global audience less than (UK TV show) Cash in the Attic. That's why you're going to be sacked," said Clarkson, adding, "I'm going to bed now, happy at the news from CNN insiders that Piers Morgan will soon be sacked."
Countered Morgan, "Cash in the Attic gets 500m viewers?"
"Piers claims his show gets 500m viewers. Hahahahahaha. It's 110,000 on good day. About 380m behind Top Gear," tweeted Clarkson.
Morgan replied: "That was fun @JeremyClarkson - let's do it again sometime. #FleshEaten"
He followed that up with: "I'd like to apologise to @JeremyClarkson - my mother always told me never to pick on little girls," and linked to a picture of an youthful Clarkson rocking some serious Lego hair.
Your move, Clarkson.
NOTABLE NUGGETS
And finally ...
* Rihanna gets her Kiwi tattoo covered with fresh ink.
* "It was horrible" - Liberty Ross talks Rupert Sanders and Kristen Stewart affair.
* Tori Spelling reveals she made a sex tape.
* Chris Brown enters rehab after alleged assault, hopes to gain "insight into his recent behaviour;" Mike Tyson is worried about you, Brown.
* Katy Perry wants "naked" female pop singers to "put it away".
* Watch: First trailer for X-Men: Days Of Future Past.
* Simmer down: Kanye West thinks Kim Kardashian is more influential than Michelle Obama.
* Sorry folks, The Osbournes is not making a comeback.
* Lady Gaga covers Glamour mag, calls herself "a tortured soul".
* Britney Spears reveals interesting facts during Twitter Q&A.
* New book claims Jack Nicholson and Meryl Streep were once a thing.
* Listen: Beyonce previews new song God Made You Beautiful in DVD trailer.
* Gold: Daniel Radcliffe to play Sebastian Coe in athletics drama.
* True bromance: Aaron Paul says he misses Bryan Cranston, shares fabulous pics of pink-clad former co-star.
- Rumour Has It