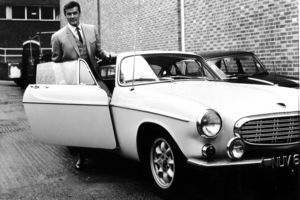 History has taught us that cars from popular movies and TV series should be snaffled up ASAP after the filming wraps, otherwise they end up languishing in a backlot slowly rusting (the original Ecto-1 Ghostbusters car), abandoned in a storage locker (the submersible Lotus Esprit from The Spy Who Loved Me) or left for the locals to steal (the replica Lamborghini Miura from The Italian Job).
Another example of neglected awesomeness has just come to light in the form of the 1962 Volvo P1800 driven by Roger Moore in The Saint television series.
The Volvo was "disposed of" by Pinewood studios after the series ended, only for it to end up in a field in North Wales, covered in brambles and with its engine in the back seat.
In 1991 Kevin Price spotted the car in the field and tried to persuade the owner to sell it to him. The show used four more P1800s, but this was the original car and as such was one of 6000 built by Jensen before Volvo took production back in-house.
It took Price another decade to find all the parts and then a further six years to restore the wreck.
He displayed the finished car at the Manchester Classic Car Show, and apparently the finished product is stunning.
Engine art
No doubt at some time some motoring journo must have rolled out an old automotive cliche and called the Mercedes-Benz V12 engine a work of art.
Now Belgian artist Eric van Hove has made that cliche a reality with a Mercedes-Benz V12.
Hove created his sculpture - titled V112 Laraki - using 53 materials, including wood, bone, fossils and mother-of-pearl.
Hove says the project ''aims at de-constructing a Mercedes V12 engine down to every single component (around 200 of them) before duplicating each element bit by bit in over 50 different local materials with the help of 35 master craftsmen in Morocco.''
It is ''a commentary on the economic and social dynamic between European and African
industry''. Whatever, we would just love to have it in the Man Cave ...
We are the world
Irv Gordon, who first found fame by cranking up 2 million miles (3,2 million km) on his Volvo P1800, has just racked up another million miles on the red coupe.
Cyclists are bad enough, but imagine the shock Brazilian motorists received when an 8-year-old boy decided to take his tricycle for a joyride on a motorway offramp recently. After a couple of rides the police turned up to spoil his fun. Despite describing his ride as
''cool'', social services still want to speak to his family ...
A Brazilian entrepreneur known as Count Scarpa surprised many recently when he announced he would be following the lead of Egyptian pharaohs who buried their riches with them, by burying his Bentley. A lot of people, quite rightly, thought he had gone a bit mad, but it turns out he was merely highlighting the problem of people not donating
organs! Scarpa later posted on Facebook: ''I buried my car, but everyone thought it was absurd when I said I was going to do that. Absurd is to bury their organs, which could
save many lives. Nothing is more valuable. Be a donor, tell your family.''
They don't make 'em like they used to
Car ads, that is. US website Jalopnik recently discovered this brilliant advertisement by the Mississippi Valley Automobile Co dating from around the turn of the century that shows exactly where God went wrong with the previously dominant form of transport, the
horse.
Giving horses a brain so that sometimes they may decide that, no, they don't want to haul your lazy butt into town was clearly one of God's bigger blunders. But never fear, because science has an answer - a nice, brainless Oldsmobile.
The best bit of the ad - apart from the idea that people back then were cross-shopping between cars and horses - is the early disclaimer of ''Mechanically perfect. Pre-supposing brains in its owner.''
The Aztek's 15 minutes
Breaking Bad is simply one of the best things that has ever been on television. Walter White's descent from mild-mannered high school chemistry teacher to cold murderous drug kingpin has been a fascinating, funny, appalling, sad, gut-wrenching thing to watch.
One of the largely unnoticed (if they have done it right) aspects of Breaking Bad that made it so great was the obsessive attention to detail. The best part of this for car geeks was the wonderfully thought-out array of vehicles chosen for each character.
From Jesse Pinkman's crappy red 4WD Toyota Tercel wagon through to Gus Fring's unassuming and immaculate Volvo V70 and slippery lawyer Saul Goodman's flamboyant Cadillac DeVille, complete with LWYR UP personalised number plates, the cars were perfectly chosen.
But the automotive star of the show wasn't Saul's fantastic Caddy, or even the cliched black Chrysler 300C SRT8 that Walter drove in the later seasons. It was the poor automotive representation of Walter's soul that he drove for the first few seasons - a beaten Pontiac Aztek.
Every time Walter did something bad, the poor old Aztek bore the brunt of it and, after being repaired numerous times, he eventually sold his ''soul'' to the devil (well ... a mechanic) for $50 and picked up the 300C SRT8 instead, symbolising Walter's descent into his evil Heisenberg alter-ego.
Now that the show has ended its run in the US a number of its props and costumes have gone up for sale on the Screenbid auction website (www.screenbid.com) along with several of the cars used - including Walter's Aztek.
Three Azteks were used in the making of the series - one will stay on display at Sony studios, one was a parts car and the third, the one being sold, is the crash vehicle ...
It's very broken and apparently doesn't run, but is still very cool.
Also up for auction are Jesse's Tercel, Skyler's Jeep Grand Wagoneer, the Vamonos pest
destruction ute used in the fifth season, Marie's VW Beetle and the Cadillac DeVille that Walter drives in the last episode.
Number Crunching

103 CARS The Blues Brothers held the record for most cars destroyed in one movie, until its 2000 sequel destroyed 104.
112 CARS G.I.Joe: The Rise of Cobra broke the destroyed cars record.
260 CARS Fast Five overtook the record with the franchise destroying more than 900 cars.
532 CARS Transformers 3 is responsible for the most automotive destruction.