Decision imminent on whether next-gen Honda supercar will be sold in NZ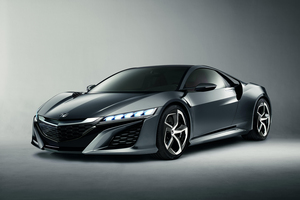 Honda may sell its long-awaited next-gen NSX here. The Japanese supercar will go to Australia, injecting some much-needed excitement back into the brand built on a sporting heritage.
Sources inside Honda New Zealand say the company is close to making a decision on selling the stunning machine in New Zealand.
The NSX concept was unveiled at the Detroit auto show last year. It features lightweight materials and a mid-mounted V6 engine. It employs several new technologies including the SH-AWD (Super Handling All-Wheel Drive) hybrid system.
It's a Lazarus-like comeback for the NSX and will stand out from an otherwise common-sense range.
First launched in 1990 and winner of Wheels Car of the Year in 1991, the original NSX sold more than 18,000 units around the world until it was discontinued in 2005.
The NSX was the first car to feature an all aluminium monocoque body. The late Brazilian Formula One legend Ayrton Senna was also involved in development of the first-generation model.
But this modern-day NSX SH-AWD uses a two electric-motor drive unit with a bilateral torque adjustable control system. The hybrid all-wheel drive system can instantly generate negative or positive torque to the front wheels during cornering, unmatched by previous AWD systems.
A VTEC V6 engine with direct-injection works in concert with a dual clutch transmission with built-in electric motor to create supercar acceleration while offering outstanding efficiency.
Honda says that while most supercars opt for brute force delivered from a large engine, the NSX Concept champions the true racing philosophy of an extremely favourable power-to-weight ratio.
"We are absolutely thrilled to announce today that the NSX is coming to our shores. It was a revolution when it was first launched back in 1990 and this generation aims even higher," Honda Australia director Stephen Collins said.
"The NSX has a rich history around the world and diehard fans of this supercar have been waiting a long time for the new model to come to production."