Drive it - you're allowed - or pack it in your boot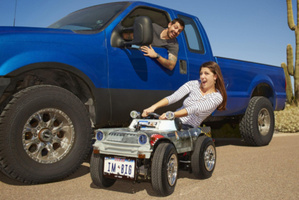 It is often not the size of the dog in the fight, but the size of the fight in the dog. Say hello to the self-built creation of young Texan Austin Coulson.
Incredibly, it has just been confirmed as the world's smallest, street legal car by the Guinness World Records 2014, even though the Peel P50 is still the world's smallest mass produced car.
With a body resembling a 1957 Chevrolet Bel-Air, Coulson's car measures 63.5cm high, 65.41cm wide and 126.47cm long, which is small enough to fit in the boot of an average car. However, it is restricted to a speed limit of 40km/h for use on US public roads. This means it isn't entirely the most "street legal" street legal car in the world.
Still, it has all the hallmarks of regular cars: a licence plate, indicators, lights, windscreen wipers, a seatbelt and a working horn. Though other drivers may not see it coming.
Power comes from a kid's quad-bike engine, allowing Coulson to reach a rather worrying top speed of 53km/h.
While licensed and registered for the road, it is unlikely Coulson will use his new creation on his daily commute.