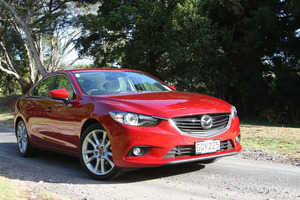 It's about this time of year that we start getting our heads around the Driven Car of the Year - and it's a mammoth task.
Each week all the Driven writers, both in Auckland and on our brilliant regional papers, drive a large number of cars, and in this day and age most of them are actually pretty good.
So today we're looking at a few cars that each of us have been particularly impressed with - and noting one (like it's ever just one) that we're really looking forward to driving.
Their inclusion here doesn't automatically mean that they're going to be shortlisted in any of our COTY categories or that they're a shoe-in for the top award.
That said, this is a selection of the very best that we've had the pleasure of pedalling over the past eight months. There are still some pretty special machines lined up for launch before Christmas and it's not unheard of for a sure-fire winner to appear at the end of the year.
See what you think, and have a vote for which car (or bike) that you think is the best of this bunch. Readers can also jump to our Facebook page and join the conversation - just search for DrivenNZ.
In the next couple of months the Driven team will be fighting for the cars that they like best as we whittle down the hundreds we've all tested and get them into shortlists for the following categories.
Then the scrap amps up a notch and we battle it out to decide the Driven Car of the Year, which this year will include readers' choice awards, as picked by you.

Matt Greenop
JAGUAR F-TYPE
It's been a long time between drinks when it comes to Jaguar sports cars over 50 years, in fact. Fortunately, with both Land Rover and Jaguar now under the able guidance of Ratan
Tata, the Jag line-up is more packed with excellent machines than it has ever been. The F-Type, which has already scooped a number of awards overseas, is the obvious star of the show. It comes in three flavours, with a supercharged V6 and a supercharged V8 the standout S models.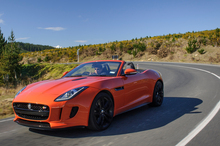 Now the V6 S is a perfectly able road weapon, but there's just something about the V8's incredibly loud and proud engine note it cackles when you back off, and bellows when you're on it. With a more than capable 364kW and 625Nm being produced by the 5-litre
V8, and a fairly light 1660kg weight, this is one of those raucous convertibles where the pose factor comes a distant second to performance capabilities.
The roof drops down in no time, it's a complete joy to drive and with the warm months just around the corner there aren't many other machines in which I'd rather blast away the summer. Sure, the gas gauge does see a bit of action, but with the eight-speed ZF transmission - flappy paddles included - it is possible to keep the economy figure
sensible. It's just that noise - the temptation to hear that F-Type song is always hard to resist.
MAZDA6
As you'll see from other Driven scribes, I'm not the only one that's been impressed by the next-generation Mazda6. I first drove it overseas last year in ever-so-slightly pre-production form, so when its local launch loomed back in May I was really looking forward to seeing just how it translated to our wide variety of road surfaces and if I still
preferred the 2.2 diesel version. Long story short, I did. The same engine was in last year's Car of the Year, Mazda's CX-5 crossover SUV.
The company's SkyActiv suite of efficiency measures has really paid off - engineering and design trickery that aimed to reduce its vehicles carbon footprint without making the
jump into the hybrid realm. The Mazda6 benefits from these changes with a lightweight, hyper-efficient choice of engines and a radical new design that puts it well and truly above its predecessor in terms of looks, fuel economy and handling. The 2.5 petrol version was impressive - but the diesel, teamed with a very slick transmission and paddle shifters, is quite engaging to drive and returned staggeringly low consumption figures well under 5L/100km.
When it first started appearing on our roads it was a bit of a head turner. Now it has become like its predecessor and you see them everywhere. But they're still commanding attention, especially in Mazda's specially created new colour dubbed ''soul red''.
Using Mazda's swoopy Kodo design language, it has lines that many other mass-produced four-doors simply can't match, and as a result has been a big success. We're getting the revamped Mazda3 next year.
MERCEDES-BENZ A 45 AMG
I know we tested this little monster only a few issues ago, but the feat of engineering insanity definitely warrants a mention. The wee A-Class hasn't always been the most alluring car in the Benz garage, but an entirely new range earlier this year helped it along.
Then the blokes in white coats at AMG got their hands on it. In keeping with AMG's tendency to push things as far as they should go, and then just give it a bit more, they have redefined the expression ''hot hatch''. That's really saying something in a year when we've seen a bit of a revival of the savage shopping basket.
A two-litre, direct injected and turbocharged engine isn't something new in this part of the market _ but the A 45's 265kW, 450Nm combo most certainly is. With a much-needed part-time all-wheel-drive system it doesn't behave at all like those staggering numbers would have you expect. It has more grip than it needs, and lots more soul than the already funky A 250 Sport.
Then there's the performance. Aside from its ability to chew up country roads like a mad thing, it will sprint to the 100km/h mark in 4.5s with a firecracker exhaust note on
gear changes that is reminiscent of those other 2-litre weapons, rally cars. It's unlike anything that's come before it, and despite being AMG's first foray into the go-fast hatchback world, it's an absolute winner - even with its $95,000 price tag.
Car I'm looking forward to driving: This is a hard one. With BMW's next M5 on the horizon, another AMG animal in the shape of the E63 and the Aston Martin V12 Vantage S, there's an absolute embarrassment of riches in my obviously favoured performance-oriented end of the market.
But the hyper-luxury Rolls-Royce Wraith _ a huge two-door that makes an even larger statement, would have to top the list. I'm getting behind the wheel in a couple of weeks and will definitely let you know how it goes.

Liz Dobson
Volkswagen Golf Mk7
As a motoring writer you are often asked ''what car would you buy?''. This year, my answer is, the VW Golf7 (right). Not only does the car look great _ thanks in part to the
LED front daytime running lights _ but there is also the performance. And the price is appealing too. With the base model starting at $32,250, it competes with Japanese and Korean hatchbacks.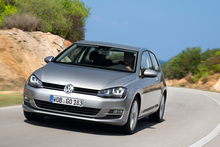 My test vehicle was the 1.6-litre diesel auto (priced from $37,250) and, although it produced 77kW as opposed to the 110kW diesel, I was impressed with the torque _ and
everyday performance. It coped with the school run, proved peppy on the motorway and handled smoothly. It gained bonus points for the clean-look interior and kudos for the touch screen infotainment centre that responded to just finger tip scanning the bottom of the screen.
It loses points for not having a handbrake, instead having an electronic brake. I'm considering starting a petition to save the handbrake _ and before the car companies start with ''removing the handbrake makes room in the centre console'', I'd like them to
actually use that space for more than just another cup holder.
Mazda6
Well done Mazda _ you've produced a sedan that is not only sexy looking but packed to the gunnels with accessories and a top engine. Launched at the start of the year, the Mazda6 pounced on its competition thanks to prominent front grille, and my Limited model's flash interior. Leather seats, touch screen info centre with TomTom navigation and a reversing camera and plenty of room makes it a business car with class.
My test vehicle's 2.5-litre petrol engine (producing 138kW of power and 250Nm of torque) had Mazda's SkyActiv technology that helps with fuel economy, especially paired with the i-Stop feature (the engine turns off when you stop). The i-Stop is quick off the mark, so you're not paused for more than a second at the traffic lights. The price of
$60,795 makes it the vehicle for upper management.
Mercedes-Benz A 250 Sport
This is the hatch that changed the brand in New Zealand as we know it. The most excitement the pervious A-Class got was the weekly trip to the golf club. With the all-new A-Class 250 Sport, gone is the tall, genteel look of the previous model, instead the hatchback is a low-slung masculine model with a stunning diamond front grille.
The look certainly appeals to its new target market, 40-plus men, as every time I stopped the car during my week-long test, a gaggle of guys appeared to check it out. Once I told
the interested fans the engine size, their interest was piqued. It packs a 2-litre, four-cylinder direct injection turbo petrol engine with 155kW of power and 350Nm of torque. Mercedes gives it a 0-100km/h in 6.6 seconds with fuel economy of 6.6 litres/100km. Priced from $64,900, my test vehicle had an AMG package added to round up the price to $74,470.
Car I'm looking forward to driving: It's been a jam-packed year for car launches, with only one week with no new products launched for the New Zealand market. I'm still waiting to test the Mercedes-Benz E-Class cabriolet (hint, hint Mercedes NZ), so my most anticipated drive is the Golf GTi.

David Linklater
RANGE ROVER
I'm going to get a mention in for the latest Range Rover before everybody forgets all about it. That will happen, believe me.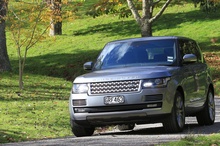 I was lucky enough to drive the new Range Rover Sport in Britain earlier this year, and it is a spectacularly good thing. That's because it's based on the aluminium architecture and four-wheel drive systems of the full-size Range, but with a bit more engineering bias and electronic assistance towards sporty on-road driving. I won't count it among my best cars of this year, because it won't arrive until early-2014. That's quite a good thing, because it allows me to celebrate the full-size Range Rover instead.
Yes, the Sport is more capable on-road, just as handsome and almost as luxurious as its big brother. When it will launch at prices tens of thousands of dollars cheaper, Sport's a winner.
So I'd just like to say that the proper Range Rover is still the world's finest luxury SUV and
arguably one of the finest luxury cars of any kind. Nothing rivals the quality, refinement and sheer versatility of this vehicle. Or the presence and badge-appeal for that matter.
The full-size Range Rover also has more wheel travel and greater wading ability than the smaller Sport, so it's still the brand's ultimate off-road vehicle.
In today's world, where SUVs are mainstream, does that really matter?
Well, this is a Range Rover. So yes.
VOLKSWAGEN GOLF
Each generation of Volkswagen Golf is so close to the perfect family hatch it's almost boring. The all-new seventh-generation version stays true to form, but what has really
grabbed my attention is the blend of value and equipment in the new car.
The Golf is an incredibly sophisticated car, as always. But now it starts at $32,250, so it's
head-to-head to with mainstream Japanese and Korean models on list price. That's not achieved at the expense of standard equipment, either: that entry car has an energetic 1.4-litre 90kW engine, crisp dual-clutch gearbox and safety features such as driver's knee airbag and tyre pressure monitoring.
You can go up the range to more powerful engines and ultimately the latest GTI. All brilliant vehicles. But the real test of the Golf's brilliance is that the entry car offers everything you need and does not feel basic in any way, shape or form.
It has created a problem for motoring writers, though. Because every time we write about a family hatchback, no matter how accomplished the car, we feel compelled to write the same sentence: ''But you should just buy a Volkswagen Golf?''
FORD FIESTA ST
Not a range but rather a single model: the ST version of the Ford Fiesta. It's been the year of the hot hatch in 2013 (thank you also Peugeot and Volkswagen), but nothing has come close to the ST for energy, ability and raw appeal.
This is really what a hot hatch should be like: surprising performance, an engaging chassis, a proper manual gearbox and a generous helping of sheer cheek.
It doesn't matter that the Fiesta ST comes only as a three-door, that the cabin is crammed with cheap plastic and that your gran probably goes to the garden centre in
something that looks very similar. This is simply a brilliant car _ so much fun in so many different driving conditions _ and it must be the performance bargain of the year. Possibly of the new-car market as whole.
Car I'm looking forward to driving: Mercedes-Benz SLS AMG Yes, yes, I know: the Mercedes-Benz SLS AMG was launched two years ago. But let me tell you a story. I'm very lucky in this job, especially when it comes to exotic cars. Aston Martin, Ferrari, Lamborghini: I drive them all. I also get to drive a lot of wonderful Mercedes-AMG cars; this year I've tackled everything from the monstrous GL 63 AMG seven-seater in Auckland to the rabid A 45 AMG around the awesome Phillip Island circuit in Australia. So honestly, I'm not complaining.
It's just that I've never managed to drive the SLS AMG, and I really, really want to. Bad. Not the roadster thank you, but the spectacular coupe with the gullwing doors. I figure if I keep looking forward to it and keep asking, eventually the good people at Mercedes-Benz will give in.

Colin Smith
Kia Cerato
Draft a specification wish list and get started on a checking process. At the $29,990 starting price for the LX and through to the mid- and upper-$30K price bracket for EX and SX models, nothing else ticks the boxes like the new Kia Cerato.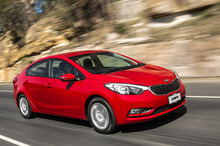 The handsome styling which has become a Kia hallmark is the first thing to attract attention and it's supported by a stylish and roomy interior, lively engines, a modern six-
speed automatic transmission and plenty of standard equipment surprises.
I drove the high-spec 2.0-litre Cerato SX sedan and the only notable shortcoming I can pinpoint is the marginal front-seat headroom for taller drivers. Move away from the sunroof-equipped SX or choose one of the five-door hatch models _ launched last month _ which stand 25mm taller and that drawback is avoided.
With a five-door hatchback now joining the sedan _ and with the new Koup on the horizon as well _ there's plenty of Cerato choice with conventional 1.8 and direct injection 2.0-litre engine options in the mix.
Cerato sets a new benchmark for how much Kiwis can get for their money but there's also style and driving appeal to accompany the length of the equipment list. It must have some rival brands thinking hard about what they'll do to match it.
Holden VF Commodore
You only have to open the door and settle behind the wheel to begin appreciating just how much work has gone into the VF Commodore.
The awkward VE handbrake has gone, the electric window switches have shifted to the doors and the seats provide improved support. The new dash architecture, switchgear and higher quality materials are out to convince you the VF is a more expensive car.
Everywhere you look you can see how hard Holden has tried with the VF.
There's also a tidier model line-up with a generously equipped Evoke providing a renamed entry point before stepping up to the sporty SV6 or SS.
Clever technologies aren't just included in the VF, they are neatly integrated. The new electric power steering saves a little fuel and has been tuned to provide precision feel
and I marvelled at how Holden can make a quiet push button electric park brake when so many six-figure luxury cars still sound like a winching challenge is taking place near the back of the car.
The VF's Automatic Park Assist is a handy innovation and the standard reversing camera is an important safety bonus while the blind spot monitoring and rear cross traffic alert functions _ which were standard from the SV6 grade _ are genuine helping hands.
Ford Focus ST
Lots of familiar ingredients are given some special treatment to create the Ford Focus ST. The agile Focus platform gets sports suspension, beefed up brakes and high performance tyres to sharpen the drive.
The 2.0-litre EcoBoost engine which multitasks in vehicles as diverse as the Ford Falcon, Jaguar XF, Land Rover Freelander and Volvo 60 series gains a bit more power and perhaps most importantly there are some clever acoustic tricks that make it sound like it actually means business.
Turbocharging and direct injection deliver big torque from low revs and provide a flexibility that means you can be caught a gear too high in the slick six-speed manual gearbox and the ST still responds eagerly.
Grippy tyres and fully sorted suspension allow 184kW of turbo urge to hit the road via the front wheels with the traction and stability electronics as a helping hand rather than an overbearing watchdog. Firmly bolstered Recaro seats are a treat for the front occupants.
All this excitement and five-door functionality at $52,840. The Focus ST is cheaper than a Volkswagen Golf GTI and a lot more practical than the storming Renault Sport Megane RS265.
Car I'm looking forward to driving: Jaguar F-Type
Wind-in-the-hair motoring is a figure of speech rather than a reality for some of us, yet I'm keen to pull on a cap and sample the Jaguar F-Type before the year is out.
It's not really the convertible experience _ or its claimed status as the successor to the E-Type _ that I find compelling, rather it's gaining another insight into the product direction of Jaguar Land Rover Automotive under its Tata Motors ownership.
The new Range Rover is a hugely impressive machine while the Jaguar XF has evolved into a polished luxury car line as new engines and transmissions have come on stream offering performance levels from frugal to brutal.

John Maslin
BMW 650i Gran Coupe
The 650i Gran Coupe is a car that is forever locked in the memory banks.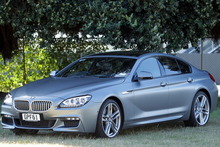 Never mind the $224,500 price tag. Never mind the stunning performance character from a twin turbo V8 engine. And never mind the level of specification fitted to this car.
Here's a car that you could drive from here to the Bluff and back and step out as fresh as a daisy.
It's not that the Gran Coupe lets you slip into the arms of the sandman. On the contrary, it's a car that keeps you focused simply for what it is a beautifully built car with astonishing performance capability.
Wringing 330kW of power from the engine (and not forgetting the 650Nm of torque), it will shift the 650i from standstill to 100 clicks in a little over four seconds.
Its base price is $224,500 but a slab of options pushed the price of our tester to 254,450.
The Gran Coupe is the third in the 6 Series but sets itself apart as the first four-door Coupe in the company's history. But even allowing for the four doors, it is still a low-
slung Coupe that looks lethal standing still.
At its heart is a brilliant twin turbo V8 which simply lays down huge helpings of power.
There will be those who wonder at spending this amount of money on a car.
But drive the Gran Coupe once and you'll be hooked forever.
When Wilson turns up with that sodden winning Lotto ticket, this is mine!
VW Golf TDi
It was a close-run thing between the new $43,750 Golf TDi and the BMW 116i Edition 30 ($47,700) but the Golf gets it by a whisker.
For value for money it's one of the best of the year and could be a game-changer in the Kiwi market.
It shakes a fearsome stick at others in this segment because stacking up the engineering detail and the fit and finish of the Golf against the competition represents a wake-up call.
Hop into the Golf TDi and you feel secure. Perhaps it's those rock-solid doors closing assuredly or simply the driver's position. Or it may be the measure of equipment on board. But whichever way you look at this latest generation of the VW Golf you cannot
help but be mightily impressed.
The Golf has a five-star EuroNCAP safety rating. And there's truck-loads of equipment too. The 2-litre turbo boosted diesel four-cylinder engine that shunts the Golf along is an ideal match for the car. While there's enough power developed (110kW) it's the lashings of torque (320Nm from 1750-3000rpm) that provide the action.
Couple up those features with the clean, crisp new-look exterior and the little Golf makes a clear statement of intent.
Its competition should take notice and be afraid.
Mazda6 Limited diesel wagon
This wagon takes the brand to a new level.
Powered by a 2.2-litre turbo diesel four-cylinder engine the Limited heads the class in terms of price ($60,795) but then there's an awful lot in the goodie box to justify that.
The wagon's a stunner. The exterior lines are sleek and minimal and the cabin exudes a sort of elegance and panache that's new to the brand as well. Maybe it's the use of the off-white leather upholstery but it works.
SkyActiv rules the new vehicle bringing a raft of technologies aimed at improving fuel efficiency and engine performance. It gets smartened up with daytime LED driving lights, adaptive auto headlights that move to match the steering direction, a powered sunroof, heated and powered front seats, smart start key and a Bose sound system.
There's also sat-nav, dual zone climate air, rain-sensing wipers, parking sensors, and a pop-up Commander dial that lets you work your way through audio, navigation and phone functions on the colour screen in the board.
Another key feature is the six-speed SkyActiv-Drive auto transmission. It's a mouthful to
enunciate but action speaks louder than words in this case and it gets the best from the diesel.
The wagon's a joy to drive, with precise steering feel and wonderful balance.
It may be the priciest of the bunch but there's heaps to like about it.
Car I'm looking forward to driving: Like every boy from The Naki, I carry a hoon gene. The VF Commodore SS V Redline six-speed manual ute's on the horizon. Yeah, boy!

Jacqui Madelin
KTM 1190 Adventure
It may be overkill for the commute or shorter rides, but this $26,500 KTM 1190 Adventure epitomises the best of the dual-purpose breed, with its powerful 110kW engine, abundant 125Nm of torque, great road handling and compliance, and a suite of easy-to-use electronics to help you make the most of it by tailoring power, brakes, suspension and traction to the rider and conditions.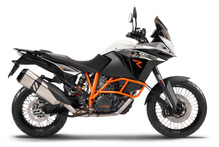 Just as the best of the Euro car brands may cost a tad more but introduce technology that trickles down to daily drivers, expect to see some of this stuff on the bread-and-
butter bikes of the future. ABS is now becoming common, and if the mainstream can build traction control this user-friendly into an affordable package it'll take off
among real-world riders, who'll appreciate that extra safety net over the diesel slicks and wet manhole covers of their daily commute.
The rangey, dual-purpose format suits New Zealand, where road surfaces may be poor, the best scenery is approached via the gravel, and an any-roads' tourer is king. But best of the rest?
Kawasaki's $16,995 ZX636, a stupidly fast sports bike that's also impressively tractable in the real world.
Ducati Monster 659 - LAMS
The new learner-approved regulations gave the bike industry a shot in the arm, with greater choice for learners and new models that make great all-rounders you'll be
happy to hold on to.
Ducati's Monster 659 is the only one outside the supermotard ranks which could fit already experienced riders' shopping lists.
With that torquey 696cc Desmo motor sleeved down to 659cc to fit the LAMS regs, and a typically muscular Ducati soundtrack along with assertive good looks, it fields delightfully flexible handling, all its strengths coming together over the sort of demanding roads where its more powerful siblings are overkill, and where a lack of top-end power won't be noticed.
The only spoiler is the asking price, dropped $1500 to $15,990 this year. That still puts it four grand above competitors almost as talented. The clincher is that this Monster is a bike even racers can appreciate _ as illustrated by a recent press ride event, when Panigale owners wrestled for the keys once the road got tight, and the 659 could keep riders on more powerful bikes honest.
Looking forward to riding: BMW's middleweight adventure-tourer, the F800GSA that should introduce all the benefits of adventure touring without the OTT dimensions, just in time for summer.