Three designers strut their stuff with BMW's support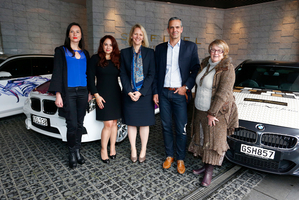 As an official partner of New Zealand Fashion Week, BMW has given three new designers the chance to try their skills on the tarmac instead of the runway.
New Generation designers Alexis Komene from the Crooked Seven label, Nara Paz, and Beverley Forrester's wool designs, Beverley Riverina, are being supported by BMW New Zealand as they prepare to take part in Fashion Week from September 2-8 in Auckland.
Part of that support has been the creation of personal wrap designs reflecting their brands on three BMW vehicles - two 3 Series Tourings and an X1.
The three vehicles will spearhead the official NZFW fleet and will be seen around Auckland in the build-up to and during this year's event, transporting VIPs around the city.
The wraps were revealed on Friday after a boot camp for Komene, Paz and Forrester, where BMW New Zealand's managing director, Nina Englert, BMW ambassador and renowned chef Josh Emett, and Stolen Girlfriend's Club co-owner Dan Gosling spoke with the trio.
To also assist the New Generation designers, a piece from each of their collections and their vehicle wrap designs will be on display inside the Viaduct Events Centre throughout NZFW.
Everyone attending will then have the chance to vote for their favourite New Generation designer.
The winner will be announced at the conclusion of the New Generation show on September 5, and the designer will be presented with $5000 from BMW to go towards further developing their fashion business and career.
Driven borrowed Komene's Crooked Seven wrapped 328i Touring over the weekend, with the 2-litre, eight-speed automatic showing its pedigree.
Komene, who is based in Mt Maunganui, drew inspiration for the wrap from the puriri moth. The colours she chose are the ones used in her collection that will show at Fashion Week.
"I wanted the white car to stand out and the wings of my moth flow along the side of the BMW ... while the bonnet symbolises four moths linked, with you in the middle."