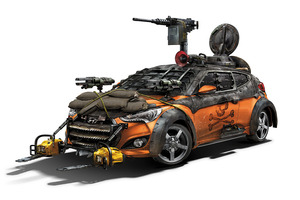 Not content with the blatant product placement of an impossibly immaculate iX35 featuring prominently in the first three seasons of the insanely popular (and ridiculously good) US zombie TV series The Walking Dead, Hyundai have unleashed an app for building your very own virtual zombie apocalypse survival machine.
Available for iOS, Android and also as a desktop version, "The Walking Dead Chop Shop" allows you to choose between a Hyundai Veloster Turbo, a Hyundai Santa Fe or a Hyundai Elantra and then customise them in order to survive the inevitable zombie onslaught.
With close to 300 features to select from - including everything from decals to automatic shotguns and flamethrowers - there is something for all the family. You can add armour and a remarkable array of other defensive and offensive weapons not generally on the Hyundai options list, including spinning saw blades on the wheels, a "horde plough" on the front bumper and barbed wire on the side windows.
Once you have finished creating your Korean zombie death machine, the app presents you with a percentage rating your likelihood of survival.
According to the website, more than 42,000 vehicles have been built and the company says it will choose one to build for the New York Comic-Con convention in October, after having shown a zombie survival Veloster at the San Diego Comic-Con.
Kia is just super
While Hyundai have come over all apocalyptic and zombie-squishing with their ''Walking Dead'' app, sister company Kia have gone down a lighter, but equally nerd-obsessive, path by just revealing their latest and last superhero-themed car, a Justice League-themed Sorento.
The Sorento is the eighth car in the collaboration with DC Entertainment to create vehicles based on famous superheroes to raise money for the ''We Can Be Heroes'' charity, which aims to bring relief to the poverty and war-torn area of the Horn of Africa.
It follows a Batman Optima, a Wonder Woman Sportage, a Green Lantern Soul, a Flash Koup, an Aquaman Rio, a Cyborg Cerato and a Superman Optima Hybrid.
All of the themed vehicles have been auctioned on eBay, so far raising more than US$289,000 ($370,000) for the charity.
Patently obvious Chinese rip-off
Just when you were starting to think that China seemed to have the hang of this car design thing without having to resort to the blatant rip-offs of a few years back, something like this happens ...
There is nothing unusual about a manufacturer trying to patent a car design. In fact, it makes a lot of sense.
Unfortunately, that is only the case if it is their company's own design in the first place.
Take, for example, the design that Jiangsu Lake Motors is trying to patent. It is pretty much that of the Volkswagen Taigun which is set to debut in 2016.
That's right, a Chinese company is having a crack at patenting the design of a European vehicle that hasn't even made production yet!
Chinese manufacturers are pretty blatant about copying western vehicles in their designs,
but this has to be the first time one of them has actually tried to patent it BEFORE the original comes out.
Still, good on them for having a go, eh?
Nissan gets SSSlap on the wrist over ad
You have probably seen it: the Nissan TV ad for the Pulsar SSS hatch where the bloke makes a mad dash for the hospital while his ''pregnant'' partner urges him on, only to reveal that she isn't actually pregnant after all and they are just having a bit of good old-
fashioned high-speed fun.
Well, apparently that kind of fun doesn't fly with our more serious cousins over the ditch.
The Australian Advertising Standards Bureau (ASB) has made Nissan Australia re-edit the ad TWICE! before it would allow it to be re-screened following several complaints.
Apparently the original ad received complaints that it depicted unsafe and reckless driving, including speeding, following cars too closely and screeching to a halt upon arriving at the hospital.
Nissan then removed the woman's lines urging the man to drive faster, inserted a disclaimer saying it was all ''filmed under controlled conditions'' and even lowered the
car's engine note.
But this still wasn't enough for the whinging nannies of the lucky country, Nissan had to make further cuts in order to slow down footage of the SSS, so it would be seen driving at a far more sedate pace.
Geez Bruce, what are ya?
We are the world
*A traffic sign installed outside a private preschool in Auburn, California, has hit the news by being more of a distraction than a warning to drivers, all thanks to a howling typographical error. The sign urges drivers to ''Please slow drively'' past the school, prompting locals to wonder if it wasn't designed and installed by the preschoolers themselves.
*A man from Manchester, in Britain, got a bit of a shock when he went to insure his 10-year-old, 1400 ($2700) Vauxhall Corsa. Zenith Insurance told Rhys Barker it would cost him 1,165,997.75 ($2,286,727.44) for them to cover the vehicle, because of the high crime rate in his area. It turns out it wasn't a mistake and the company simply didn't want to insure him and rightly figured he would never pay that much. They did helpfully offer the option of paying it off in 12 monthly instalments of just 104,000 though.
*A woman in South Korea has probably just set a world record time for failing a driving test after rolling her car within seconds of starting the test. Video footage shows the unfortunate woman flipping the car over within 10 seconds of starting the test and features the frantic cries of her even more unfortunate instructor, who realises very quickly that things have gone wrong.
Number Crunching
7.103 Billion The Earth's current population. And counting ...
6.393 Billion The number of zombies if the zombie apocalypse wipes out 90 per cent of the population
1.1 Billion The number of cars left lying around, forming massive obstacles, following the apocalypse
0 The number of dents or scratches on the Hyundai iX35 in The Walking Dead