David Linklater gets stuck on Ford's two-wheel drive ute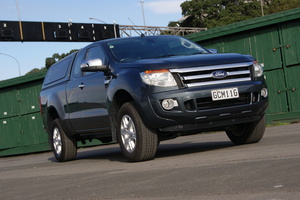 I was not behind the wheel, so I can tell this story with commitment and enthusiasm.
One thing you need as a motoring writer is a lot of space to park cars. Another thing you need is a lot of time to move them around as you try to extract the one you actually want to drive. Ideally, also a sympathetic friend who can help.
And so we come to the $47,340 Ford Ranger XLT Super Cab, a ute stuck in the back of a parking space when it needed to be in front. My friend and colleague was there to help, although he shall remain nameless because he's also a writer who
contributes to a four-wheel-drive publication and should really know better. He took control of the Ranger and decided it might be a good idea to edge it on to the slightly downhill grass verge next to my driveway to make room, as I attempted to move other vehicles around.
Bad idea, as the Ranger became stranded: it was the so-called Hi-Rider model, you see, which means it is two-wheel drive only - even if it looks like a four-wheel drive.
A two-wheel-drive ute on wet grass is even harder to move than a car, because there's no weight on the back of the vehicle. Not that it was grass for long; despite many attempts to help the Ford achieve traction, involving bricks and a wooden ramp my son had made for his bike-riding, green soon turned to brown.
In the end, we opted for a clumsy but more effective approach: many-pointed turns going slightly downhill and slightly sideways, until eventually we were free. I say "we" to be kind but I really mean him.
It did show that if you're thinking about a Hi-Rider, you have to be very sure about wanting a rear-drive ute because its abilities off tarmac are extremely limited. That's not the vehicle's fault, because you can have exactly the same vehicle with a four-wheel drive. But it does show you shouldn't judge a ute by its ride height - or perhaps that you shouldn't give your keys to an idiot.
It was an ignominious episode for the Ranger, which remains a ground-breaking product in the utility segment. Its truck-like looks appeal to the target market and the 147kW/470Nm 3.2-litre five-cylinder engine is a mighty thing (albeit with a clattery soundtrack).
The biggest advance this vehicle has brought to the world of utes is its excellent steering and handling. There's nothing quite like it (apart from the sister Mazda BT-50).
I would hesitate to call the Ranger car-like because it doesn't have the refinement and ride to justify that, but it has moved the goalposts for the ute segment in terms of driver appeal and safety, both active and passive.
Double-cab utes are the biggest sellers in New Zealand, but this is the so-called "super cab" body style. It's a good compromise between massive load length (298mm more than a double cab) and decent passenger space. It's still a four-door but the rear apertures are rear-hinged and give wide access to occasional seats in the back. Neat storage pods under the squabs, too.
Our test Ranger was wearing a low and long Aeroklas canopy. While it does wonders for styling, that rear structure does nothing for visibility: glance out the back and because you are looking through two windows (in the cab and on the canopy) all you can see is a reflection of what's in front. That makes the XLT's parking radar a godsend. If only it could detect wet grass as well.