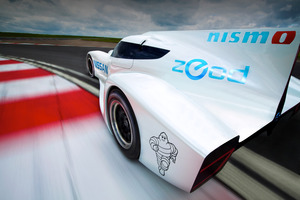 Lessons learned from the Delta Wing Le Mans prototype are providing the basis for what Nissan hopes will become the world's quickest EV racer.
Nismo engineers will test multiple electric drivetrain technologies with the aim to race the ZEOD RC (zero emission on demand racing car) in next year's Le Mans 24 Hours.
The car will compete under the Garage 56 entry - an extra grid spot for invited vehicles at the cutting edge of racing technology. Nissan says its road cars, like the all-electric Leaf, will benefit from innovations in the vehicle.
"A zero emission on demand option where the driver can switch between electric and petrol-powered drive is a future direction for road cars," said Nissan vice-president Andy Palmer. "So that will be tested in addition to pure electric power and other new technologies that we still have under development."