Jacqui Madelin looks at a local project that could revolutionise mobility vehicles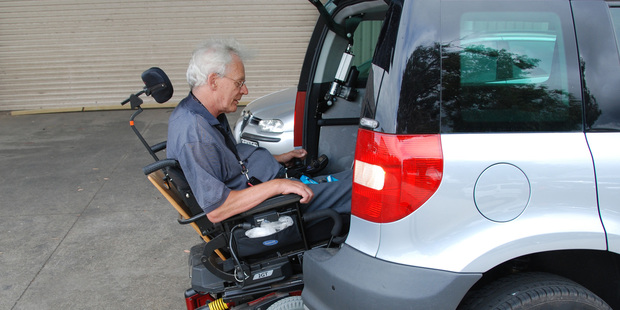 If you think finding the right car is hard, try factoring a wheelchair into the equation. Then consider there's no one-size-fits-all answer for mobility issues; no one wants a van as their private conveyance if they can avoid it; and the car must be shared with the rest of the family.
It's a puzzle that occupied Roger Philips for some years. But this Waiuku resident and long-time car nut is a tenacious beggar and has found a solution so effective it's attracting overseas interest. That's sharpened since the car has been developed for both left- and right-hand drive, and designed to cater for overseas construction from a kit.
His U Drive Mobility conversion is neither simple nor cheap. But he says buyers are aware a good Euro car costs money, even without the ingenious engineering solutions he's wrought to create a flexible solution that sells from $79,950.
Effectively his team takes a Skoda Yeti and guts it, cutting out the back and much of the floor.
When it's finished, only the roof skin, door pillars and engine are standard. The wheel arches are reinforced and the suspension replaced with Koni items to suit this application. The exhaust is rerouted down one side, insulated and covered in carbon fibre moulded to look like the ordinary sill.
There are three petrol tanks in place of the single original, including a 38-litre flat-belly tank that's part of the floor, with a scavenge pump to the original Skoda sender and into the engine where another fuel pump ensures pressure is sufficient for the fuel injection.
It's clear a lot of work goes in to delivering a flat cabin floor, and an electrically operated ramp that tucks invisibly inside the tailgate.
Front door handles and armrests are removed to create more width and the window switches rerouted to the centre console, alongside buttons for the ramp, for start and stop - all easy to use with limited finger mobility.
To some extent controls are fitted to suit individual buyers - for example, a steering ball - and the hand controls are funnelled under the bodywork as much as possible so they don't impede the pedals when other drivers are using the car. The rear seats fold flat, then swivel out of the way, swing down easily for passengers, or can be removed for more space.
All that work drops the ground clearance out back to 150mm, so a bar in front matches it to deliver warning of trouble ahead, and there's less sound-deadening so it's a smidge noisier than standard, though still quieter than some mass-market cars.
It's also 15 per cent torsionally stiffer and 50kg lighter than before, the weight-loss thanks to materials and processes which owe more to Lotus than to your ordinary hatch.
Roger says the cars are serviced by any Skoda agent, and have three years' warranty and roadside assistance.
I've been a passenger and driven a variety of cars with hand controls. What struck me most about this one is it requires the minimum of compromise. As a passenger who can walk, I swing into a normal seat - front or rear - and am not required to help manhandle wheels and chairs (a bonus for friends and spouses of customers).
As a wheelchair pilot, you roll up the ramp (rated to 300kg), close the back, lock the chair into place and drive - there's no need to pull wheels off or manage stowing the chair. Either front seat fits or removes with ease, locking into the same mount as the wheelchair, so you can take passengers and swap drivers as in any car. The only thing is that to fit luggage too, someone has to shift it so the wheelchair can back out.
One satisfied customer is Barry, who broke his neck years ago, falling off a concrete chimney on which he was working. Like many young men he used to be a bit pig-headed about compromise and wanted a car like his mates had. Now he's older and less mobile, he still wants a car that looks like any other, and works for his family.
He's rapt with this one, in some ways for the benefits any Yeti will bring - a nice engine, a wonderful double-clutch DSG auto, auto wipers and lights which Roger likes because he's not good with switches, reasonable all-round view and a compact footprint.
Rear loading means he has to find angle parks, but he's no longer confined to wheelchair spaces and he's far more likely to pop out and run errands now he doesn't have to muscle the chair separately.
He uses a remote to open the back, rolls in, checks the chair is at the right angle - his has adjustable tilt - locks it into place and straps in. The wheelchair won't unlock while the ignition is on, and an alarm sounds if he tries to start the car or drop the ramp with the ignition live.
Once in place he drives the car on hand controls, while his wife can drive as you would any other Yeti. I tried both. There's a lever to the right, pushing in and pulling out to operate the throttle, and down for the brakes; I got wheelspin the first time but soon was driving smoothly, everything done by hand - the indicator on the left easy enough to flick without letting go of the wheel.
Roger says clients come to Auckland to collect their cars for fine tuning - the car may be "one size fits all" but the controls aren't - and to educate them in how it all works. Barry's certainly a fan. "It's amazing the thought that's gone into this car." Best of all, it's still good to drive - a bonus for the one-time 73 Monaro owner as he's the family chauffeur. "My wife doesn't like driving."