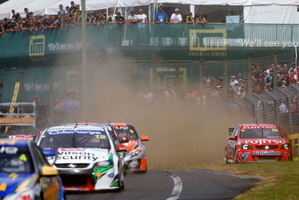 New Zealand's latest addition to the V8 Supercars roster, Scott McLaughlin, is back in Australia contemplating a weekend of ups and downs at Pukekohe Raceway. He'll also be mulling over the fact that he's slipped from fourth on the championship table to 10th after three rounds.
At the Perth round in a couple of weeks, McLaughlin will be hoping to get his championship tilt back on track.
The 19-year-old notched up his first points-scoring win in the championship, taking a commanding win in race one. He also learned what a fickle mistress motorsport is when he arrived back down to earth with a thump through no fault of his own, but he's philosophical about it.
"We've gone from the highest of the highs to the lowest of the lows. It's character building I suppose," said McLaughlin.
"I'm still young and have a long road ahead of me to make up for it."
In winning his first points-scoring category race the Christchurch teen set another record as the youngest winner to go with his record as the youngster driver, at 16, to have his first race in the category.
Biding his time like a seasoned pro in the first race, McLaughlin watched as first Jamie Whincup and then Mark Winterbottom experienced tyre issues causing both to pit. With clear air in front of him the teenager grabbed his opportunity and was never headed, leading Jason Bright and Craig Lowndes across the line.
"It was pretty amazing, especially over the last couple of laps and I found it quite hard to concentrate," said McLaughlin.
"I had to weave my way through all the debris from Winterbottom's car [his tyre exploded] and then I realised I was actually leading the race.
"It was awesome to see all the fans up and down the track and I was fist-pumping in the car seeing all those fans cheering and I had goosebumps.
"I can remember coming here to Pukekohe in the past and watching Murph race and I've always wanted to be able to have the chance to have a go myself."
But early in race two McLaughlin was circulating just inside the top 10 cars in front when he had to take major evasive action and found himself back down the field. He had to settle for 24th.
"On the way back to the pits I told the boys over the radio it was a crap result. I realise you can't do anything about things like that and you just have to take it on the chin and get on with it."
On Sunday McLaughlin was again in the top 10 for both races but steering failure saw him hit heavily into a wall.
McLaughlin emerged a little winded after the big off, but other than that he was fine. Unfortunately for the Kiwi his car suffered too much damage to be repaired and McLaughlin sat out the last race.