The new BMW M135i is built with ordinary drivers in mind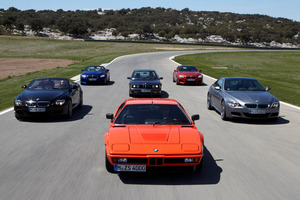 Strictly speaking, BMW's new M135i is not a genuine M-car. Being an M Performance (rather than M-for-motorsport) model, it has some serious performance tweaks but stops short of being a hard-core road-racer.
In my opinion that makes it one of the most worthy M-machines ever, because it's very close to the spirit of the model from the M-division that started it all.
That model is not the M1, by the way, if you'll excuse the sacrilege. True, the exotic mid-engined M1 of 1978 was the first production model from the newly formed BMW M GmbH (1972), but it was really an anomaly.
The M1 project was originally outsourced to Lamborghini (but had to be finished by the Germans - sound familiar?) and intended purely for racing. But by the time it was finally ready, times and racing series had changed, and the best option for competition was a support series for Formula One called Procar, which was based on series production models. That's the only reason the M1 was ever built in road-going form, and BMW M hasn't built anything like it since.
The first proper M-car was the M535i of 1979. This was the one that set the template for 30 years of M road cars to come: it combined the luxury and comfort of a sophisticated production model with genuine supercar performance and handling.
Compared with the 5-series on which it was based, the M535i had an uprated six-cylinder engine, bigger brakes and Recaro sports seats. At the time, it was the fastest sedan on sale.
The thing that made the M535i unique is the same thing that makes today's M135i so brilliant: extreme performance with very little compromise on comfort and practicality. It all came in a completely unassuming-looking package. An M635i followed.
From there, BMW M was inspired to take the marque's existing road cars further and further towards becoming hard-core track machines. The first M5 - and the second car to pick up the genuine Motorsport nomenclature after the M1 - was the 1984 M5. Other landmark models include the first M3 of 1986 and the M Coupe of 1997.
Since 1988, every new 3 Series and 5 Series has been developed into an M-model. Brilliant cars, but specialised and not always aimed at ordinary drivers. The original M535i was, and so is the latest M135i.