It's easy to go astray when buying a car. Driven can help you sort it out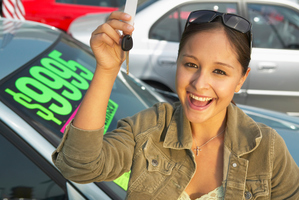 As students enrol in universities and technical institutes, the need for a reliable first runabout increases - something that will get them to lectures on time and cope with supermarket trips or weekends heading back home, to do their laundry.
They want a car that is safe, one where you can jump in, turn the key and you're off.
Unfortunately, life is not that easy.
What happens when you turn the key and the engine doesn't start, or warning lights flash on the dashboard to indicate a problem of some sort?
Or, when everything seems to be ticking along nicely, you receive that friendly reminder from the garage to tell you that your service or warrant of fitness is due.
Combine that with those fixed annual ownership costs that often arrive at the most inconvenient time, such as insurance and registration.
The bottom line is that a car can become a never ending financial drain.
And although the modern car has become very fuel-efficient they don't run on fresh air just yet, so regular visits to the petrol station, where prices can fluctuate, is another ever-present cost that motorists simply have to grin and bear.
If you are a first-time car buyer you should think beyond the obvious benefits car ownership brings.
A clear head is needed to determine the type of vehicle that best suits your needs and the one that will keep costs and unpleasant surprises to a minimum.
It's a given that you will be dipping into your pocket on a regular basis regardless, but buy the wrong vehicle and costs can skyrocket out of control very easily.
Identify your needs
If your main need is transport around a busy inner city then think small, nimble and easy to park.
Vehicle security and parking sensors are also worth serious consideration.
Consider whether a hatch offers more benefits than a sedan.
Another factor is to keep the engine size down.
If you will be doing a lot of motorway driving then engine size, safety (with multiple airbags, three-point seatbelts on all seating positions and anti-locking brakes as a minimum), fuel economy and driver aids such as cruise control should be placed higher on the wish list.
Reliability
History would tend to favour the non-European brands in this price range.
That's not to say you shouldn't look at the Euros and you should never assume every other vehicle is totally reliable.
Keep engine design simple. The basic non-turbo, in-line four-cylinder engine is hard to beat.
Auto transmissions need to be tested thoroughly for any signs of weakness or general wear and tear.
Some automatics can carry baggage, such as constant variable transmissions (CVT) from the past and that can lead to expensive repairs.
Thankfully, that seems to have been all sorted with the latest versions coming off the assembly lines but in your price range extreme caution is recommended.
Do you need a vehicle with four-wheel-drive?
Highly unlikely. It adds weight, therefore increasing fuel consumption, and mechanical complexity that most motorists don't need.
Cost
A budget of $15,000 can buy a variety of different makes and models.
There's that old, highly spec'd and once very expensive, but now affordable, vehicle you may have always admired and inspired to own.
Or you can go for the modern, less frills but more reliable approach.
There's no right or wrong answer. You have to be happy with your purchase and have a smile on the dial when you get behind the wheel.
The bottom line is: Don't let your emotions rule your decision.
Remember that the older highly spec'd vehicles were once driven by people who could afford to own them.
The same owners often quit these vehicles as costs started to rise and you don't want to be left with high ownership costs you can't really afford.
Fuel type
I am big fan of hybrid petrol-electric technology for its fuel-saving and low exhaust emission benefits.
However, constantly improving technology soon make older hybrids yesterday's news and caution should be exercised, especially with imports.
Often these sorts of vehicles were never designed for overseas markets and the New Zealand distributors can often only limited technical support and knowledge to support owners.
Buying from a franchise dealer or getting a late-model New Zealand-new model is the best option.
Diesel has also become very popular in recent times but once again caution is recommended. Diesel engines operate best when hot; regular short and cold running can induce problems with those vehicles fitted with exhaust particulate filters designed to trap diesel soot or particulates.
Higher maintenance and registration costs plus paying road-user charges can soon wipe out any gains achieved with lower fuel consumption.
Diesel has most benefit when travelling more than 20,000km a year or when towing heavy loads on a regular basis.
The modern petrol engine has become very fuel-efficient in recent times and is still hard to beat for average motorists who travel the 14,000km average distance a year.
Peace of mind checks
Once a particular vehicle ticks all the right boxes it pays to carry out a couple of extra checks on the buyer - if it is a private sale - as much as the vehicle.
It also pays to do the paperwork correctly when the money has been handed over.
For information on buying a vehicle, history report, pre-purchase inspection and a copy of a vehicle purchase agreement, visit www.motorweb.co.nz
What make and model and how we can help
Take time to identify your specific needs.
Once you have narrowed them down send an email to driven@nzherald.co.nz and we can then make up a short list of possible options based on your requirements and budget.