When it all goes wrong in the bush, it takes more than a bit of ingenuity to come unstuck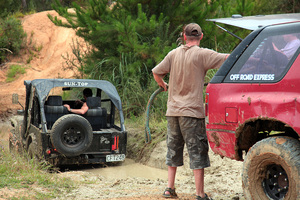 Back in the good old days, it was really easy for good keen blokes to get unstuck when their flamin' 4WD got stuck on the way to their huntin', campin' or fishin' site.
Not so much any more.
Back then, the Land Rovers, F-series Land Cruisers and assorted other 4WDs you met off the road were angular and tough and a perfect receptacle for the world's best getting-unstuck tool, the high-lift jack.
Invented as a farm tool more than a century ago in the USA, the high-lift is an anvil-tough spindly and fairly dangerous ratchet jack that could lift a corner or side of a vehicle a metre or so off the ground on its ribbed tongue.
So you'd just put the tongue under, say, a bumper and pump away on the jack's long handle until there was enough clearance to build- p or firm the ground under the stuck wheel or wheels.
Stuck in a bog? No problem; any keen bloke knew how to convert the high-lift jack into a winch, using the coil of wire under the seat.
She'll be right, and she usually was.
Vehicles were simpler, too, so mechanically inclined blokes could do big repairs with a couple of screwdrivers, a mallet and a crescent wrench. Today's 4WDs are complex and fixing problems isn't easy, even a bloody great hole if you know how.
A few years ago, when a Toyota's right front disc brake pad broke in two, I watched a guy nonchalantly get out his chain saw and fashion a new one from a piece of fallen tree branch. He made a second to even out the other side and they worked fine, all the way home.
Do that today and a sensor would probably burn itself out sending frantic error messages to the computer.
Today's 4WDs, for the most part, don't lend themselves well to the repair and recovery techniques of old. Most don't have anywhere to put the tongue of the high-lift, and most don't have the high clearances and the good approach and departure angles that help avoid getting stuck in the first place.
Spending lots of money in the aftermarket can make a new 4WD "good keen bloke-ready". You can buy steel front and rear bumpers, strong side bars, a winch, a suspension and/or body lift and larger tyres to get more clearance.
Or maybe forget that and just buy an old one that already has the stuff and spend a bit of the money saved to bring it to top condition.
Another way is to find hunting and fishing spots that aren't so hard to get to.
However, all is not lost if you do want to head along tougher tracks. Here's what to do.
1. If where you're going is out of cellphone range, carry a locator beacon or a sat-phone.
2. Don't panic. If you get stuck, step back and think through how best to get out. Rushing into something often makes the predicament worse.
3. Despite what's said about high-lift jacks above, adapters are available to hook one onto wheel rims and bumpers. Go to a good 4WD supplies shop and see if something will fit your vehicle.
4. If you can't high-lift, get a decent scissors or hydraulic jack, probably one much better than the one that came with the vehicle. Get one with a long arm or handle, or carry something that can be used as an extension. Carry a decent hunk of wood to put the jack on; the block will stop it sinking, and will help distribute the load.
5. Carry a spade and maybe also a shovel. It's surprising how often you can get the rig unstuck with some judicious track modification.
6. Carry a tyre gauge because deflating the tyres, perhaps to around 18psi, can be of great help in some situations, such as being stuck in mud. Carry a good tyre inflater to pump them up later. Be conservative with the amount of deflation if the 4WD has low profile tyres; the rubber might come off the rim.
7. Carry strips of old carpet, mats or anything that can work as a friction surface under tyres. A better but costly alternative is a set of vehicle recovery tracks of tough plastic.
8. Get a winch. You don't need a bolted-on winch for occasional use; get a good hand winch, often known as a Tirfor. That's the name of the company that invented the winch but now it's generic for a portable puller that takes a lot of muscle power to work, but it will get you out. It will also pull front, back or sideways.
9. Don't think that one of those little ratchet winches meant for pulling a few hundred kilograms will do the job. You're in man's country now; it'll just break and ruin the day.
10. Don't get stuck in the first place. There's more to off-roading than aiming and hoping. Stop and read the terrain; what are the options? Is there another way? Would a bit of precautionary digging make an obstacle passable? Have someone outside guiding you through tight spots.
Best of all travel in a group of two or three vehicles. Make sure one person knows about off-road recovery techniques; that he really is a good keen man.