Adrian Smith makes a big impression at home, says Andy McGechan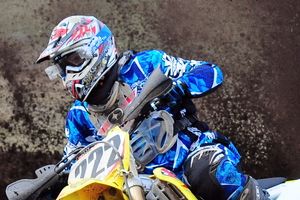 Mokau's double national champion Adrian Smith has wasted no time putting to the test the lessons he learned while racing overseas this season.
Just back in the country after a stint of cross-country racing in the United States, the 26-year-old Yamaha ace was soon impressing with his new-found speed, winning the opening round of the Bel Ray Cross-country Championships near Huntly, finishing comfortably ahead of Te Awamutu's Mark Penny (Suzuki RMX450), Auckland riders Shaun Fogarty (Kawasaki KX250F) and Callan May (Yamaha YZ250F) and Rotorua's Scott Birch (Honda CRF250).
Smith had won both the New Zealand cross-country championships and the New Zealand Enduro championships this year, before jetting off to "dip toes in the water" at several rounds of the Grand National Cross-Country Championships in the US and he has returned with a few extra weapons in his arsenal.
"I learned a lot about fitness and training. I was spending a lot of time with Pahiatua's Paul Whibley (the Yamaha star who has just won the GNCC title in the US for a second time), and that was a good experience."
However, even though the international adventure further sharpened his riding skills, Smith's first race back on home soil last week was still a stern test.
"The course at Huntly was a lot different to what I'd been riding in the US. I was actually quite worried about the high speeds. In the US it's a lot more technical and tight and not wide-open farmland like New Zealand.
"So I just tried to control the race from the front. When I got into the lead I slowed it down a little, trying to keep riders behind me.
"But then Mark Penny got past me and I had to go hard out again," said the BikesportNZ.com-sponsored rider, now racing a Yamaha YZ250 two-stroke instead of the YZF250 four-stroke he used to win his two national crowns.
"I snatched the lead back and then stretched out my advantage as much as I could without being silly. In the end, I finished about two minutes ahead of Mark."
Penny was also satisfied with his result, his first ride for the new Wilksbrooke Motors-supported Bel-Ray Suzuki Off-road team.
"The drizzle was persistent and, combining that with the dust being kicked up off the dry trails, it was a nightmare on goggles," said Penny.
"On the third lap I decided I had to pass Adrian and get out of the dust, so I picked up the pace and past him on a tricky uphill. I was feeling pretty comfortable with the speed and everything was going well but I had used up all my goggle roll-offs following in the dust, so vision was becoming a problem.
"Adrian pulled back up to me after a lap and passed me back, flicking up a rock as he went past that smashed into my goggles and finished them off.
"After that it was a matter of trying to go as fast as possible while not being able to fully see the track. Adrian slowly pulled a gap on me and at the end of the two-hour race I had to settle for second place."
The next race in the three-round series is in Huntly on January 13.