Servicing a car isn't cheap, but there are ways to make the most of your cash.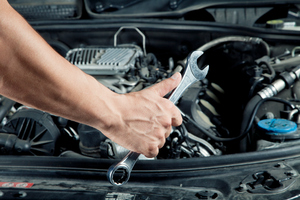 Hands up those who look forward to receiving that friendly phone call, letter or email reminding them their car is due for its routine service? Not many I suspect.
In many cases you ask yourself: Why bother? The car is going fine and from past experiences the only noticeable difference after departing the garage is that your bank balance is a lot lighter.
For many owners with cars fitted with fuel-injected engines and disc brakes - from about the mid-90 - their car drives and performs no differently than it did before the service.
Well if that's you, and you do decide to forgo a dinner and movie night out in favour of having the car serviced you may well consider yourself lucky. Regular servicing can save you a lot of money in the long run and keep expensive and unpleasant surprises to a minimum.
However, as cars get older and their values drop there does become a need to look closer at servicing costs and only spend on repairs and service items that are absolutely essential.
Enter a trusted garage and mechanic; an outfit that will take the time to discuss and understand your day-to-day transport needs and, just as important, the long term ownership plans you have for your vehicle.
Stretching out expensive recommended service items to suit the budget without compromising on safety or mechanical breakdown not only means potential long-term customer retention for the garage, it also builds up a welcome trust for the customer.
It can be argued that nobody knows a particular vehicle better than the franchise dealer for a particular make and model, but the reality is that most owners do tend to drift away once their cars are not long out of warranty because of perceived higher costs and inconvenience. On the flip side however, some non-franchise garages can be just as expensive and some love to sell unnecessary extras to their captive clients once the car is in their hands.
There are no right or wrong answers as to who should be servicing a car once it comes out of warranty. The key is finding a business which you can trust into in terms of workmanship, cost and, most importantly, communication. From my experience dealing with repair disputes over the years, it's the lack of communication that creates the biggest problem between customer and repairer.
For some non-mainstream makes and models finding somebody who sits outside the new car franchise network but specialises in a particular brand is often desirable. While their hourly rates may be higher, their skills and product knowledge can mean the job is often done faster and better.
Provided good-quality fluids and filters are used, then most petrol-powered vehicles need to be serviced only once a year or 10,000km, whichever comes first. The more modern vehicles can have service intervals which stretch out to once a year or 15,000km, while some of the Euros can exceed that even further and be run until the service warning light appears on the dash to warn the driver.
How are owners supposed to know all this? Well, they shouldn't have to because a trusted service provider should be telling them what to do and when to do it.
Automatic transmission oil and cooling system inhibitor are two fluids that should not be compromised and only the fluids recommended by the distributor should be used.
Garages should also provide guidance on fitting some cheaper non genuine parts such as brake pads where brake squeal and dust can be something owners simply have to accept as part of keeping costs down.
Often that discussion takes place after the customer has paid and left.
Once any vehicle is over 10 years old and has travelled in excess of 200,000km any service is better than nothing, but the type of service those cars have had in the past will be a major factor in their longevity and reliability moving forward.
Below are some tips that may help keep those dreaded costs in check and owners in a little more financial control over what is being done when the keys are handed over.
When booking a service
* Ask what is actually going to be done.
* Ask for an estimate on how much it is going to cost.
* Leave clear instructions that no additional work is to be carried out without your approval.
* Leave additional contact phone numbers and times to ring if you are away from home or office during the day of service
* Ask to be rung, with final costs, when the vehicle is finished.
* Ask to sight and sign the job sheet with those instructions clearly written down when dropping off the vehicle.
Contact during the day concerning extra work
* Ask about the importance of having additional work carried out and whether or not it is urgent or if it can wait (and how long).
* Explain your short-term plans (using the car to go on holiday) which may place some urgency (or not) on recommended work.
* Ask for a full breakdown of costs (parts and labour).
* Ask for the old parts to be retained if extra work is recommended and approved (some garages are too quick at times to dispose of old parts).
* Re-check your understanding of what you have agreed to (or not) with the garage.
Personal responsibility
Ask your mechanic to show you how to carry out some important checks (and how often) in between service visits such as:
* Tyre pressures and condition (including the spare).
* Engine oil level.
* Coolant level.
* Drive belts.
* Windscreen washer top-up.
A garage that really does care about you as a customer may even offer a while-you-wait peace of mind check every three months or so at minimal cost.