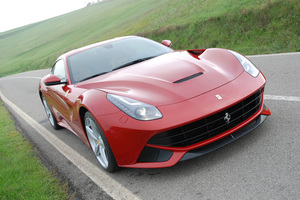 Europe may be stuck in a financial mire but tell that to buyers lining up for Ferrari's fastest, most powerful road car, the F12 Berlinetta.
What's new
At 544kW and 690Nm, this latest development of Ferrari's naturally aspirated V12 produces 89kW more than its 599 predecessor, in a car that's 60kg lighter and smaller in every direction.
With the engine up front, a gearbox out back, and 46:54 front-rear balance, it will do 0 to 100km/h in 3.1 seconds, reaching 200km just 5.4 seconds later. It stops from there in 131m - less than the 599 - and laps the Fiorano track in one minute, 23 seconds, two seconds quicker than an Enzo supercar.
The company line
Italian sales fell as conspicuous consumers stopped buying during a government hunt for tax evaders, but the brand is healthy elsewhere, a policy of selling fewer than the market demands maintaining a waiting list.
Ferrari has a reputation for building devastatingly fast supercars, but has made them more accessible to the ordinary hyper-rich driver.
Communication senior vice-president Stefano Lai says the F12 needn't be driven hard to be appreciated, unlike the 599 which required a track and a Formula One pilot to be at its best.
What we say
Inconceivably fast, stupendously raucous, frighteningly sharp yet capable of everyday use, the F12 Berlinetta is an astounding achievement, not least because it's all obtained while cutting emissions by 30 per cent.
On the road
Lai is right, this car is easy to drive at real world speeds. But turn the dial to "sport", up the pace, and you unleash an animal. Floor it for a deep-throated roar rising to an ice-cold hair-raising whine, the double-clutch gearbox pouring power down in an avalanche.
The E-diff, the new suspension and the electronics pound the road into submission as the scenery flashes past, the next bend rocketing up with mind-numbing speed as you flick it in and there's a brief flurry as it understeers briefly then oversteers, wriggling as the shorter wheelbase and sharper steering rack briefly hint at Armageddon before the electronics haul you back into play. Forget "race" mode, let alone "CT off" and "ESC off".
Fortunately, throttle response is instant and the brakes are phenomenal, hauling you up with tarmac-shattering force as the car flicks down the gears, popping and banging with a brio that alerts the carabinieri for kilometres around.
Why you'll buy one?
Supercar performance in a gorgeous package that's also reasonably compliant and not too noisy for highway cruising, plus reasonable leg room and a 320-litre boot to impart pretensions to everyday practicality.
Why you won't?
You can't wait until next year's NZ arrival, or don't have $700,000 handy.