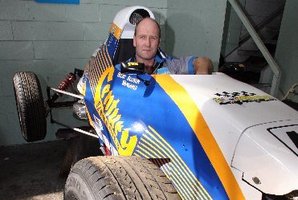 Some of those involved in Wanganui's motor repair industry are scratching their heads over planned changes to the country's motor vehicle warrant of fitness regime, calling it unnecessary and worrying.
The Ministry of Transport is proposing that new cars would get their first check two years after being sold, with subsequent checks at four years and six years. After that, they would need a warrant of fitness every year.
And the current requirement for a WoF every six months on cars over six years old would be pushed out to 12 months.
The changes are part of Government proposals to lower annual vehicle compliance, registration and licensing costs.
But Selby Allison, owner of Allison Autos, said he would be very concerned if the changes were endorsed.
Mr Allison said his firm got its WoFs done at the AA testing station, but he said there were some aspects of the planned changes that worried him.
"The trouble I have is not so much with making the test an annual event but rather the fact Kiwi motorists tend not to do anything about their vehicle's safety until they have to," he said.
"They overlook simple but vital things like worn tyres. We've seen them worn through to the canvas, but the owner was unaware of the problem."
Mr Allison said in the space of six months "an awful lot" can change on a motor vehicle, and that can apply to cars six years old or younger as well.
"The way new cars ride on the road, they tend to chew out the inside edge of their tyres, but I don't know of many drivers who are going to bother to check that regularly," he said.
Involved in the trade for more than 20 years, Mr Allison said other common faults overlooked by motorists were the condition of the their brakes and headlights.
And he said he questioned how bringing in annual WoF tests was going to be properly policed.
Greg Cox, who operates Berdeck Village, said he could not understand the reasoning behind the change.
"I can't understand the politicians' attitude on this at all," Mr Cox said.
"We see heaps of vehicles now that we tow in from crashes that are either not registered or have no WoF and in a lot of cases aren't insured either," he said.
"A lot of the older cars on our roads are unsafe as it is, so why make it worse by extending the testing process?"
Mr Cox said leaving the policing of the new regime up to an already under-resourced police force was not going to work.
"The problem with Kiwi drivers is that they never check the critical stuff in their vehicle and nearly every one of them relies on the WoF check to find the faults. They never look for them or find them themselves."
The Motor Trade Association (MTA) has launched a Tv campaign, fronted by motorsport legend Greg Murphy, which talks up the extra risks, especially for older vehicles.
The MTA said the country's fleet of motor vehicles was one of the oldest in the world, and most owners relied on their WoF for vehicle safety.
It said more than 30 per cent of all vehicles tested for a WoF failed, and the country's road safety record was worse than some countries' with fewer safety inspections.
But the NZ Automobile Association has taken a different stance, saying reducing the WoF frequency will not have to compromise safety.
Mark Stockdale, principle adviser at AA, said New Zealand had one of the most frequent vehicle safety inspection in the world.
"No other country requires cars aged six years or older - the majority of our fleet - to be tested twice a year," Mr Stockdale said.
"Some countries only have an annual inspection, and many only every two years. Others, like much of Australia and the USA, have no regular inspection at all. Most vehicles in NZ are tested every 6000km. In the UK, they're tested every 19,000km, and in Germany vehicles travel approximately 32,000km between inspections," he said.
"Yet, despite these differences in inspection frequency, the number of crashes caused by vehicle faults in NZ is about the same as other countries at about 2.5 per cent, (which) suggests that inspection frequency is not a silver bullet."
Mr Stockdale said the question was could there be less frequent test without increasing crash rates, "and the international evidence suggests we can".
For more articles from this region, go to Wanganui Chronicle