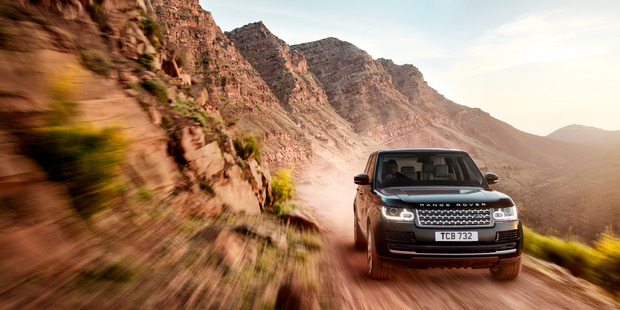 After teasing us with the first images of the new fourth-generation Range Rover last month, Land Rover has now shown the finished car to a small number of journalists and shared some of its under-the-skin secrets.
We won't really know how good it is until its maker lets people outside the company drive it, but the evidence so far is encouraging.
The new car combines an updated version of the Range Rover look that has served the model line so well over 42 years, with important under-the-skin advances that improve performance and efficiency.
The exterior design looks at first to be a comparatively gentle evolution, but closer examination shows that some of the changes are more radical than they appear. The new model's stance, and this is only really apparent when it is seen in the metal on the move, appears broader, with the wheels pushed out further towards the corners and filling the wheel arches more fully.
The nose, superficially similar to the old, turns out to be much more rounded too.
The third generation model's famous "gills", the vents built into the old car's front wings, are still there, but they are now a styling feature of the front side doors and no longer functional as Land Rover has designed alternative breathing arrangements using hidden vents that allow the car to wade through deeper water.
And the latest Range Rover's body is more radical still if you take into account not just its looks but its construction, because the new car uses an advanced aluminium structure - the world's first on an SUV - that saves 350kg compared with the old one on a direct like-for-like comparison. A lighter body means that other components such as suspension parts and brakes can be lighter, and so on, a virtuous circle of weight-saving engineers call mass de-compounding.
The accumulated weight savings mean that the new Range Rover can be offered with a smaller base engine option (of which more below), a diesel V6 that is lighter than the traditional V8s, and that takes the total weight saving to 420kg.
Inside, the changes are less radical, at least in terms of design and materials. The existing Range Rover's cabin sets an example for other luxury car makers, even after more than a decade of production, so the overall look and feel are maintained, although Land Rover has taken the chance to clean up the switchgear, producing a centre console that is noticeably less cluttered. One area that has been improved is rear seat legroom, and there's the option of so-called Executive Class seating, which provides two individual, fully-adjustable rear seats. In keeping with industry trends towards personalisation, the new car offers a much wider range of trims, paint finishes and materials than the old.
Three engines will be offered. The first two will be upgraded versions of the outgoing model's 4.4-litre SDV8 diesel and 5-litre supercharged LR-V8 petrol. The SDV8 diesel gets a 9 per cent power hike to 339PS and produces an enormous 700Nm of torque over a wide band between 1750 and 3000 rpm. The combination of less weight and more power allows the SDV8 to accelerate to 100km/h in 6.5 seconds, an improvement of a full second over the old model. CO2 emissions are 229g/km, still quite high by most standards but an improvement of 10 per cent.
The third engine is already familiar from Land Rover's Discovery and Range Rover Sport, and from Jaguar's road cars - the 3.0-litre TDV6 turbodiesel, which produces 258PS here.
Previously Land Rover hasn't used the V6 in the Range Rover but the weight savings on the new model make it a much more interesting proposition this time. The TDV6 delivers 600Nm of torque and can get the Range Rover to 60mph in 7.4 seconds, which is still an impressive result. In this new application, it benefits from a number of technical tweaks and a fuel-saving stop/start system. CO2 emissions are 196g/km. Next year, there will also be a diesel hybrid which Land Rover expects to emit just 169g/km, a very good figure for such a big off-road vehicle.
All new Range Rovers get ZF's 8HP70 eight-speed automatic transmission, which has been replacing the German transmissions specialist's six-speeders across the Jaguar and Land Rover ranges.
The rest of the fourth-generation car's transmission set-up reflects Land Rover's belief that even its super-luxurious flagship model should live up to the company's reputation for building the world's toughest and most capable mainstream 4x4s.
There's permanent four-wheel drive with a 50/50 front-rear torque split and a separate low-range setting that can be engaged at up to 60km/h. Also fitted: a second-generation version of Terrain Response, a system fitted to most Land Rovers and Range Rovers which allows the driver to select settings that match the local terrain - for example mud and ruts - to which the car adapts by varying, for example, its engine mapping or ride height.
The set-up on the new Range Rover Terrain Response 2 analyses under-wheel conditions and automatically selects the most appropriate setting without intervention from the driver.
Other Land Rover systems include hill descent control, gradient release control and hill start assist.
The new Range Rover will be available to order from this month at prices starting at £71,295 ($140,301). It will be launched in New Zealand in January next year.
- Independent