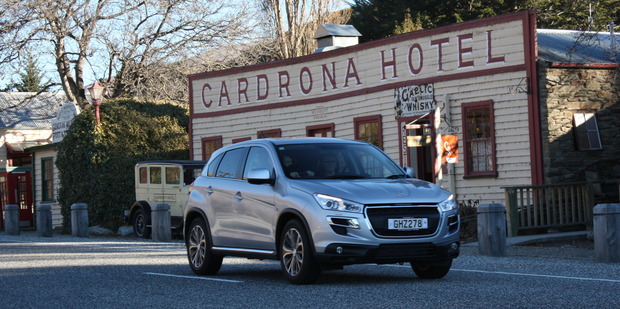 Peugeot is taking an enthusiastic gulp from the fountain of youth, and betting big on its new 4008 soft-roader and forthcoming 208 hatch.
Peugeot New Zealand boss Grant Smith, of Sime Darby which also imports Chrysler and Jeep, admits its focus on the 4008 "especially the mid-range two wheel drive petrol version" is a bold move.
The 4008, which shares a platform with Mitsubishi's ASX, won't be offered here in diesel form. Smith says it is a good fit for the small SUV market, which Peugeot has not contested before.
The SUV's local launch was held in Queenstown this week, following the global launch in Portugal, which Driven deputy editor Liz Dobson covered.
Smith says the 4008, and to a higher degree the 208, will give the company a chance to access a younger slice of New Zealand's car-buying market.
"I think 4008 has got some quite big volume opportunities for us," he said, 'we've always had a target this year for 1000 cars. We're on track for that, but it's quite hard work, to be fair.
I think 4008 will definitely make that easier.
"My opinion personally is that if you look at the styling of the car - if it's not the best-looking SUV, it's probably second. If you have a pretty car, you're halfway there - that is going to give us some traction. And we've never had an offering in that segment before - nothing that's compact, but roomy on the inside, we just haven't been there, certainly not at $36,990."
Peugeot's buyers in New Zealand have traditionally been more hip replacement than hip, but the new vehicles and a sharper price proposition have the power to change that, he believes.
"The 207's in its seventh year and we're still chugging through those - it's still a pretty good looking car. The 208 is quite a different kettle of fish, it's more iPod generation, has a good range of accessories for personalising cars, much more in keeping with the youth of today.
"Peugeot's trying to change its target market - in New Zealand it has traditionally been driven by older people and we're trying to appeal to younger people.
"Younger people aren't going to buy cars when they are predominantly driven by lot of older people, so we're trying to change that over time. We're not trying to alienate the people that buy Peugeot now, but we are trying to appeal to different sectors. Both 2008 and 4008 will enable us to do that."
Smith admits the company is taking a punt on the 4008 and 208 combo, but it's entirely possible that a diesel model will kick sales where it hurts.
"If I could have had a diesel in an automatic, I would have taken it," he says.
"I don't know - If I did offer it as a diesel, would people buy manuals? Statistics show in that part of the market, it's all auto."