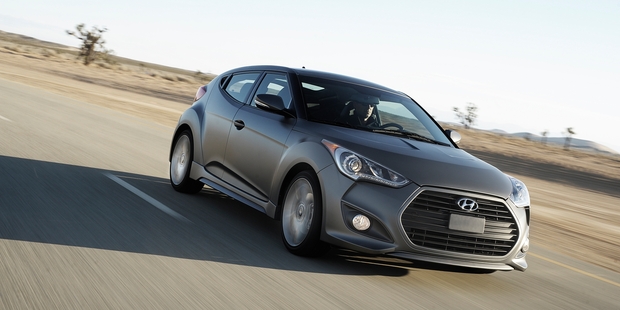 Hyundai's Veloster hatch is getting a powerful new lease of life.
A turbocharged version of the wee Veloster has just been launched in Korea and will be arriving in New Zealand in the third quarter of this year.
Hyundai New Zealand general manager Andy Sinclair says the reaction to the standard naturally aspirated version has far outstripped expectations.
"We can't get enough ... I originally expected eight or nine cars a month, but it's closer to 15 cars a month."
The interesting little hatch has three doors, two on the passenger side and one on the driver's side.
Its looks make it a polarising vehicle, very much in the "love it or hate it" category.
It seems Kiwis quite like it, even with the reasonably lightweight 1.6-litre, 103kW engine at $39,990.
The top-spec Elite model costs $44,990, so you can expect that the Turbo, which Sinclair said would be imported only in the highly featured form, will be about $50,000.
With the addition of the turbocharger, the Veloster's power output leaps nearly 50 per cent to 150kW, and boasts a 60 per cent torque increase to 262Nm.
"It's difficult to gauge how well it will go," Sinclair said.
"It's always going to be a small market. There will be a select few buying it as it's a wee bit different from the norm. I think it will go very well."
Veloster Turbo will be coming in either as a six-speed manual a six-speed auto - no double-clutch (DCT) versions will be available.
"We're going to err on the side of manual," Sinclair said.