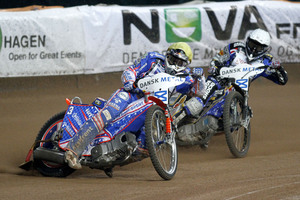 It's where it all began: Speedway, or solo racing, makes a triumphant return to Western Springs on Saturday, as New Zealand hosts the first round of the 2012 FIM Speedway Grand Prix.
The grand prix, set to be New Zealand's most exciting motor racing event of 2012, will pit 16 of the world's top speedway riders against each other in attempt to secure vital points going into the next round.
The riders will represent the USA, Sweden, Poland, Australia, Denmark, Russia, New Zealand and Great Britain, providing plenty of thrills for speedway fans and motor racing enthusiasts.
The event will be the first meeting of the 12-round world championship FIM Speedway Grand Prix series (SGP) that returns to the southern hemisphere for the first time in nearly a decade.
Defending champion Greg Hancock became the oldest rider ever to win the sport's biggest prize when he sealed the title in Europe last September, aged 41 years and 113 days.
The charismatic Californian won his first SGP crown back in 1997 and will not be keen to wait another 14 years for his third title.
But standing in his way is three-time winner Jason Crump - Australia's most successful speedway rider of all time.
After almost two years without winning a Grand Prix round, he will be eager to get back on top of the rostrum International stars set for thriller
Western Springs will host the first round of the 2012 FIM Speedway Grand Prix on Saturday. The event will pit 16 of the world's top speedway riders against each other.
at Western Springs. Hancock and Crump are joined by triple champion Nicki Pedersen from Denmark, as well as Poland's 2010 SGP gold medallist Tomasz Gollob.
Seven-time New Zealand national champion Jason Bunyan has been handed the wild card place for the meeting and is the only man in the field to have previously raced at Western Springs. World No 2 Andreas Jonsson, a man in the form of his life, makes the trip from Sweden, while last year's bronze medallist Jaroslaw Hampel will fancy his chances of making an impact in Auckland.
Australian champion Chris Holder will be well-supported and is desperate for a big performance after winning his fourth Australian speedway title in five years in Adelaide on January 21.
Double world under-21 champion Emil Sayfutdinov joins triple British title winner Chris Harris and former Danish champions Kenneth Bjerre, Hans Andersen and Bjarne Pedersen in the field. Brazilian-born Swedish racer Antonio Lindback and his international teammates Freddie Lindgren and Peter Ljung also line-up in Auckland.
The field is completed by defending New Zealand champion Grant Tregoning and Sean Mason, who will serve as track reserves.