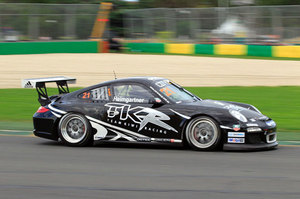 Team Kiwi's young driver Andre Heimgartner impressed during the Melbourne GP rounds of the Australian Carrera Cup, setting the fastest lap in the third race yesterday.
The 16-year-old St Kentigern's student placed sixth in the race, following up a ninth and seventh in the earlier two races.
Kiwi Porsche master Craig Baird and former A1GP driver Jonny Reid were first and second respectively in each of the three races.
Aside from that highly-competitive duo, Heimgartner faced the daunting task of footing it numerous other world-class drivers - including former Formula One driver Heinz Harold Frentzen and V8Supercar legend Mark Skaife - who qualified ahead of the TKR Porsche.
"We're all pretty pleased at how things have finished up," said Heimgartner. "The more time I spend in the all black TKR Porsche the more comfortable I feel and harder I can push.
Setting that fastest lap time proves that and also that the results from Adelaide's Clipsal 500 opener wasn't a fluke.
"I have made a few changes to the way I drive the TKR car after working through the data with team engineers Todd Bickerton and Ian McNabb. That has made a significant difference to what I need to focus on as we keep fine tuning the package and myself.
TKR team boss David John said the punt he took at putting a 16-year-oldin the Porsche 911 Type 997 is looking to be the correct one.
"I am very impressed with Andre, his maturity and how he has driven and conducted himself on and off the track for the first two rounds of the championship," said John.
"Getting three consistent results this weekend ahead of drivers with many years more experience at a much higher level has reinforced he was the right driver to be provided the opportunity by TKR," said John.
"It would be fair to say I got more than a few sideways looks when I said we are going to give a 16-year-old the opportunity to race the new TKR Porsche and run him for the season in Australia.
"It is a series with some of the best drivers in the world, including team driver mentor Craig Baird. But Andre has proven he deserves the opportunity and if he keeps improving as he has in only two rounds of the Championship then this year is going to be a very exciting and rewarding one for all involved."
- NZHERALD STAFF