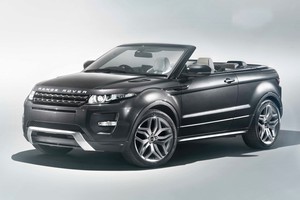 Land Rover will show a convertible concept version of its freshly-released Range Rover Evoque at the Geneva Motor Show next week.
Heartened by the success of the new Evoque, Land Rover PR says the convertible concept - based on the coupe version of the Evoque - will "explore the potential for the world's first premium convertible SUV."
Developed by Land Rover's design director Gerry McGovern, the concept features a fully retractable soft-top with roll over protection.
McGovern says the project is "not a traditional convertible design execution - instead we have worked with the balance of the Evoque's lines to retain its distinctive shape and create something that is unique and, we believe, highly desirable."
Land Rover claims that the body style has been executed without large changes to weight and torsional rigidity - aided by the Evoque's high waistline.
It's all bling inside though - aside from Terrain Response, surround cameras and park assist, there's a touch-screen control centre for the in-car-entertainment, and a sound system developed by boutique British audio brand Meridian.
And 21-inch Titan silver wheels, ensuring that the Premier League players who will surely be lining up should the concept ever actually go on sale won't deem it too understated.
- NZHERALD STAFF