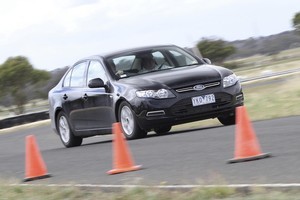 Ford describes its new 2-litre EcoBoost engine for the Falcon as a "sweet spot" for consumers.
The four-cylinder turbocharged petrol unit is a first in 50 years of Falcon production in Australia and goes into the XT model for New Zealand from May.
"Ford's EcoBoost technology really is the best way to achieve improved fuel efficiency and reduced emissions at a price consumers can afford," said Ford Australia president and CEO Bob Graziano.
"Our goal has been to find the sweet spot for consumers, to give them the fuel efficiency they need, combined with the power they want. With its introduction to Falcon, we're expanding EcoBoost's reach."
Ford claims the Falcon EcoBoost delivers town-and-around fuel economy of 8.1 litres/100km, an 18 per cent improvement over the 4-litre in-line six-cylinder unit in current models.
The new car is expected to weigh in at around 1650kg, about 60kg lighter than the plus-1700kg bulk of the six-cylinder models, which continue across the range.
The direct-injection EcoBoost engine delivers a claimed 179kW at 5500 rpm and 353Nm of torque at 2000 rpm and has a CO2 exhaust emissions rating of 192grams per kilometre.
A clue to its output lies under the bonnet of the new Range Rover Evoque.
Land Rover calls its four-cylinder engine the Si4, but it is pretty much identical to the EcoBoost powerplant and delivers 180kW and 336Nm.
Ford next year plans to triple global production of EcoBoost engines. It installed 127,000 units in seven model lines last year and plans to produce upwards of 383,000 across at least 11 vehicles next year.
Ford says 80 per cent of the company's global nameplates will soon carry EcoBoost engines. They are presently available in four-cylinder and V6 applications and will soon include a 1-litre three-cylinder unit in the European Focus.
The downsized petrol engines are claimed to deliver up to 20 per cent better fuel economy than conventional engines.
The new Mondeo and Kuga are expected to pick up 1.6- and 2-litre EcoBoost engines when they arrive in New Zealand next year. A go-faster 2-litre unit will power the Focus ST hatchback.
The Falcon XT is the first rear-drive Ford to get the EcoBoost engine.
Ford in Australia and New Zealand want to drive up fleet sales with the XT, claiming it will offer big-car power, comfort and practicality with small-car economy.
No word on the XT price yet. Some Ford executives believe the price should be the same as the current six-cylinder version. Others say buyers will expect a four-cylinder Falcon to be cheaper.
Fiesta finished?
As Ford strives to make the Falcon a more miserly proposition, it is pulling the pin on its most fuel-efficient vehicle in Australia, the Fiesta ECOnetic.
The excellent diesel-powered Fiesta LX has outperformed the ECOnetic in both Australia and New Zealand.
Ford NZ says no decision has yet been made on whether the 3.9 litres/100km ECOnetic will continue to be sold in New Zealand.