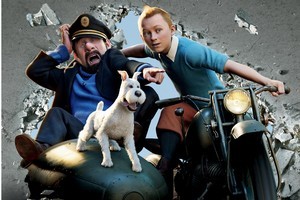 Bad guys chase priceless parchments in a red Jeep. The chief bad guy has his Rolls-Royce smashed by a dockside crane as the famous boy reporter chases truth, justice and a good story. But otherwise there isn't a lot in the hit Tintin movie that hints at the famous comic series' rich automotive history.
Tintin's creator, Georges Remi, a Belgian who used the pen name Herge, was a stickler for detail, so most of the more than 160 cars that appeared over the decades in Tintin comic strips and books are based on real vehicles.
It's the same with planes, buses, vans and military vehicles in the hand-drawn panels which first appeared in 1929. The brands span the alphabet - Alfa-Romeo to Zil - and come from many parts of the car-manufacturing world as it existed up to the 1960s.
That yellow twin-float seaplane in the film is based on the Bellanca Pacemaker, a popular pre- and post-war bushplane in the United States and Canada, except the real ones lacked machineguns in the wings.
The movie has taken liberties with automotive chronology, despite closely following the plot of Tintin's Secret of the Unicorn adventure from 1942-43.
It begins with streets of Renaults, Citroens and other vehicles of the late 1930s and ends with the heroes driving down a country road in a Triumph TR2 sports car that didn't appear until 1952. Still, Herge often updated cars when new editions of the adventures were released years later. A Humber Pullman from 1938's The Black Island became a Jaguar X post-war. A 1935 Vauxhall cabriolet morphed into a Triumph Herald soft-top, and so on.
The same thing happened with aircraft. A pre-war Hawker Fury biplane fighter became a Hurricane in a reprint and, most dramatically, an Italian Savoia Marchetti three-engined piston airliner of the 1930s changed to a Hawker Siddeley Trident jet.
Not all Tintin adventures were car-rich. The Red Sea Sharks and Tintin in Tibet were among those whose roads were more or less empty.
But The Calculus Affair, seven adventures after the one played out in the movie co-produced by Sir Peter Jackson, was all but gridlocked.
Drawn in the mid-1950s, it's set in the Cold War and laden with European brands, with a supporting cast of an American Willys, a 1955 Chrysler and a Rover 75.
The adventures of the dog-loving boy reporter were translated into more than 50 languages and, in the 1950s, began appearing in some New Zealand newspapers. More than 200 million copies of the books have been sold, making Tintin one of the world's most famous action heroes.