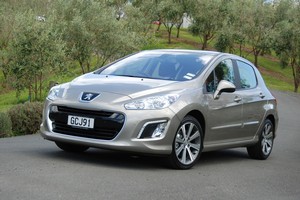 Peugeot NZ hopes to follow Volkswagen's lead in proving a European brand which bridges mainstream price points and Euro appeal can succeed if it has the right products - and the right prices.
What's new
An updated 308 with added features for less money.
A more-for-less strategy also applies to the 4007 and 207, which now opens at $25,990, plus there is better stock supply. Peugeot ran short this year, thanks in part to more small-car demand than anticipated, and to post-tsunami stock shortages that saw New Zealand orders sidelined when larger markets took priority.
The few changes made to the 308 have improved its looks. The shorter nose, smaller air inlets and new rear bumper rein in the aggression and improve the car's proportions to impart a more elegant air.
The 308 sells from $29,990 in 88kW/160Nm 1.6-litre Access specification, steps to the 115kW/240Nm 1.6 turbo and tops out with the $45,990 120kW/340Nm 2.0-litre turbo HDi Allure with its 17-inch wheels and extended glass roof.
The company line
The general manger of Peugeot importer Sime Darby Automobiles, Grant Smith, says he aims for a key car in each range at the right size and specification, with seven new models in the pipeline, starting with the 308 Series 2 hatch and wagon this month, then the 207 Sportium and 4007 Allure SE.
The 4008 crossover, based on Mitsubishi's ASX, arrives in May in petrol CVT format and both two-wheel-drive and four-wheel-drive, with no diesel as yet.
The sexy-looking 208 lands in September in three- and five-door form and boasting an iPod tablet lookalike to control in-car functions.
Smith plans to sell the 207 alongside it to keep the entry price pinned, and also pitches an entry-level $46,990 508 sedan to appeal to fleets.
He expects the changes to fire sales to the magic 1000 next year, half of which will be the 207/8 and 308 models.
What we say
The drop in entry price should draw punters seeking something a smidgen different, while Peugeot NZ-added extras to the 4007 will be appreciated by family buyers, the SE being down two grand yet getting heated leather seats with better bolstering, plus a reverse camera and satnav fitted locally.
On the road
Handsome cars, competent engines, comfy and stylish cabins. But Peugeot doesn't hit the suspension sweet spot.
Driving the 5008, 4007, 3008 and the Partner mini-van back to back revealed that all absorb big hits with plush confidence - but transmit the smaller jolts to the cabin. These cars are at their best on smooth roads.
Why you'll buy one?
You like all things French, you like the added extras without the added cost, and you think the new 508-inspired face is more elegant than the outgoing shark-nose design.
Why you won't?
Peugeot suspension still too jiggly on Kiwi roads.