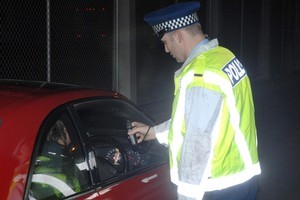 Keep an eye on police activity on New Zealand roads over the summer holidays now that police across the ditch in Victoria have announced a summer road safety campaign.
New Zealand models many of its road safety guidelines on those of Victoria. The result of a 2011 Five Point Safety Check programme - restraints, brakes, steering, lights, tyres - by the Victorian Automobile Chamber of Commerce (VACC) might well be picked up by police here.
If so, motorists can expect to be breath-tested, speed-checked and monitored by police.
The VACC research shows 40 per cent of vehicles on Victoria's roads are faulty. Of the 2307 cars tested between January and November, 998 had a defect - that's two out of five cars.
"This is the worst set of figures we have ever recorded," said VACC executive director David Purchase.
"The vehicle safety message is just not getting through to motorists and governments.
"We should be embarrassed by these statistics. They are simply unacceptable."
Victoria police say the summer safety campaign will target speed, distracted drivers and drink and drug drivers.
"We will be moving our drug and alcohol buses into urban and regional centres and locking down entire areas," said the state's head of road policing, Deputy Commissioner Kieran Walshe.
"We all know what the key risks are - speed, alcohol and distraction. Stay alive this summer and stay away from the risks."
Police will also be entitled to visually inspect vehicles they pull over. Drivers of vehicles found to be unsafe or unroadworthy will be served defect notices.
"There are more unsafe vehicles on our roads than people realise," Purchase said.
"Our final vehicle safety figures for the year make disturbing reading."