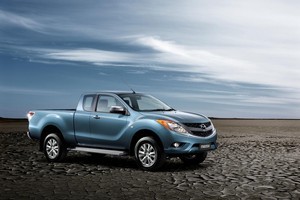 Mazda's new BT-50 ute is the torque of the town - one of the best-driving, toughest one-tonners around, thanks to a 470Nm 3.2-litre powerplant and brand new platform that's impressive on and off-road.
The BT-50 is also the talk of the town, thanks to its unorthodox styling. While truck-like looks are the standard in this class, Mazda has opted for a look that mimics its passenger-vehicle range: a massive grille, rounded corners and curvaceous wheel arches similar to those on the RX-8. The BT-50 even has car-like horizontal tail-lights, unheard of on a ute.
The BT-50's styling direction has been the subject of much discussion. Mazda has gone out on a limb with this vehicle. But why?
Mazda New Zealand sales and marketing boss Glenn Harris puts it thus: "All utes in this segment deliver similar outcomes. To stand out, you have to dare to be different."
Can't argue with that, although standing out and achieving sales success are not the same thing. The utes that sell best in New Zealand look like little trucks - Toyota Hilux, Ford Ranger (twin-under-the-skin to the new BT-50). Those that don't - such as the Mitsubishi Triton - have a difficult time of it.
Put the local distributor's marketing efforts aside and I reckon the reality of the BT-50's radical look is more like Mazda Corporation being "determined to be different". Because I think this latest BT-50/Ranger project has hurt Mazda's pride just a little.
Mazda has had a long partnership with Ford in the one-tonne ute segment - right from 1971, when mildly restyled versions of the Japanese maker's B-series were first marketed as the Ford Courier all over the world - even including that truck stronghold America (1971-94), where the Blue Oval desperately needed a compact ute to counter the popularity of small light commercials from Japanese brands such as Toyota and Datsun.
Since 1998, Mazda and Ford have shared a production base for one-tonne utes at the AutoAlliance plant in Thailand, which supplies vehicles to more than 130 countries. All along the way, each new generation of ute has been a Mazda-led project picked up by Ford.
Until now. Around 550 engineers from both companies were working on the project, which was based at Ford Australia. Five hundred were sourced from Ford; just 50 came from Mazda.
Hence Mazda's headstrong desire to depart as thoroughly as possible from the Ford template.
Mazda New Zealand has had a few of its own glory days in the ute market. The first B-series, the 1500 Proceed, was a surprise hit and was assembled in Christchurch from 1967. By 1979, with 12,000 units sold, the B-series was the top light commercial in the country.
The Bounty (as BT-50 was called until 2006) was even the first to be sold as a "high-rider" two-wheel drive - overturning the assumption that if a ute didn't have all-wheel drive, it had to have less ground clearance.
The outgoing BT-50 is a solid but unremarkable seventh in the sales charts, outsold two-to-one by the virtually identical Ranger. But given all of the above, you can't deny Mazda has impressive credentials in the one-tonne market.
On paper the BT-50 looks - no pun intended - like a better buy than the Ranger.
Where there's a direct equivalent, the Mazda is about $1700 cheaper than the Ford, and unlike Ranger a locking rear differential is standard on all models.
That's before you factor in Mazda New Zealand's care package, which guarantees you'll spend no more than $200 a visit on servicing.