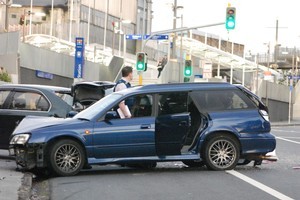 A New Zealand made GPS system helped police locate a stolen vehicle involved in a high speed chase this week.
The Subaru was stolen from the Auckland suburb of Glen Eden on Tuesday.
When the owner realised her car was missing, she contacted Blackhawk Tracking who had one of their tracking systems installed in the car.
The company were able to track the car, and notified police of its location.
A police helicopter of several police cars pursued the vehicle at speeds reaching 167 km/h.
Blackhawk Tracking noticed the vehicle stopped at a Mt Albert address. Four people were dropped off and travelled to a nearby fish and chip shop where they were arrested by police.
Police eventually abandoned the pursuit because of the speed at which the car was being driven.
The car crashed after the driver of a stolen car tried to take a 50km/h corner on Sandringham Rd near Eden Park at about 120km/h.
The driver spun out on the corner and hit another car stopped at traffic lights.
The driver of the stolen car and the person in the other car were taken to hospital.
- HERALD ONLINE