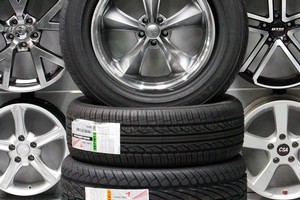 'Premium' look behind alloys' popularity with everyday motorists
Showroom-fresh or well and truly used, cars sit on either steel or alloy wheels. So what's the difference and which is best?
Rims pressed from steel used to be universal. They were cheap, easy to make, durable and could be dressed up with plastic wheel covers - or, in the old days, chromed hubcaps. Today, steels are standard on many entry-level cars and on light commercials.
An alloy is a homogeneous hybrid cast from two or more elements, at least one of which is a metal. Most are of aluminium alloy, whose strength and low weight make them desirable in high-performance applications.
They also tend to dissipate brake heat better and provide excellent brake ventilation. But alloy wheels' popularity has spread beyond the high-performance market because they give a "premium" look that lifts a vehicle above one with a set of steels and plastic covers. Now, even higher-spec versions of "mum and dad" cars roll from the factory on alloys.
Some wheels are made of magnesium alloy, which has a density only two-thirds that of aluminium. Its advantage is even lighter weight; but it's expensive and somewhat brittle.
Magnesium wheels are usually fitted to uber-exotics such as the Pagani Zonda, or racing vehicles.
Alloy wheels are sometimes referred to generically as "mags", even though they have no magnesium in them.
Alloys are popular after-market items. Perhaps the car owner didn't like the look of the old rims; possibly he or she wanted the car to stand out in the crowd.
More likely, they're going to fit lower-profile rubber and need "taller" rims.
If you're shopping for alloys, remember:
* Good-quality alloys are expensive. If you're on a budget, find top brands that are genuinely discounted rather than poor-quality cheap brands with potential for such problems as air leaks.
* Kerbs show no mercy to alloy rims. A moment of inattention while parking can cause unsightly and even severe damage. Some rim designs have spokes, or the lip of the rim, that stick out, making them particularly vulnerable.
* There are important factors to consider when buying "plus"-sized rims; so seek advice from a specialist.
* Lightweight means less unsprung weight, improved steering feel and better braking response. However, some alloys are only slightly lighter than an equivalent steel rim and a few are even heavier.
* Unfortunately alloys show up dirt.
Alloys off-road
Most 4WDs sold in New Zealand are fitted with alloys, yet drivers who use their vehicles in rough terrain often prefer steel rims. Specifically, they like the resilience of steel.
If damaged by, say, a rogue rock, the dent can usually be bashed back enough to keep going. An alloy in similar circumstances might crack or break, offering no opportunity for a bush mechanic to save the day.
Split steel rims used to be popular on some of the "tougher" 4WDs - and are still widely used in Australia's Outback. These were two "plates" bolted together and they were great for bush repairs and tyre changing.