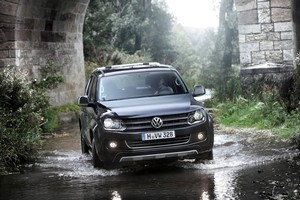 Volkswagen has signalled it aims to boost its competitiveness in the busy New Zealand commercial market with the addition of an eight-speed automatic gearbox for the Amarok.
The workhorse has been available only since its launch this year with a manual gearbox mated to its TDI 2-litre 132kW/420Nm twin-turbo diesel engine.
The eight-speeder will go into the Amarok from early next year. VW says the combination of automatic gearbox and permanent all-wheel drive will boost the Amarok's towing capacity to 3.2 tonnes.
VW New Zealand commercial manager Grant Doull said the manual Amarok double cab has already been a success.
"The release of the new automatic transmission next year will again lay down a new benchmark for the ute market," he says.
The carmaker says the eight-speed gearbox gives Amarok a broader ratio spread between the first and eighth gears compared with a conventional automatic.
"Thanks to this, the TDI engine works even more effectively in every rev range, and it is more fuel-efficient and agile," he says. "Moreover, eighth gear was configured as a fuel-saving overdrive gear that operates at reduced engine speed.
"The first gear is configured for pulling away in off-road use or when towing. Like the manual, the automatic Amarok is capable in all-terrain use without any need for additional reduction gearing."
The new transmission gives Amarok a top speed of 179km/h, reached in seventh gear. VW says the ute gets from 80 to 120km/h in 8.5 seconds.