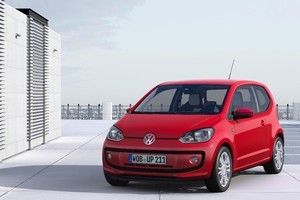 Volkswagen's new Up! city car is getting plenty of press: partly because it's cool-looking and packed with high-tech equipment, partly because it's from the same company that brought us the world's most famous small car, the Beetle.
The original Up! concept of 2007 was a clean-sheet design with a rear-mounted engine, just like the Beetle.
That's the disappointing bit about the production car: it's a conventional front-engine, front-drive machine.
Modern production processes and the need for cost-saving component-commonality mean it's getting harder for carmakers to design and produce truly innovative small cars.
So let's celebrate 10 small cars that will be remembered for ignoring the rules and breaking new ground.
VW BEETLE (1938-2003)
Perhaps the most recognisable car design ever, it has had a very wide appeal in its six decades: from post-war German car-of-the-people to hippie fashion statement to movie star.
Designed by Ferdinand Porsche, the Beetle was light, yet mechanically durable. It was also ghastly to drive and ride in - but nobody seems to remember that. Or that the original design was commissioned by Hitler.
CITROEN 2CV (1948-90)
The Tin Snail was simple, easy to maintain and full of character quirks: hockey stick gearlever, full-length sunroof, folding (not winding) windows.
Great to drive, too. Never mind the body roll: leading-arm front/trailing-arm rear suspension meant the wheelbase effectively became longer on the outside of the car through fast corners, producing a self-steering effect.
FIAT 500 (1957-75)
The Fiat 500 copied the rear-engined layout of the Beetle and was also a car of the (Italian) people.
Usefully tiny for city driving, impossibly stylish and very sporty: the Abarth performance versions were legendary.
In New Zealand, it became known as the Bambina - a name coined by a young Kiwi motor industry executive, Rob Elliot.
MINI (1959-2000)
Who doesn't understand the significance of the Mini? Its front-engine, front-drive layout and wheel-at-each-corner stance set new standards in interior packaging, and its kart-like handling provided the ideal platform for motorsport success.
It was also perhaps the first classless car - loved by families and the rich and famous alike.
MERCEDES-BENZ A-CLASS (1996-PRESENT)
The engine was angled downwards and the platform was built around a unique double-floor design, giving the A-class incredible space efficiency and crash safety.
This was thought to be the future of small cars in 1996 until a Swedish magazine rolled one during a test and Mercedes-Benz was forced to admit it had rushed the car into production. It recalled more than 2000 cars and fitted them with stability control.
Still an interesting car but now largely unloved: the second-gen model of 2004 was disappointingly conservative-looking.
AUDI A2 (1999-2005)
A commercial failure but an amazing car. Audi applied its expertise in aluminium construction to this small hatchback, which weighed less than 1000kg and could achieve fuel economy of 3 litres per 100km in its most frugal version.
Issues with the futuristic styling and premium price meant less than 200,000 were sold worldwide.
MCC SMART (1999-PRESENT)
The Smart was supposed to be the next small thing, but suffered similar stability issues to the A-class and was hastily redesigned just after launch.
The concept remains brilliant: a rear-engined two-seater with impeccable crash-safety credentials that's short enough (just 2.5m long) to park head-first into a kerb. Now known as Smart ForTwo.
TATA NANO (2008-PRESENT)
A two-cylinder engine has plenty of power. You only need one windscreen wiper. An opening rear hatch is unnecessary. Twelve-inch wheels are big enough.
Accept these things and you'll understand how Indian giant Tata has created the world's cheapest car, the Nano.
It's only sold in India and rising material costs plus production problems have forced prices upwards - but the entry model still only costs $4000.
MITSUBISHI iMIEV (2009-PRESENT)
The Mitsubishi iCar was quirky enough, with bubble-car styling and a rear-mounted powertrain. But it provided the ideal base for the iMIEV, the first series-production fully electric car to go on sale in New Zealand.
GORDON MURRAY DESIGN T.25 (UNVEILED 2010)
Retract what we said about the lack of innovation in the very latest small cars. Gordon Murray - creator of the legendary McLaren F1 supercar - has designed the T.25, a bespoke city car with a central driving position, spacious rear seats and a footprint small enough for two cars to occupy one motorway lane side by side.
The T.25 (plus the T.27 electric version) was also designed around a production process called iStream, which Murray proposes licensing to those who produce the car.