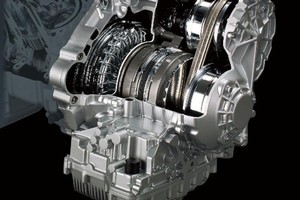 Recently, I've been driving a bunch of vehicles that swap a conventional automatic for a computer-controlled stepless Continuously Variable Transmission (CVT). After decades of development CVTs, which use belt drives instead of conventional gears, seem poised to dominate the transmission business.
They offer an almost limitless number of ratios so the engine is always working efficiently. They provide smoother acceleration, lower emissions and better fuel economy - for example, the CVT version of Nissan's X-Trail uses 200ml less petrol per 100km overall than the six-speed manual.
CVT transmissions are usually simpler to build than conventional automatics, although later in life their proper repair may require specialists. CVTs used to get bad press for their propensity to go wrong. Using the correct fluid and the servicing needs specified by the manufacturer can be critical to their reliability and longevity.
A disadvantage of CVT in some driving conditions is the lack of step points. Off-road, on hills or winding roads, for example, it is often useful to have more control over a vehicle's gear ratio than letting belts do their own thing.
This is one reason why manufacturers programme in step points that act like conventional gear ratios.
Because CVTs are so smooth, drivers often think their vehicle is underpowered. Some manufacturers programme in a "jerk" to simulate the feeling of a powerful car starting off!
Drivers may also be confused by the sound the engine makes. Because the CVT keeps the engine at constant revs over a wide range of vehicle speeds, pressing the accelerator does not necessarily change the sound. This may suggest lethargic performance, or that something's wrong.
Until relatively recently, you did not just get an impression that CVT vehicles were underpowered - they really were.
CVTs were limited to low-powered vehicles because their mechanism could not withstand the stress of high-torque applications. However, developments in materials and technology mean they can now be used for almost any application, including heavy trucks.
Even the Americans - champions of the traditional automatic - have taken to CVT, the Dodge Caliber and Jeep Patriot we get here both use the system.