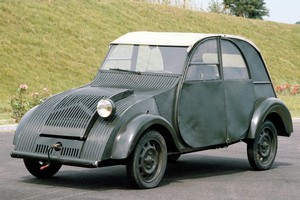 A record-breaking gathering of Citroen 2CVs is set to take place in France over the next 10 days at the 19th International Amis de la 2CV (Friends of the 2CV), an event expected to attract more than 6000 examples of the legendary model.
Held every two years, the get-together celebrates one of Citroen's longest-running success stories.
This year's meeting - on a 60ha site near Salbris in central France - promises to be the biggest yet.
Four pre-war prototype 2CVs will be on show, alongside the contemporary Citroen REVOLTe concept - a city car inspired by the 2CV's distinctive silhouette.
Originally developed in the 1930s, most of the 250 prototype 2CVs were destroyed before WWII, except for three that were hidden near the Citroen factory. The fourth was stored by tyre company Michelin.
The 2CV was finally unveiled at the 1948 Paris motor show.
Citroen built 5,114,940 examples between 1948 and 1990, when production ceased.