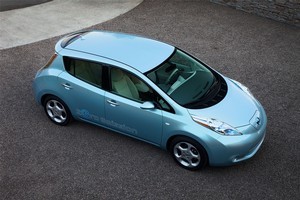 The zero-emission Nissan Leaf is the 2011 World Car of the Year, edging out the BMW 5-Series and Audi A8 for the top spot.
The plug-in hatchback, current European Car of the Year, picked up the gong at this week's New York Motor Show.
"It is a great joy that the world's first, mass-marketed electric vehicle has won this prestigious award," said Nissan chairman and CEO Carlos Ghosn.
"This accolade recognises the Leaf, a pioneer in zero-emission mobility, as comparable in its driving performance, quietness and superb handling to gas-powered cars.
"And it validates Nissan's clear vision and the values of sustainable mobility that we want to offer to customers around the world."
The judges observed: "The Leaf is the gateway to a brave new electric world from Nissan.
"Its low centre of gravity produced sharp turn-in with almost no body roll and no understeer.
"The good news? It feels just like a normal car, only quieter."
The World Car of the Year competition was launched in 2004, with winners chosen by automotive journalists from Asia, Europe and North America. The Leaf is available in Japan, the US and Europe. The car will be released in other markets in 2012.
It is powered by lithium-ion batteries and has a claimed range on a full charge of 160km.
Built in Japan, the Leaf will also be manufactured in the US from late next year and Britain from 2013.