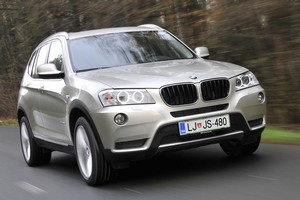 Better, brighter, more powerful and efficient - no, it's not the latest laundry powder but BMW's second-gen X3, bridging the gap from X1 to X5 with a more spacious and better-designed format aimed squarely at the well-heeled family.
What's new?
There's a much bigger, strongly sculpted body, 830mm longer and 280mm wider than before, with a similar height but ground clearance now 212mm, up from 201.
Rear passengers will like the additional head and leg room that easily accommodates a 1.9-metre passenger, while boot space increased to 550 litres, in part because a wider rear track means the wheel arches don't intrude.
X3 is now diesel only, in two variants here. The four-cylinder in-line 2.0-litre 20d gets more power and torque, the 135kW/380Nm delivering faster acceleration while sucking less fuel - BMW claims 5.6l/100km.
Meanwhile the 3.0-litre six-cylinder 30d's power boost imparts 190kW and 560Nm, the zero to 100 time cut 1.5 seconds to 6.2.
Yet it uses 22 per cent less fuel than its predecessor, at 6.0l/100km.
BMW says that's due to Efficient Dynamics.
When the air con's not in use it decouples from the engine to save power; when you lift off the throttle coasting energy recharges the battery, with recharging suspended when you accelerate so you get all the power; and X3 uses lightweight materials - it's bigger, but the 20d actually dropped 25kg.
There's an eight-speed auto transmission, all the cars use stop-start to conserve fuel, and iDrive with a 6.5-inch screen is fitted as standard. Other changes include the addition of dynamic drive control to the options list and alterations to the suspension. BMW says the wheels even 'talk' to each other so when the fronts hit a pothole they tell the rears to soften the suspenders before hitting.
The company line
BMW Group had a great year internationally in 2010 - with demand higher than supply as recession-hit component suppliers failed to keep up.
Meanwhile X3's segment is growing and BMW wants to regain leadership. It's kept price rises pinned to under two grand while loading in extra kit - though it couldn't match the price drop Aussie buyers get.
What we say
The X3 is now so loaded with gizmos there's no space to list them all. Many options now come from the bigger 5 Series - like the head up display and parking cameras in the mirrors.
There's no spare tyre though; instead you order a 'mobility kit' for the run-flat tyres with a compressor and latex fluid to seal a hole. Given the $87,900 and $108,500 price tags, you'd hope BMW dealers outside urban areas will toss one in for free.
On the road
X3 is agile and confident on road, the suspension tune now better offsetting the runflat tyres' uncompromising ride. The 30d delivers more than enough punch for a keen driver, while proving quiet and refined at a sedate pace.
Why you'll buy one: You want the ultimate in refined family wagons - and decent on-road manners.
Why you won't: You like a spare tyre; better off-road capability; or a lower price tag - you can buy a reasonable mainstream offering plus a compact runabout for BMW prices.