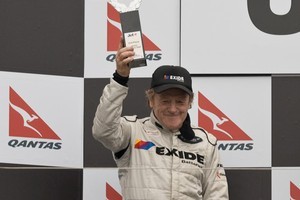 Kenny Smith has the perfect answer to anyone who says his 69-year-old body should not be hurtling around the track, pursuing younger drivers in single-seaters. "Wherever I run, I'll put 100 per cent into it. If anyone says 'that idiot shouldn't be running around at the rear of the field', my answer to them will be 'you can use my car and show me if you're any better'.
"How many guys at nearly 70 can do what I'm doing? I'm not scared to stick my snout in among anyone else's and my reaction time on the grid is as good as anyone else's. I have no fear of anyone attacking me, or of attacking anyone else."
Smith may be regarded as a veteran racer, but disregard his advice and ignore his racing nous at your peril. He is in his 53rd consecutive year of motor racing and today will contest his 48th New Zealand Grand Prix. Not bad going, considering the event is one of the oldest GPs on the FIA calendar and is running for the 54th time.
The NZGP is part of the Toyota Racing Series championship and a one-off event for Smith, who'll be going up against some of the brightest young talent from New Zealand and overseas.
Smith is no stranger to mixing it with great and the good. In his heyday in the late 1960s and 1970s, he was going wheel-to-wheel with the likes of Bruce McLaren, Graham Hill, Stirling Moss, Denny Hulme, Jackie Stewart and Chris Amon. He won the first of his three NZGP titles in 1976, backed up with another in 1990 the last in 2004.
"I started racing in the Grand Prix when the best superstars of Formula One were here," said Smith. "I probably still rate them more than I do the current ones. Those guys were natural.
"The likes of Graham Hill and the others would mix and mingle with everyone."
Smith may not be slugging it out with the front markers in the TRS of late, but he's still collecting trophies in the MSC NZ F5000 Tasman Cup Revival Series.
He won the series in 2008-09, again the following season, and after four rounds in the 2010-11 title race, sits atop of the table.
"This class [TRS] is hard because you've got a lot of 15, 16-year-old kids who have come out of karts. The cars are very stiff and rigid and tear the hell out of your body.
"And my bodywork is getting a bit knackered now.
"The F5000 car can be muscled around on the throttle and steering wheel to go faster. If you do that in one of these TRS cars, you'll go slower."
After 53 years of howling around race tracks, it would be easy to think Smith would have hung his gloves up by now. Especially after his mother Dorothy, a constant presence in his pit garage for over 50 years, died in 2009.
"There's been many a time I've thought I don't want to do it again next year. But as soon as the race calendar comes out I start getting itchy feet again.
"When Mum died here at Manfeild during the Grand Prix weekend, I did not want to go racing. Then I got to thinking that she did over 50 years of motorsport and I realised she wouldn't want her to stop me," says Smith.
Years of racing give him a bit of an edge when it comes to racecraft over some of the younger drivers who, while a bit quicker, don't understand that speed isn't everything.
Being able to watch and note another driver's weaknesses and then pounce is something that can only be learned with time.
Smith has had a mentoring hand in just about every young, and not so young, Kiwi driver now plying his trade overseas.
He spotted Scott Dixon, the only Kiwi to win the Indianapolis 500, as a talent early in the piece and has helped the likes of Brendon Hartley, Shane van Gisbergen and Matt Halliday.
"Some drivers just have that X factor and some like Scott Dixon are just born to do it. I really rate Earl Bamber and Mitch Evans as the stars in New Zealand at the moment. They're right on their game at the moment. Richie Stanaway is another who's special. I just hope he's with the right team."