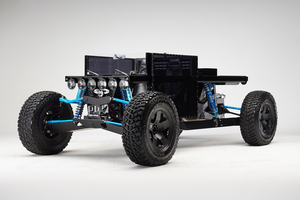 If you are reading this then it is almost certain you have a good grasp on what a car is, but have you ever really thought about why your car is like it is? And how it got to where it is today from its humble beginnings as a replacement for a horse and cart?
US-based designer Joey Ruiter thought long and hard about it. Longer and harder than most of us ever would. In fact he thought about it so hard he decided to just build his own car that dumped all the modern fripperies and concentrated solely on the driving.
"I've personally become more and more frustrated with new automobiles. The fluff, the marketing, the gadgets, the knicknacks, and the do-das are overwhelming," said Ruiter about his thinking.
"I want to go back to the drive. When the drive was enough. We've layered and layered until I saw a cover for a cover under a hood covered in paint with a cover to protect the paint ..?"
So the Reboot Buggy was born. And now The Good Oil wants one more than anything else on earth.
The Reboot Buggy is simply remarkable, with a form that is entirely dictated by function - the function of driving. A basic open-topped, two-door box is all that is set aside for the driver and passenger, while a 350kW, 6.3-litre, small block V8 engine sits in the middle of the open frame. The 40-inch tyres and 4WD should allow the vehicle to go just about anywhere and very quickly too. Apparently the Reboot Buggy is also pretty decent in the on-road handling stakes as well.
But the true beauty of the Reboot Buggy? Well, because Ruiter purposely set out to make the car as simple as possible, it is also extremely simple to repair. As Ruiter says: "Once assembled, Reboot Buggy can tour the countryside by any means necessary. And, if anything goes wrong along the way, the average mechanic can put it back together again. Folks in just about any town should be able to fix it." Just like a horse and cart, really.
We are the world
*A woman in California has become the first person to be fined for wearing a Google Glass while driving. Under Californian law, it is illegal for a person to look at a monitor while
driving and, technically, the Google headset is just that. We would have thought that the fine would have been for looking so ridiculous in public wearing Google Glass.
*Not car-related, but too cool not to mention:; the name of the commander of the United States Navy's new US$4 billion ($4.8 billion) stealth destroyer is Captain James Kirk.
*It would be bad enough to be driving someone else's Ferrari when a truck backed right over it, but imagine how bad it would be to then have the police slap a ticket on the hobbled supercar for double parking. That exact thing happened to a Manhattan driver. He was unhurt.

Ferrari owner's crash course in modern art


The Dino 308 GT4 is one of the more un-loved Ferraris to roll out of Maranello. In fact, they currently sell for about US$30,000 ($35,000) in the US, making them quite a cheap way into some seriously expensive running costs. But a Frenchman has found a brilliant way to make his 308 far, far more valuable - crash it.
Bertrand Lavier is an artist and, in all honesty, probably a bit of a crap driver.
Which is why he destroyed his 308 in an accident. Then, in a moment of artistic inspiration, he saw the true beauty of what he had done; he had created art.
Incredibly, the installation was recently sold by an art dealer for US$250,000 to an unnamed (and presumably extremely gullible) Turkish art collector.
It makes The Good Oil sad to think of that 1980 Holden Commodore that was turned into
art after it went through a fence and into a tree in a spectacular display of artistic expression many years ago. What would it be worth now ...

Nailed it!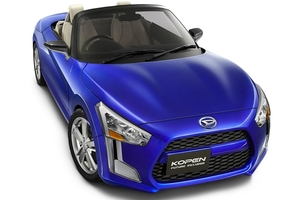 Just so you know: just after The Good Oil reported on the industry rumour that Daihatsu was working on a new Copen, the Japanese company unveiled ... the Kopen!
The Kopen is a tiny Kei car roadster with a 660cc three-cylinder turbo engine and looks fantastic. And while Daihatsu has retrenched recently, departing New Zealand in the process, looking at the styling it wouldn't be too hard to imagine a Toyota-badged version popping up as a little brother for the Toyota 86 now, would it?
Mustang hitched to a wagon ..?
Strand Craft, a US company that builds super yachts, has released a mock-up of a very special one-off Mustang that, apparently, it is going to build. Based on a Shelby GT500, the as-yet-unnamed car looks incredible - who knew a Mustang wagon would be a thing
we would desire?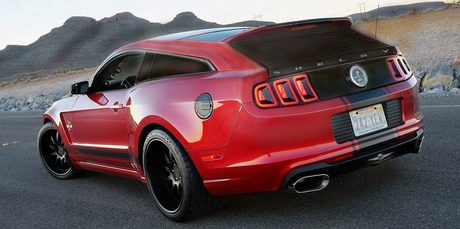 Available for purchase in April next year for an as-yet-unannounced sum of money (expect it to be somewhere around the area of ''lots and lots''), the Shelby wagon will get upgrades to the standard car's 5.8-litre supercharged V8 that will boost its output to a healthy 634kW and is expected to propel it to 60mph (96km/h) in 3.3 seconds.
Recaro seats, leather, a 1000 watt McIntosh audio system, blah, blah, blah ... who cares about what's inside it; just look at it!
The eternal question
Why did the chicken cross the road? We may never know, but now at least we know that the chicken should make it across safely thanks to a new range of high-vis vests for chickens from British pet supply company, Omlet.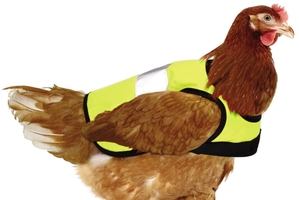 Yes, that's right, high-vis vests for chickens are now a thing.
According to company spokesman Johannes Paul, customers had been inquiring
about ''this kind of thing'', so they decided to look into it.
He said: ''Most people who have chickens as pets will have them out and about and we do
hear about chickens who do cross the road. If you imagine you are in a built-up area and your chicken gets under the fence, they don't care if there is a road there. They just go straight across it.''
That's probably because they are chickens. Still, there was clearly a pent-up demand for extra chicken visibility, as Omlet is out of stock of the yellow and orange variants.
Number Crunching
172 KILOWATTS The power output of the Dino 308 GT4's 3.0-litre
V8, less than a Toyota Aurion (200kW)
126 KILOWATTS The power output of the 2.0-litre version, the 208 GT4, less than a Toyota 86 (147kW)
116 KILOWATTS The power output of the GT4's replacement, the 208 GTB, less than a Toyota Hilux (126kW)
0 PEOPLE Customers who have bought a Toyota over a Ferrari.