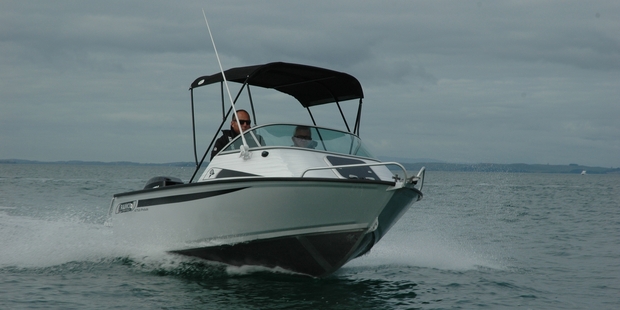 For those of us who were boating in the 1980s and 90s, Ramco was one of those brands that everybody knew and respected. They had dealers in virtually every town and city throughout the country and their range of boats was extensive: from small, open, tiller-steer dinghies up to 8m or even 9m hardtops. They were also one of the very first to produce aluminium hardtop boats for the leisure market.
Unfortunately, after founder Bill Mackrell sold the business it seemed to lose its way and, for a number of years, appeared likely to completely disappear. Luckily, for those of us with fond memories of the brand, a new and passionate owner appears to be making a spirited comeback.
South Islander Gary Tomes started by employing talented Christchurch-based designer Scott Robson; his brief was to completely design the range. It was a good call. Robson is one of New Zealand's most experienced and versatile powerboat designers. He has a reputation for drawing good-looking, well-performing vessels and his portfolio includes championship-winning offshore powerboats, top-selling GRP and alloy trailerboats and a surprisingly large number of monohull and catamaran launches.
Robson's influence is clearly visible in the new Ramco 4750 Prelude. One of 12 new models, the 4750 is the smallest of the Prelude range of cabin boats (the others being the 5050 and 5450, both of which are essentially just larger versions of the 4750).
An entry-level boat unashamedly pitched at the fishing market, the 4750 works just as well as an all-round family boat.
CAD-designed with the plates already pre-cut before they arrive at Ramco's Rangiora factory (to ensure precision of the components), the 4750 features a 4mm hull and 3mm sides and cabin top. The hull weighs just 360kg and the boat, as a whole, has a trailerable weight of only 600kg, making it light enough to be towed behind a standard family car without the need for trailer braking.
The 4750's layout is typical of a small cuddy cabin. There is an open area under the foredeck, a generously sized anchor locker in the forepeak and that old trademark Ramco plastic moulded anchor hatch. A forward hatch (to be increased in size on future models) gives easy access for anchoring.
The cuddy, as one would expect on a boat of this size, is really just there to provide some dry stowage. However, like many of the similarly sized offerings from other manufacturers, there is, sadly, no upstand or footrest to stop bags and the like from working their way back into the cockpit when under way, and especially when powering on to the plane.
Seating is the typical twin swivel bucket seats on fixed pedestals. However, one can choose to upgrade to single or twin back-to-back seats, but obviously at the cost of valuable fishing space in the cockpit.
Those requiring additional seating are probably best to buy a removable cooler/fish bin with a squab and then take it or not, depending on what is planned for the day.
Soft PVC tube matting, although not standard, is an excellent option for the cockpit, creating warmth and comfort, especially in winter.
There are a number of stowage options in addition to under the cuddy. Across the transom there is a wide and deep tray which keeps the battery nicely up out of harm's way and provides reasonably dry stowage, too (a domed canvas curtain or similar across the front of this area would be a relatively inexpensive way of providing even more protection).
There are also full-length side shelves large enough to take rods (there are also four holders in the coamings as standard) and a delightful little compartment on each side by the pedestal seats, ideal for keys, cellphones, sunglasses and the like.
A canopy or Bimini top is not a standard feature and owners are free to choose whether they will have one or not, and what shape it will take. There is no doubt that some sort of protection is a good idea and the Bimini pictured here (and purpose-built for the 4750) is one of the best.
From Auckland's Auto Upholstery & Canvas, it provides shelter from the sun while being high enough to stand beneath (those that bolt directly on to the windscreen are often too low for standing under it to be comfortable). One can also add some clears for even greater protection from the elements and, when not in use, it all simply rolls into a "sock" cover that can be folded down out of the way.
Ramco has powered its new 4750 Prelude with a standard Mercury 50hp two-stroke outboard. This is pretty typical for this size of alloy boat and has the great benefit of keeping down the price. Those wanting bigger horsepower or more modern technology can up spec to 60hp or to a four-stroke.
With the 50hp on the transom, running a 15-inch pitch three-blade alloy Mercury propeller, the 4750 boasts a top speed of 28 knots at 5500rpm. The best cruising revs are about 4750-5000 rpm, which gives 22-23 knots.
Although one should never expect too much in terms of rough-water riding from a lightweight alloy boat with an LOA of just 4.75m, the 4750 actually rides really well.
Robson certainly has a reputation for designing soft-riding hulls and he appears to have done it again with the 4750. Its 17-degree deadrise hull carves through the short chop and, apart from some wind-induced spray, virtually no water comes on board regardless of the boat's direction to the wind and waves.
Perhaps most tellingly, Alloy Boat magazine editor Barry Thompson, who has been riding around in small aluminium boats even longer than yours truly, rates this new Ramco 4750 Prelude extremely highly. In his recent review he goes so far as to write: "For a boat under 5 metres, you'd be hard pressed to find anything that would ride better. It feels firm and doesn't have any of those awful 'tinnie' sounds or rattles. This is a small boat with big boat attributes."
The 4750 is also pretty hard to beat for those on a tight budget: local dealer Auckland Marine Centre is offering this little Ramco, packaged with a 40hp Mercury two-stroke, a single-axle DMW trailer, Bimini, fish-finder and a load of extras for just $29,990. That's definitely going to appeal to those looking for an affordable, well-built, soft-riding little family fishing boat for the summer.
Ramco 4750 Cuddy
LOA: 4.75m
Beam: 2.05m
Deadrise: 17 degrees
Construction: 4mm/3mm alloy
Trailerable weight: 600kg
Engine: Mercury 50hp two-stroke
Fuel capacity: Tote tanks
Priced from: $17,499 (hull and trailer)
Price as described: $34,490