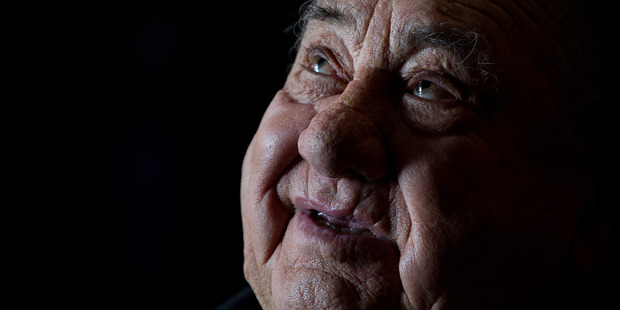 On Wednesday morning, the esteemed kaumatua, celestial navigator and great waka builder Hekenukumai Ngaiwi Puhipi Busby, made his way slowly but steadily, if a little gingerly, through the lobby of the SkyCity Grand.
He did rather stand out in the company of dashing business types, moving quickly, checking out, wheeling their snazzy carry-on luggage across the polished marble. He was wearing his zip-up fluffy and leaning on the walking stick carved for his grand-uncle, then used by his father after his grand-uncle's death and now passed on to him.
He said, about the walking stick: "It's not as old as me. I remember it being carved." He was carrying, in his other hand, a plastic bag containing papers and the remains of a bottle of red wine to which he is partial and which is called, by his family and friends, with a little shudder, Aunty Ruby.
On Wednesday, Hek, which is what almost everyone calls him, turned 80. He went out for dinner the night before, with family and friends, and then came back to his room at SkyCity Grand - he says it is flash enough, but not too flash, which is a recommendation - and sat up to see in his 80th year, on his own, except for Aunty Ruby.
"I don't know!" he said, meaning: What was he thinking? "Silly, really."
It's not a bit silly; everyone should sit up and see in their 80th year. What did it feel like being 80? He was feeling a bit crook. He was feeling 80. I blame Aunt Ruby. He said: "Well, I've had how many hours now? Ha, ha! Not bad."
He has a bit to look back on, and a bit more to look forward to. On August 17, two of Hek's waka hourua (double-hulled sailing canoes) will leave Auckland for Rapanui (Easter Island). Depending on the winds, the 18,500km "journey of rediscovery" will take between six and ten weeks, with the occasional stopover. Navigation will be by the stars and the moon, the sun and the currents. The aim is to close "the final corner of the Polynesian Triangle: Hawaii in the north, New Zealand in the south and Rapanui in the east".
It is a long trip and a romantic idea, I thought. If you find the idea of sitting on a waka for weeks on end romantic, and exciting. He obviously does. I'm a girl. What about showers? He's not a girl so he laughed at me and said you get a shower when it rains.
He lives fairly simply, anyway, (except on the night before his 80th birthday, and quite right too) in his bach on the beach at Aurere, near Doubtless Bay. He potters around carving hulls and pendants and he used to fish, but his knees have gone a bit eighty-ish.
He now mostly tells other people how to build the waka. He said: "I don't know what's wrong with my eyes." I did. They were 80 years old. "I'll say!" I bet there's not much wrong with his eyes when he's looking at the work of his students. He can be a bit strict. "Oh, if things aren't going right."
He seems a bit startled to be 80, but as he is, I wasn't surprised to hear that he's not going to go all the way to Rapanui and back. He was going to, but now he's too busy, he says. Nothing to do with age. Fair enough. He hopes he can find somebody to give him a lift back, from Great Barrier, say, so that he can be part of the journey, at least for a small leg, and symbolically.
You'd think it might be a bit uncomfortable, though, on the backside, a bit numb-making, for one thing, for very long at all, on wakas. He looked amazed at the very idea. "Not really! Well, you move around a little bit." What do you eat? Fish and frozen mutton, he said. There is a little gas stove on board. "Well, our ancestors had the fire that was burning all the time."
And he made sure his wakas had a loo. He looked at the Hawaiian canoes and saw they didn't. "No! Just over the side. I wasn't going to take any risks." He said about being on a waka: "I love it. I don't worry about anything once I get on the water. Well, that's not quite right ..."
One of the waka going to Rapanui is named after his second wife and great love, Ngahiraka (although they were almost always Hilda and Hek). The waka is called Ngahiraka Mai Tawhiti, which means Hilda, Far Away. She is, and she isn't. She died in 1996.
The time he was on the water and was worried about anything was when Hilda got sick and he was in Rarotonga, where he had gone to bring a waka home.
"I said, 'You know, the boys can bring the canoe back, I'll fly back.' And she said, 'No. Make sure you get the canoe back.' So I was talking to her every day ... She sounded strong, you know? When we got back to the beach at home, I looked around and I couldn't see her anywhere ..." It wasn't quite right to say he sat up to see in his 80th birthday on his own, except for Aunty Ruby. Hilda was there too, of course.
How lovely to have named a waka after her. Bugger the Taj Mahal, eh? I said, and he mopped his eyes and giggled and said: "Yeah! Well."
He thinks of Ngahiraka Mai Tawhiti as "assisting" the second waka, Te Aurere, on their way to Rapanui and back. If he won't be there in body for the entire journey, they are his waka, and he will be there in spirit, as will Hilda. "We're going to be sailing together and it's more or less how we have to be together, you know."
It is a lovely end to a love story which began when they met in 1974, at Waitangi, when they were both married to other people. He and his first wife had 10 children. So they must have got on, a bit, for some of the time. "Oh well." Anyway, was there a little spark, even in 1974, with Hilda? "Oh, well." (He is not what you would call a garrulous fellow but he has a wonderful gentle face which conveys everything you need to know about what he's thinking.)
Putting aside the human entanglements, there was another rival for her affections. A waka, of course, and this particular waka might be said to be the first great love of his life. As a nipper, he would sometimes go on school trips to Waitangi and, while all the other kids would run around the Treaty Grounds yahooing and playing, he would sit and gaze and gaze at Ngatokimatawhaorua, the great war waka housed at Waitangi, which hadn't been in the water since the 1940s. He must have been a funny little boy. He had a dream even then about seeing this waka in the water and he wondered if he ever would. He did, in 1974, for the Waitangi celebrations, and he is now its caretaker. This means he makes sure it's shipshape, a great honour, which he talks about as though he's still that funny little boy and he still can't believe he is the keeper of the waka. He really loves this canoe. "Yeah! Oh, yeah!"
Because it is more than a romantic idea, of course, for the waka builder, although it is also exactly that, and possibly better explained in Maori - or in just doing it.
He said: "If it wasn't for the waka, I wouldn't be here today. And I believe, about our traditions, that the waka's number one, simply because we wouldn't be here if our ancestors hadn't made them." Also, it's a very big adventure and he has always had an adventuring spirit and mind, and a curious one.
He said: "But you know, I never had much education." He left school the day he turned 15 and went gum digging and baking. Then he started working as a labourer with a bridge-building crew and became a very good bridge builder.
"I was very interested, you know, when I started on the bridges and then I got really interested and I used to take the plans home at night and study them. And after a few years, my boss gave me a job to do and I never looked back after that."
He says wakas, like bridges, have a formula and if you get it right, they will never tip. There is another similarity: They both take you somewhere. "I'll never forget, when we got back from Rarotonga in 1992, one of my mates said, 'I bet that's the longest bridge you've built'. Ha, ha!"
Today there will be a very big party - more than 200 guests - at the Taipa Resort for his 80th. He pretended to grumble a bit. "I feel like running away. I'd as soon stay home." Surely he'll get some lovely presents. "I don't expect anything." Then, later, he had a cheering thought: "I'll probably get a bottle of Scotch! I'm bloody sure somebody will shout me a bottle!"
An esteemed kaumatua, celestial navigator, great waka builder and sweetheart turns 80 only once. Somebody should shout him a case of Scotch.